A full slate of activity, over the past several months, bodes well for the upcoming June quarter financial release (and for the coming year) of movie theater operator and real estate developer, Reading International (NASDAQ:RDI). Reading continues its operational growth, while maintaining a conservative balance sheet and progress towards redevelopment and monetization of the company's undervalued and underutilized real estate.
Despite this progress, RDI shares have appreciated only modestly, up around 7% this year. This disconnection between Reading's stock price and the company's lower net debt levels and increasingly likely increasing cash flows provides an inexpensive entry point for an investment in RDI shares.
Despite the company's fairly consistent delivery of operating performance and its large cinema market shares in Australia (#4), New Zealand (#3) and the United States (#11), Reading International has yet to benefit from the extensive sell-side theater exhibition analyst coverage lavished upon larger US peers, Regal Cinemas (NYSE:RGC), AMC Entertainment Holdings (NYSE:AMC), Cinemark Holdings (NYSE:CNK), and Carmike Cinemas (NASDAQ:CKEC).
This lack of analyst following is likely because Reading's business activities extend over three countries and two discrete (though synergistic) lines of business: cinema exhibition and real estate. Reading's geographic and industry diversification creates complexity many analysts choose not to tackle. However, for those diligent and resourceful, Reading's SEC filings combined with information available from Internet research provide a roadmap to value creation.
2014 Annual Meeting Slide Presentation; ReadingRDI.com Website
A good start to understanding Reading's large diversified cinema footprint, enormous hard real estate asset values and future plans to create value from both is to access both the company's recent May 2014 Annual Meeting slideshow, filed as a May 16, 2014 8-K exhibit here and Reading's extensive website. You will find pictures and information on some of Reading's hard assets, not just in the United States, but also in Australia and New Zealand and the company's plans and potential opportunities in each country. In addition, my other Seeking Alpha articles on Reading provide readers historical background on the company and a roadmap for the progress made on its many cinema and real estate development projects.
A Very Busy Quarter Of Activity
While, at the time of this writing, Reading has not announced its Q2 results, in May, Reading issued its Q1 2014 earnings release showing continued solid cash flow generation for the Quarter ended March 31, 2014. For the last twelve months ended March 31, 2014, Reading's two businesses produced $257MM of LTM revenues and approximately $36MM of EBITDA.
Also during the quarter, in addition to further positioning its Cinema segment for growth, Reading took several steps toward growing and unlocking value in its Real Estate segment by converting some of Reading's non-cash-flow generating real estate into either sales proceeds or developed recurring cash flows. Until the profitable sale of Reading's sizable Burwood Square development property, Reading had 330.5-acres, or approximately 14MM sq ft, of undeveloped real estate that is not yet contributing to these LTM figures.
AUS$65 MM Burwood Land Sale & New Stock Buyback Program A Big Plus
In May, Reading announced and quickly closed on the sale of its valuable 50.6-acre Burwood development parcel in the inner suburbs of Melbourne Australia to an affiliate of Australand Holdings Limited (OTCPK:AUAOF) for a total price of AUS$65MM. The press release announcing the sale agreement terms can be read here.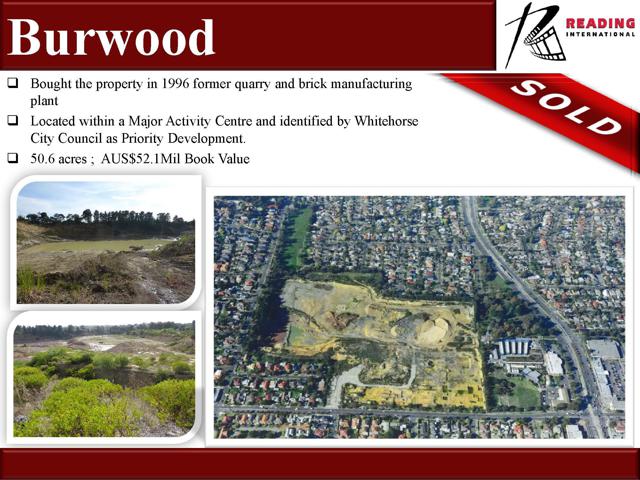 Reading received 10% of the purchase price up-front with the balance to be paid at the earlier of Australand's development and sale of the parcel(s) or the end of 2017. Australand plans for a sizable mixed use development with commercial and retail space and 800 residences could result in some sales and payments to Reading early.
While the Burwood sale will result in a nice gain vs. Reading's book value of AUS$52.1MM, it should be noted that this book value already included AUS$23.3MM reflecting both a sizable mark-to-market revaluation in connection with the 2001 merger of Reading Entertainment, Craig Corp and Citadel Holdings that created Reading International and imputed capitalized interest expense during Reading's development of the parcel.
Reading incrementally disclosed in the release announcing the completion of the Burwood sale that Reading also retained a first right to provide a cinema on the site if such a cinema is to be included in any future development.
It should also be noted that not only was there no EBITDA being generated by the Burwood parcel, Reading was paying on-going environmental remediation and other developmental costs that Australand now pays going forward. With no debt encumbering this parcel sale, proceeds amounting to almost $3/share should very favorably impact Reading's balance sheet and liquidity.
As a result, on May 16, 2014, Reading announced a new $10MM stock buyback program to replace its former authorization for 350,000 shares, under which Reading had already repurchased 245,675 shares to date. At current prices the new authorization could retire more than 1.2 million shares.
Reading Cinema Segment Also To Grow
While Reading is now monetizing both of its undeveloped Melbourne parcels, Burwood Square and Moonee Ponds (see prior announcement here), the company has also been actively growing its cinema segment.
In May, Reading announced a new 7-year lease that will not only keep open, but also substantially refurbish, its Reading Cinemas 5-plex in Dubbo, Australia.
In June, Reading opened Angelika Pop-Up, a three-screen micro cinema in the growing Union Market district, as a precursor to its new full-size permanent Angelika Film Center expected to open in the District in late 2015.
In July, Reading opened a new six-screen cinema in Dunedin, NZ in a savvy move that supplanted Hoyts Cinemas from the location. In 2007, Reading purchased the real estate underlying the Hoyts' Octagon theater and became its landlord for the next seven years until the 20-year lease expired. As the lease's expiration approached, Reading was in the favorable position to demand substantially higher rents from this competitor or, alternatively, take over possession of the theater and open a new Reading Cinema. Hoyts opted to close the theater and perform the required work to return the building to its original state, reducing Reading's refurbishment costs.
Refinancing of Australian & Cinema 123 Debt Enables Future Growth
Before the end of the June Q2, Reading completed enhanced refinancings of both its Australian lines of credit and its Cinema 1,2 & 3 term loan.
National Australia Bank ("NAB") bank facilities - Reading replaced approximately AUS$76.25 million of maturing 3-year NAB bank facilities with new longer 5-year duration credit facilities. In addition to the longer term, the loan's new interest rates of between 2.35% and 1.50% above the BBSY bid rate, carry a lower interest rate spread cost of more than 50 basis points. The new Australian facilities call for far lower annual principal amortization of AUS$2MM/yr during the life of the loans vs. former annual principal payment obligations of AUS$7-9MM. Finally, the covenants on these loans were loosened to allow the up-streaming, if Reading desired, of the Moonee Ponds and Burwood Square real estate sale proceeds.
US Cinema 1,2,3 Term Loan - In my August 2013 Seeking Alpha article on Reading, I discussed at least $67MM (almost $3/share) of embedded unrealized gain in two of the company's New York City parcels, Cinema 1,2 & 3 (Third Avenue) and the Union Square Theatre (the former "Tammany Hall"). Certainly, a sale of these properties would be reflected more immediately in Reading's stock price. (See an August 13, 2012 Barron's article, entitled "Popcorn and Property" [found here if free access is still operable],) However, the company commissioned consulting and other professional studies that showed redevelopment of both parcels, prior to any sale, creates greater long-term value to Reading.
In another step toward creating that greater long-term value, at the end of June, Reading replaced a maturing one-year $15MM term loan from Sovereign Bank on its Cinema 1,2 & 3 property with a new 2-year term loan from Santander Bank N.A. that is now expandable by up to an additional $6MM if used for the purchase of rights to enhance the density of any redevelopment of the Cinema 1,2 & 3 site ("air rights"). In addition to the longer duration and expanded loan size, enabling improvement of the parcel, the new loan's interest rate spread cost has been reduced by 150 basis points.
A Very Telling Picture Of 12-Years Of Growth
Slide 58, (below) from Reading's 2014 Annual Meeting presentation illustrates the progress the company has made at growing its Revenues, Adjusted EBITDA and Assets, while steadily paying down debt. As a result of continuing strong cash flow generation and the sale of non-core real estate assets, Reading's 3/31/14 net debt was down to $134.5MM, over 10% lower than prior year.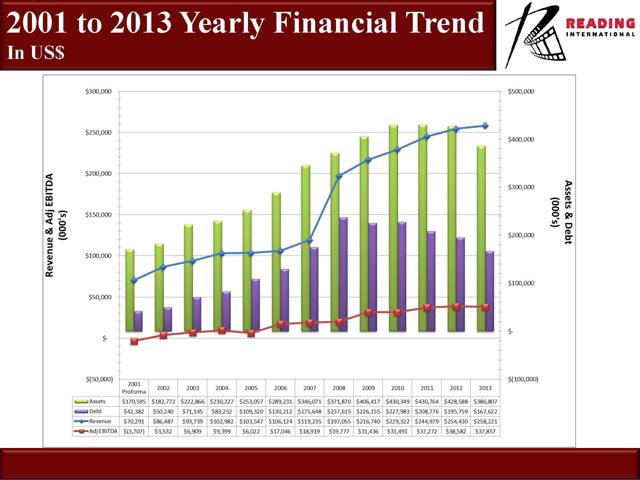 Normally growing fundamental operating performance, combined with lower debt levels, translates enterprise value into a higher equity valuation. Recent RDI share price increases barely recognize Reading's embedded real estate value, creating sizable future appreciation opportunity. Reading's stock price in 2008 was $10/share before Reading's operating performance [blue & red lines in the chart] substantially accelerated to its >$35MM/yr (and growing) EBITDA run rate and the company's debt [purple bar] started to be paid down.
Investment Opportunity
Reading International's favorable geographically diversified movie exhibition growth profile and its conservative balance sheet make for a compelling risk/reward investment. The company's cash flow generation continues to lower debt levels and inevitably will translate enterprise value into a higher equity valuation.
Much of Reading's real estate has appreciated in value (over the course of more than 15 years of inflation on some parcels) from population growth, up-zoning to expanded/more valuable allowed uses, and in some instances, completed development into rent-generating parcels. Reading can create substantial additional value by developing or redeveloping its raw land or fee-owned cinema and live theater sites into higher recurring cash flows or increased sales proceeds.
Reading trades at a lower multiple of stated book value/share than any of the four larger and heavily analyst-recommended US publicly-traded theater exhibitors; Regal Cinemas, AMC Entertainment Holdings, Cinemark Holdings , and Carmike Cinemas, even while this book value understates the underlying intrinsic value of Reading's long-held and up-zoned real estate. As Reading continues to grow its sustainable cash flows and unlocks (through sale and/or joint venture) the appreciated value in its geographically diversified real estate holdings, investors will close the substantial "value gap" that presently exists in RDI shares.
Disclosure: The author is long RDI, RDIB. The author wrote this article themselves, and it expresses their own opinions. The author is not receiving compensation for it. The author has no business relationship with any company whose stock is mentioned in this article.
Additional disclosure: Funds I manage are long RDI, RDIB and short AMC, CNK, CKEC. These funds or its affiliates may buy or sell securities of these issuers at any time.