Since its IPO in 2010, SodaStream International Ltd. (NASDAQ:SODA), the Israeli maker of home carbonation systems and related products, has produced explosive growth in sales worldwide with healthy gross margins, capturing the imagination of many investors in the process.
It Begs The Question...What's So Special About The Product?
I must preface this article by disclosing that I genuinely believe the tremendous growth in the product will prove to be a passing fad; I simply can't view it any other way when a 100+ year old product suddenly experiences 350% revenue growth in a 4 year period, thanks to a $1 Billion company spending 35% of revenue annually on sales and marketing. To be clear, I don't mean a fad in the truest sense of the word, to be compared with pet rocks, but certainly to the extent that management believe they will "elevate the home soda category into a mainstream alternative to store-bought soda (Investor Day Presentation: 5/13/2013)."
I just can't grasp what it is, fundamentally, about a home carbonation machine that could suddenly make it a staple appliance in the kitchen and elevate the concept of homemade soda into the mainstream.
Could it be convenience? Convenience is the major benefit of the machine according to the company. A soda from SodaStream is consumed by purchasing a machine and supplies, filling a specially made bottle with water, screwing it into the machine, pulling the lever a few times, unscrewing the bottle, pouring a capful of flavor mix into the bottle, putting the lid back on, gently rolling the bottle to mix the flavor in, then refrigerating your soda (or keep pre-filled SodaStream bottles full of water in the fridge). After consumption (ideally immediately after), you need to clean the long narrow bottle that can't be put in a dishwasher and was just full of sticky soda (see here for 600 words on one user's instruction on cleaning the bottle), then eventually take your CO2 bottle to a refill station (which can't be exchanged by mail as they contain hazardous material). How it's more convenient than picking up a $0.99 bottle of soda with your groceries I can't comprehend.
The coffee pod machine, the similar concept that's experienced a 6-fold sales increase in the past 6 years has a fundamental difference, in that you can't buy bottles of ready-made coffee from the store and keep them in your kitchen for months, as with soda.
The convenience point may be arguable for regular sparkling water and SodaStream's partnership with Samsung (see here) reflects this, but there are 2 significant growth constraints by focusing on the sparkling water market:
The global sparkling water market is around 15% of the size of the global soda market;
If people are buying machines for sparkling water, they're not buying flavor mixes, the most profitable of SodaStream's products.
Could it be environmental concern? Perhaps. SodaStream is selling itself as the environmentally friendly alternative to packaged soda, but historically, this has never been a deciding factor in purchase decisions for end consumers. Take the chart below for example, looking at 3 of SodaStream's main markets: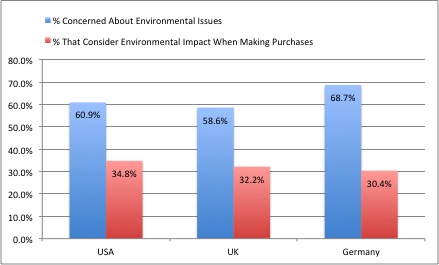 Chart Figure Source: Interbrand. 2013 Best Global Green Brands Report
While 60% of Americans claim they are concerned for the environment, less than 35% even 'consider' the environment in their purchasing decisions. The continued upward trajectory of bottled water sales in the U.S. attests to this attitude.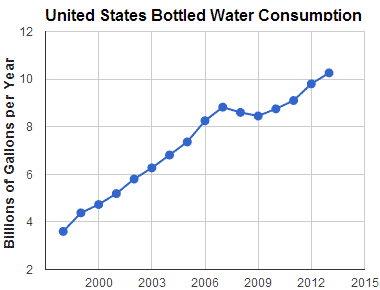 Image Source: geology.com; Data Source: Beverage Marketing Corporation
Would electric car sales have grown over 20-fold in the past decade if a Prius cost as much to run as an SUV? Of course not; a claim from a product to be environmentally friendly must be ancillary to the primary benefit(s).
Could it be cost? Well assuming a person consumes the equivalent of 1 can (375ml) of soda every day - 136 liters per year - one would spend $80 on the machine (assuming the cheapest model), $38 per year on CO2 refills (2.5 per year) and $72 per year on SodaMix bottles (12 per year); assuming the machine lasts 4 years (double the warranty period on most models), you'd have spent $494 in 4 years, or $123 per year on average. A quick look on Vons.com and you'll find a 1.25L bottle of Coca-Cola selling for $0.99; thus to consume 136 liters of Coca-Cola, you'd spend only $108 per year.
The cost saving argument certainly hasn't flown with U.S. consumers. On the recent Q2 earnings call, in justifying the dramatic decline in sales in the Americas, CEO Daniel Birnbaum stated, "Our recent demand creation efforts have focused on value and that message has clearly not resonated with consumers. We have not provided a compelling reason to buy a SodaStream machine."
Scott Guthrie, the Regional General Manager of the Americas for SodaStream then proceeded to outline the company's plans to re-focus its marketing efforts on the health and wellness benefits of the product, "What we've found is that health and wellness is top of mind with consumers and it's clearly the leading megatrend in the US when it comes to carbonated beverages."
So could it be health and wellness? While it's not necessarily the reason SodaStream's machines and consumables have sold in the rest of the world, management have decided this will become the focal selling point in the US. With 35% of adults in the US classified as obese and a growing appreciation of the need for healthier lifestyles, perhaps this will be the factor that launches home carbonation into the mainstream. But I doubt it.
Growth Prospects
Having said all that, consumers quite obviously see something I don't. SodaStream sold 4.4 Million soda maker units worldwide in 2013 alone, and the company looks set to show revenue growth again in 2014, although revenue guidance for 2014 was lowered to +5% with Q2 results (from +15% at the beginning of the year).
Sales in Western Europe for Q2 increased 14% YoY, which marked an astonishing 19 straight quarters of double-digit growth in the region. The continued growth in Western Europe, was driven primarily by a sales boom in Germany, after the company's new 'No Schlepping' campaign, highlighting the benefits of soda water sans the lugging of bottles.
Similarly, Q2 growth in Asia-Pacific increased 13% YoY, due mainly to the growth in Australian sales, following SodaStream's aggressive product awareness campaign. On the recent earnings call, CEO Daniel Birnbaum declared: "Our in-store presence with accounts in Australia is as strong as any market in the world. Our point-of-sale materials, combined with creative marketing efforts, do a great job highlighting our premium brand position and the benefits of our system, including consumer empowerment, which has proven to be the most attractive feature of SodaStream in Australia." With a significantly more limited range of soda flavors available on the shelf in Australia compared to the US and Western Europe, consumer empowerment through choice will be the route to continued sales growth in the country (Anecdotally, as an Australian that constantly went to great lengths to find a Dr. Pepper after it virtually went extinct, I can certainly relate to this; although SodaStream's Dr. Pete doesn't quite hit the spot).
Growth in the CEMEA region was also an astonishing +70% YoY in Q2, led by strong sales in the Czech Republic; the region as a whole however, makes up less than 10% of sales.
The most troubling development for SodaStream has obviously been the results out of the US in recent quarters. After over-estimating demand and creating an inventory glut with its retailers in previous quarters, revenues in the US fell 14% in Q2 YoY (after a 28% decline in Q1). Even more disturbing was the product breakdown in the declines. According to Daniel Birnbaum on the Q2 earnings call, in the US gas refills increased 7%, flavor units decreased 11% and soda makers units decreased 55%. As soda maker unit sales precede the sales of consumables (which make up 60% of revenue and enjoy significantly higher margins), this is a troubling sign.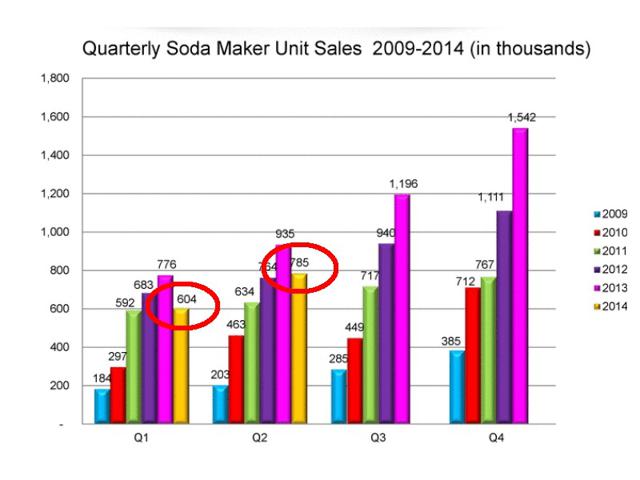 Image Source: June 2014 Form 6-K (circles added)
Yet with the company's US marketing campaign transitioning to a focus on health and wellness and the weeks on hand of inventory across US retailers plummeting, "in some cases down more than 80% since Q1" according to CEO Daniel Birnbaum on the Q2 earnings call, perhaps the US sales trajectory is ripe for a turnaround; the 2014 second half results will be telling indeed.
Downside Risks (Competition)
The Keurig Cold machine from Keurig Green Mountain (NASDAQ:GMCR) and Coca-Cola (NYSE:KO) due for release in 2015 is the obvious impending competition. The Keurig Cold, with no need for CO2 refills, instant chilling and 'real' soda flavors with the push of a button into whatever glass, cup or bottle you'd like, will be the superior machine. CEO Daniel Birnbaum when questioned about the coming competition on the most recent earnings call, became audibly agitated, intimating that Keurig and Coca-Cola are "telling stories."
Below is an image from SodaStream's Investor Day Presentation (5/13/2013).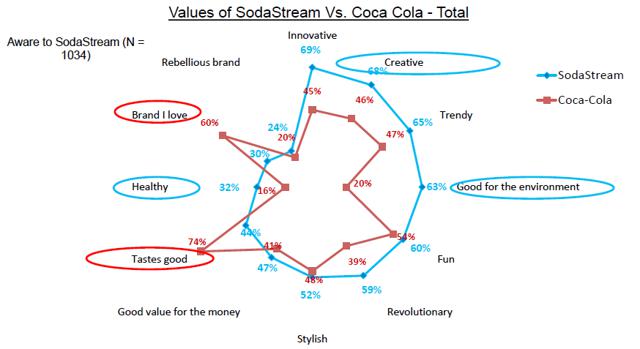 It depicts the survey results of customers when thinking of the relative traits of SodaStream vs. Coca-Cola. While management shared the results as a testament to SodaStream's perceived qualities, I view the responses as telling in the opposite way. In assessing consumers' likely choice when faced with competing products next year, will SodaStream's 'innovative', 'creative' and 'trendy' product win out, or will consumers opt for the product that 'tastes good' from the 'brand they love'?
The answer I think is obvious, when the Keurig Cold is released (not to mention Starbucks and PepsiCo's likely entrance into home carbonation), with a product that's more convenient, tastes better and from a globally recognized brand, there will be only one way left that SodaStream's machine and products will be able to compete…on pricing.
This may in fact be another reason SodaStream is pivoting towards the health and wellness segment (evidenced by the launch of their 'Free' flavors earlier this year and their new partnership with the low calorie Skinny Girl brand). A wholehearted move into the health and wellness sector, however, pits them against a whole new host of competitors, not the least of which is still Coca-Cola, with their Zico Coconut Water, Honest Tea, Fuze etc. and at the end of the day, SodaStream still must depend on carbonated drinks, something they'll have a tough time selling as healthy.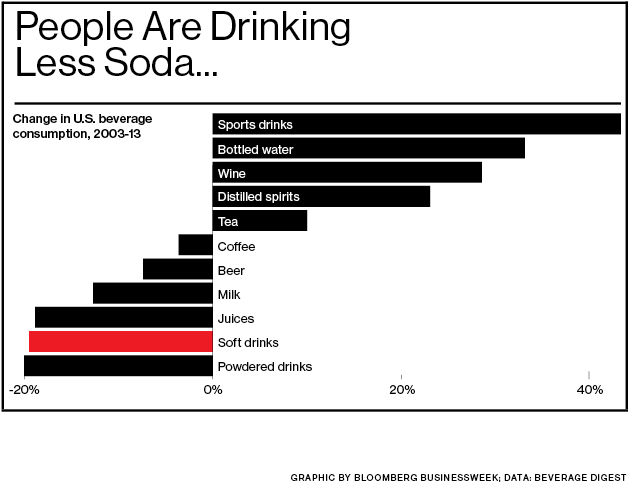 Existing competitors also include Primo (NASDAQ:PRMW), Cuisinart and Hamilton Beach (NYSE:NC) all of whom offer products with the same capabilities as SodaStream at a lower price point; only they don't have a $200M annual sales and marketing budget dedicated to their home carbonation products.
A growing prevalence of customers installing SodaMods on their machines to save on refills and/or using competing or generic flavor packets from supermarkets, both of which deprive SodaStream of recurring and high margin revenue, also pose a material risk to SodaStream's 'razor/razor blade' business model.
All of this is to say that competition is sure to intensify in the coming years and as such, SodaStream will be facing an uphill battle to continue with such stellar sales growth and maintain gross margins. SodaStream's gross margins have fallen from 54.5% in 2011 to a still high 50.7% in 2013 during a period of weak competition; by way of comparison, Keurig Green Mountain, the first mover on the now competitive coffee pod machine market with a similar business model, recorded gross margins in 2013 of 37.2%.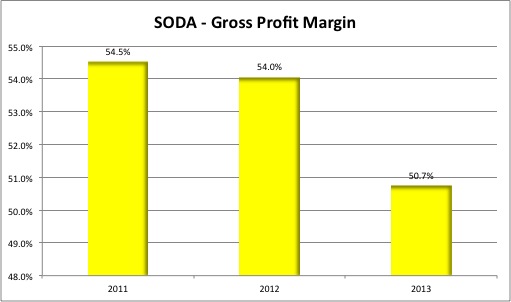 Chart Figure Source: Form 6-Ks
With such a high commitment to sales and marketing expenses (which continued sales growth depends upon), SodaStream doesn't have the capacity for further deceleration in gross margins; in fact, my calculations indicate that gross margins of 43% or less would spell operating losses for the company.
Is The Stock Worth $32?
Perhaps instructively, we can break out the components of the stock price to obtain a clearer vantage point of the market's view of SodaStream's growth prospects. If we use an equity risk premium of 5% and the stock's historical beta of 1.5, we derive a cost of equity of 10.1%.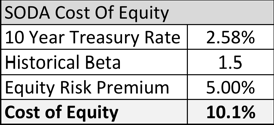 Now using the 2014 consensus EPS estimate of $1.87, we can determine that $18.55 is the 'no growth value' portion of SodaStream's shares ($1.87/10.1%), i.e. the implied price assuming earnings growth equal to only the cost of equity. This also takes the company's current earnings at face value: an elevated cash flow accruals ratio and a quick glance at the trajectory of the receivables turnover ratio give pause for thought on this.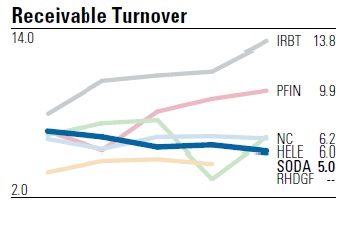 Image Source: S&P Capital IQ Company Report
Thus the market is putting SodaStream's present value of growth opportunities (PVGO) at $13.76 ($32.31 - $18.55); that is to say that almost half the stock price is based on an expectation of a significant amount of earnings growth over and above 10.1% (the cost of equity). So under what scenario can such growth expectations be realized? Let's look at 2 different scenarios using somewhat crude calculations.
The best possible 5-year case I can conceive is this. Let's assume that sales in America suddenly reverse course and instead of declining 20% per year, increase 10% per year, increasing annual sales in the Americas by an additional $100M annually by 2019. Western Europe, CEMEA and Asia-Pacific all experience 20% compound growth for 5 years, altogether increasing sales by almost 150%, putting SodaStream's revenue at over $1.3B and commanding around a 5% share of the global sparkling water market by 2019.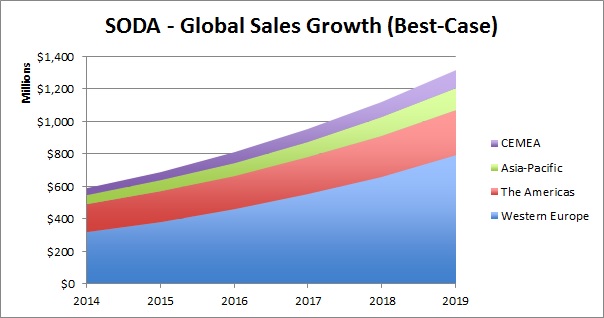 Now let's assume that in this period of continued tremendous growth, increased competition barely crimps pricing, so 50% gross margins are maintained and they achieve this growth while keeping sales and marketing expenses to under 35% of revenues (it was a higher % than this in 2 of the last 4 years). Let's also assume that instead of expecting a slowdown in sales growth from 2019 onwards (after 10 years of exponential expansion), investors believe there's more outsized growth to come and are willing to pay 25 times 2019 earnings.

Using all of these assumptions, SodaStream's stock could conceivably be at $79.05 by 2019; discounted back at the cost of equity, that puts the intrinsic value today at $48.91.
Here's what I think will happen however in a more likely base case scenario. Sales in the Americas stop their decline and with the help of a re-focused marketing campaign, increase sales by 6% per year. Sales in Western Europe, CEMEA and Asia-Pacific continue at a rapid 20% next year, but slow down gradually and normalize towards 10% over a 5 year period.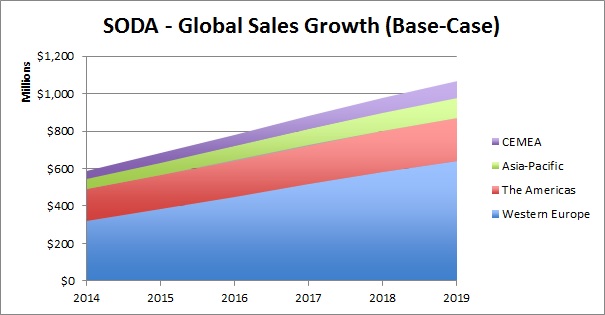 Increased competition forces pricing pressure and gross margins compress (from 51% currently to a still very healthy 46% by 2019) and sales and marketing expenses as a % of revenue decline slightly as management keeps a focus on profitability. With declining rates of sales growth, declining margins and the first mover advantage all but disappearing, investors see no compelling reason to pay more than 17 times earnings (the current beverage industry PE).

In this scenario, the stock price would fall to $28.11 by 2019; discounted back at the cost of equity, that puts today's intrinsic value at $17.39 - effectively a company that ends up destroying shareholder value.
Conclusion
There's every chance that my skeptical view on SodaStream and the home carbonation industry in general, is entirely wrong. Perhaps in 5 years' time we'll all be drinking homemade soda and SodaStream will remain the market leader with gross margins of over 50%. Even so, when assessing probabilities and viewing the stock from a risk/return tradeoff, at $32.31 per share there's simply too little appreciation for the very real and very significant downside risk, factored into the price.
Looking short-term (next 18 months), a brief turnaround in SodaStream's US fortunes following the increased focus on the health and wellness benefits in their marketing efforts, may provide a catalyst for further share price gains (which could also be propelled by the 30% outstanding short interest), to say nothing of the rumored $40 takeover offer.
Long-term however (assuming a private takeover doesn't materialize), it's difficult to envision a scenario in which shareholders are adequately compensated for paying 26X TTM earnings (of questionable quality), for a company with no revolutionary product, declining returns on equity, declining gross margins and impending competition from global market leaders.
At $32 you can count me out.
Disclosure: The author has no positions in any stocks mentioned, and no plans to initiate any positions within the next 72 hours. The author wrote this article themselves, and it expresses their own opinions. The author is not receiving compensation for it (other than from Seeking Alpha). The author has no business relationship with any company whose stock is mentioned in this article.