Innovative and disruptive companies are certainly tempting investments, but in many cases, they are exuberantly priced. The notion of a company dominating a growing industry brings hordes of investors that are willing to bid up the price of these nascent companies. The adage "buy when everyone is selling and sell when everyone is buying" enables investors to avoid these securities. Tesla (NASDAQ:TSLA) is clearly a company that is inanely priced and should be avoided at these levels.
Recent Quarterly Report
Last week, Tesla reported positive earnings and subsequently gaped upwards. Although the quarterly report was positive, Tesla faces innumerable risks in achieving its guidance set forth by management.
Q3 Lowered Delivery Guidance
Tesla guided earlier this year that they expect to produce 35,000 Model S's by year-end. Nonetheless, Tesla reduced guidance for Q3 to 7,800 Model S's, citing stoppage to upgrade its factory as a limiting factor. Previously, Tesla expected to deliver 9,500 vehicles in Q3. However, before Q3 guidance was given, management discussed the need to temporarily shut down production to prepare the factory to gear up for Model X production. Thus, it appears that its excuse for lowering delivery guidance was unfounded.
Optimistic Production Guidance
By adding together the 14,036 vehicles delivered in the first half of 2014, with the Q3 guidance, one realizes that Tesla has to deliver roughly 13,100 vehicles in Q4 in order to achieve its estimates. That requires nearly doubling its Q3 production, which seems to be an overly optimistic notion.
Moreover, Tesla has guided for delivering 100,000 units by the end of next year. Yet again, Tesla is giving an optimistic outlook by projecting it over doubling its 2014 production. However Musk later tempered Tesla's ability to reach that level by stating:
" Provided that we execute well and there are no serious macroeconomic shocks, Tesla's annualized delivery rate should exceed 100,000 units by the end of next year."
Source: Tesla Earnings Call
Musk is basically saying that they will achieve that level provided there are no set-backs. With supply chain constraints and factory problems previously impacting production, I am skeptical about them achieving this lofty figure.
China Expansion Risks
Reaching the lofty 100,000 vehicle delivery number next year is contingent on Chinese demand growing tremendously. However, Tesla might be too optimistic with its guidance, as it faces a few headwinds in China. First, legislative factors do not bode well for Tesla in China. The Chinese Government gives consumers a 10% purchase tax avoidance for electric vehicles, but doesn't apply them to imports. Thus, Tesla will face a disadvantage to domestic options. Secondly, Chinese charging station standards are currently not compatible with Tesla. During the conference call Musk downplayed the risk involved with the incompatibility, however, this risk is certainly evident, as the late standard release could thwart Tesla's delivery outlook:
"[W]e have to adhere to Chinese charging standards, but we are going to do so. But the challenge was that those standards weren't defined until about a month ago. So it's a little tricky to adhere to something that is not yet definitively been announced."
Source: Tesla Earnings Call
Finally, with much less infrastructure for servicing in China, Tesla could face a threat of lowered customer satisfaction reducing demand. Musk discussed a previous disappointment in satisfaction with a Chinese customer during the conference call saying:
"One guy in China got so upset when he got his car, he bashed it."
Source: Tesla Earnings Call
Tight Model X Timeline
The highly-anticipated Model X will see another delay in being brought to market, with Musk pushing back the timeline to at least Q2 of 2015. Further, the testing phase for the Model X will not commence until Q1 of 2015. Therefore, the vehicle would have to test perfectly during that time to even meet the delayed guidance of Q2. There is a serious risk of a flaw being discovered and more delays mounting.
Gigafactory
Elon Musk expects to confirm a location for the Gigafactory in the next few months. The company has expected the project to be opened in 2017 and outpace the world's 2013 production of lithium-ion batteries in one year. Musk has already signed Panasonic (OTCPK:PCRFY) as a partner that will shoulder approximately 30% of the roughly $4-5 billion required to erect it.
In order to attempt to reach the 2017 timeline, Tesla has begun construction at several different locations so they ramp up quickly once the final location is announced. This development shows just how tight of a timeline Tesla is giving itself. Legislators notably take extraordinarily long times in agreeing and approving bills. Therefore, Tesla will have to wait until the final offers from the competing states are given. I expect it to be very difficult for Tesla to achieve its 2017 guideline for the Gigafactory development. Therefore, supply chain constraints would be evident in the future as well.
Valuation
With a market capitalization approaching $30 billion and quarterly sales of just $858 million, it is clear that optimistic assumptions are being priced into this security. Further a price to sales of 13.84x and a forward price to earnings of 98.43x suggests that it is greatly overvalued.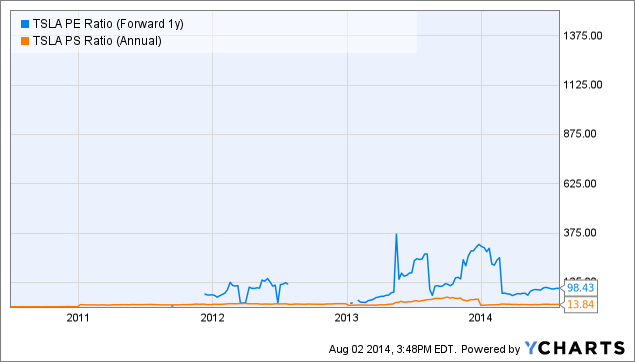 With mature industry giants, General Motors (NYSE:GM) and Ford (NYSE:F), trading at a price to sales of .361x and .468x respectively, it is evident that Tesla has astronomic expectations priced in. Although this is comparing apples and oranges as their growth rates are greatly different, Tesla would need to grow sales nearly 30x its current levels, just to reach Ford's price to sales level. With a slew of competitors beginning to develop their own EV cars, this seems like a ludicrous proposition.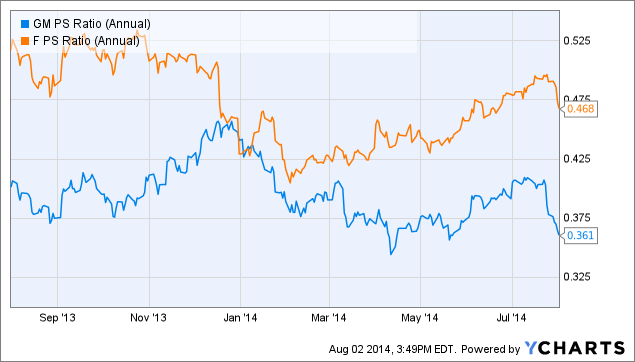 Moreover, Tesla's 98x forward PE ratio is an extreme premium to GM and F's 7.33x and 8.75x respectively. In order to reach these levels, Tesla would have to grow profits more than 10x its forward estimates. With the industry requiring massive fixed cost investments and being categorized as acutely competitive, I am skeptical about Tesla eventually living up to these expectations.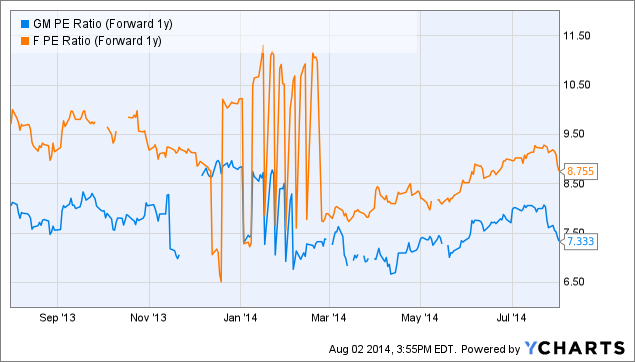 Final Remarks
There is no doubt that Tesla is an incredible company. The positive effects for the environment and the world are apparent. However, as an investment at the current trading levels, Tesla is abhorrent. Meeting its guidance set forth, both in the near term and long term will be difficult due to: lowered Q3 deliveries, Chinese expansion headwinds, Model X delays, and stagnant legislators potentially delaying the Gigafactory. Although investing in the next potential disruptive company is enticing, I would recommend staying away from this company with an exceptionally optimistic outlook priced in.
Disclosure: The author has no positions in any stocks mentioned, and no plans to initiate any positions within the next 72 hours. The author wrote this article themselves, and it expresses their own opinions. The author is not receiving compensation for it (other than from Seeking Alpha). The author has no business relationship with any company whose stock is mentioned in this article.
Editor's Note: This article discusses one or more securities that do not trade on a major U.S. exchange. Please be aware of the risks associated with these stocks.