Well, the silver play dictated last week by my ETF Pullback model (see Appendix below for explanation and performance data) worked out quite well, as can be seen in the recent section of Figure 1, a screen shot from my account showing my performance with this strategy at FolioInvesting.com.
click to enlarge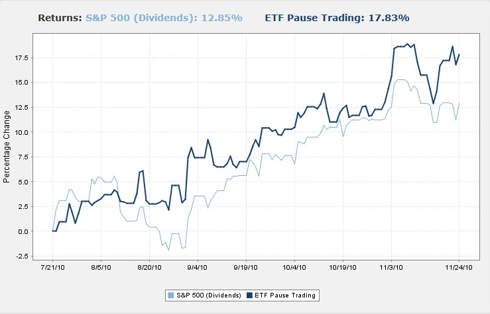 I wrote last week about QE2 and inflationary fears. That might have been a factor. Then, too, precious metals serve as a general-purpose crisis hedge and in that regard, tension between the Koreas kicked in. It doesn't look like that's about to vanish, but for better or worse, the model has had enough of silver. Here's this week's ETF list:
As a reminder, here's what I had last week:
What a difference a week makes. Last week, the list was clearly geared toward hiding from crisis. This week, it looks like I'll be sticking my head directly into the dragon's mouth. China may or may not become a diplomatic player in the Korean situation, but that's not a real area of concern for me. Instead, I'm thinking about the big China issue, the one that pretty much everyone who thinks China thinks about nowadays, the outcome of the government's tug-of-war with economic overheating.
I'm not necessarily a bear on all things China. I had mentioned five China stocks in my low-priced stock newsletter that I still like: China Techfaith Wireless (NASDAQ:CNTF), Fuwei Films (FFHI), Longwei Petroleum (LPH), LJ International (NASDAQ:JADE) and Xinyuan Real Estate (NYSE:XIN). I considerable expect volatility and said as much when I discussed the stocks in the newsletter. None of these, however, are generic China plays. All, one way or another, have special situation angles without which I would not be bullish at this time.
Therein lies the difference between stocks and ETFs. I love them both but recognize that they are quite different. You have to work harder to find special situations in the ETF universe. Country focus alone won't usually do it. I suppose it might be possible to make something of the Hong Kong focus of one ETF but I'm not buying that. For better or worse, these ETFs are likely to respond to general China issues, in contrast to the stocks, where general issues combine with company-specific considerations.
When it comes to the general China market, I'm cautious absent company-specific factors such as those I saw in the above-mentioned stocks. The selection of two China ETFs this week reflects the model's purely technical nature. Recall that it seeks to play pullbacks that come following a general uptrend under the theory that a correction may have been overdone. Considering that the list is refreshed weekly, I can live with that case for the China ETFs.
Elsewhere on the list, we have South Africa, where a looser monetary policy is likely to be used to combat a rising currency as the country comes to grips with the need to get its domestic economy moving. There's often talk of Africa being the next major growth story. That is definitely not now a slam dunk scenario but if it happens, it's hard to imagine South Africa not being in the vanguard. Colombia, a country to which I'm often exposed as a result of this model, isn't quite Brazil when it comes to getting attention, nevertheless it is one of several Latin American countries benefiting from general economic progress in that region. As to Turkey, frankly, I'm not sure what region it's even in. Perhaps I'll figure it out if the European Union can someday decide if it wants to grant or reject Turkey's application for membership. Whatever! The luxury of a purely technical strategy is that it spares investors the burden of having a full grip on the whys and wherefores behind each security, something I really appreciate as I rebalance the portfolio a day late due to the Thanksgiving day holiday.
Speaking of the holiday, my timing is a bit off and I'm finishing this article way before the start of the Friday trading day. That's the reason for my odd phrasing of the Seeking Alpha disclosure. As of now, last week's ETFs are still in my portfolio and I own none of the new ones in the current list. But I've already gone to the FolioInvesting.com web site and entered my rebalancing order and shortly after 11 AM Eastern Time, I expect to own only those ETFs in the new list.
APPENDIX
To create this model, I started with a very broad-based ETF screen I created in StockScreen123.com.
Eliminate ETFs for which volume averaged less than 10,000 shares over the past five trading days

Eliminate HOLDRs (I don't want to be bothered with the need to trade in multiples of 100 shares)

Eliminate leveraged and short ETFs (I think of these as hedging tools rather than standard ETF investments of even trading vehicles)
Then I sorted the results and select the top 5 ETFs based on the StockScreen123 ETF Rotation - Basic ranking system, which is based on the following factors:
120-day share price percent change - higher is better (15%)

1-Year Sharpe Ratio - higher is better (15%)

5-day share price percent change - lower is better (70%)
The idea of using weakness as a bullish indicator is certainly not new. But often, it's an add-on to other factors that, on the whole, emphasize strength. Here, the weakness factor is dominant, with a 70 percent weighting.
This model is designed to be re-run every week with the list being refreshed accordingly. I trade through FolioInvesting.com, where I pay a flat annual fee rather than a per-trade commission, so I don't care about the fact that turnover from week to week is often 80%-100%. If you want to follow an approach like this but do have to worry about commissions, the strategy tests reasonably well with three ETFs, or even with one. (Cutting the number of ETFs is far preferable to extending the holding period.)
Figure 2 shows the result of a StockScreen123 backtest of the strategy from 3/31/01 through 10/7/10.

Figure 2
Figure 3 covers the past five years, a very challenging market environment that witnessed the fizzling of many strategies that had succeeded for a long time.
Figure 3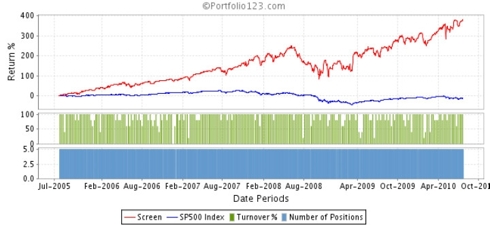 Disclosure: Long gxg. Pending sell orders on dbs, sivr, slv, and thd; and pending buy orders on ewh, ews, eza and tur.