I wrote the following in 2006:
I personally do not believe that any advice on stock investing is credible unless it is backed by a bona-fide illustrative real-time portfolio. It is remarkable how much investment advice is churned out that leaves the reader or viewer wondering, "Well, how did it turn out?" Magazines print articles about stocks to invest in, but there are few follow-up articles or only sketchy anecdotal ones. Investment web sites do the same thing, investment newsletters do it, books do it, and TV and radio do it. As a result, the individual investor is left in the dark on what the advice actually would have accomplished, in real dollars and in real time.
Recently, Seeking Alpha took a step in the direction of accountability for its authors. It introduced Performance statistics. They can be found in the author's profile, as shown here: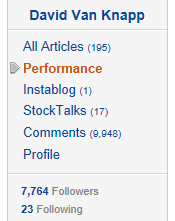 If you click on the "Performance" link, you will find statistics on how the author's long and short ideas did. Here is my performance information:

Click to enlarge
As you can see, only two articles were picked up for my performance report. I do not write many long/short articles for SA, none since 2010. Some authors' statistics are much more extensive. In many areas of SA, making calls and picks (often with no specified exit date) is the primary purpose of both writing and reading.
But for dividend growth investors, I will be honest. I don't think that short-term return statistics hold much meaning. My own statistics illustrate why.
From a glance at my performance table, it looks like I made a good call on Alliant Energy (NYSE:LNT) and a lousy call on Johnson & Johnson (NYSE:JNJ).
But is that really true? I don't think so, because short-term performance was not the reason that I brought either stock to readers' attention. My focus was on (1) a much longer timeframe than 3 months, 6 months, or one year, and (2) those interested in building a growing income stream over time.
I hold both stocks in my public Dividend Growth Portfolio. I purchased portions of each stock twice. I bought LNT two times in 2010, and I bought JNJ in 2010 and 2011. My blended price return on LNT is 65% and on JNJ it is 64%. The following two graphs show how each stock delivered those price returns.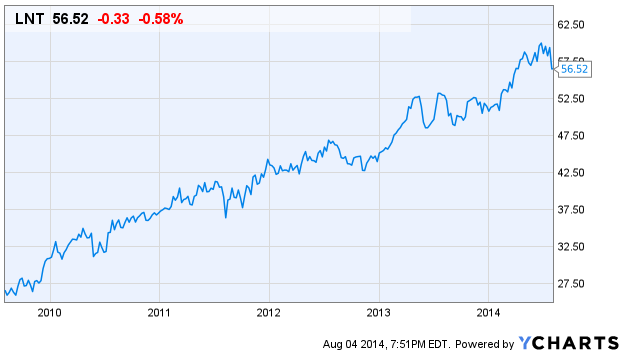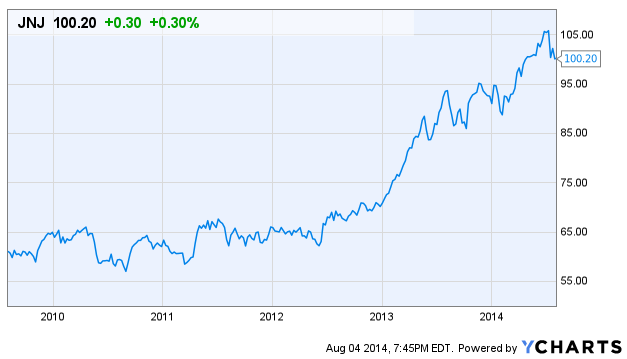 As you can see, LNT's price has gone up pretty steadily since 2010. JNJ, on the other hand, didn't do too much before the middle of 2012 (often being derided as dead money), but it took off since then.
Many dividend growth investors, myself included, look at dividend yield and dividend growth as the two most important return metrics, with total return coming in no better than third. When I think about JNJ's performance since I wrote its article in 2010, the following chart is more important to me: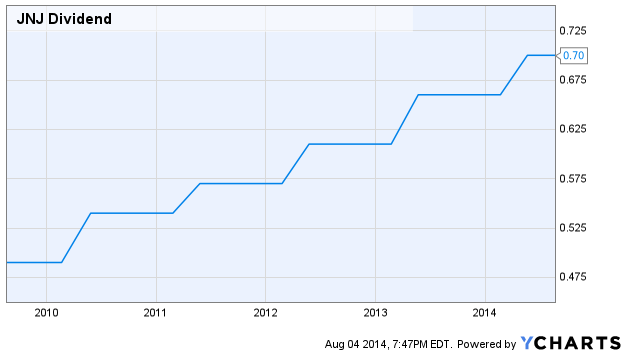 JNJ, in fact, has raised its dividend for 52 straight years and has a 5-year DGR (dividend growth rate) of 7.6% per year. Those are two of the main reasons that I brought the company to readers' attention in 2010, and why I bought it myself.
The story is similar for LNT. This is its most important performance chart to me: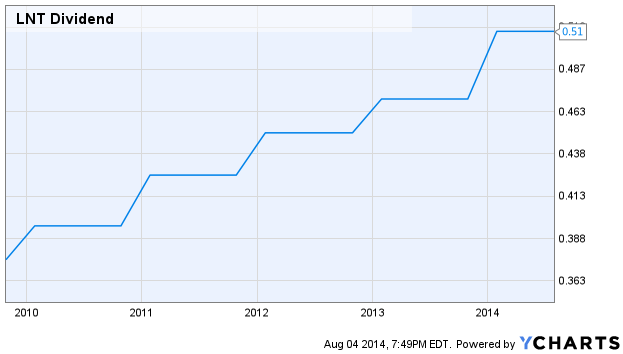 LNT has raised its dividend for 11 straight years and has a 5-year DGR of 6.1% per year.
Many investors are primarily interested in short-term "wins," and there are lots of writers who address that readership market. I am not criticizing them when I suggest that other investors are little interested in short-term trading profits, but instead are most interested in long-term goal attainment. In some strategies, short-term performance statistics have little to do with long-term goal attainment.
Speaking of short-term focus, over the past several months, we have seen growing numbers of examples where pundits have talked about the impending, inevitable correction to come. For example, on Monday MarketWatch headlined an article, "Warning: That plunge in stocks is just the beginning." To many, the market seems frothy, and the bull run that began in March, 2009 seems long in the tooth. These facts make a near-term correction likely if not inevitable, according to the growing chorus.
I have no opinion on when a correction is coming, because I am not a short-term trader. Truth be told, I don't much care. For a dividend growth investor investing for the long term, the only impact of a correction on his or her strategy may be that a correction will provide better valuations and higher yields at which to make purchases.
Traders, of course, may have a different point of view, but that is because their investing strategy is different. While everyone accepts that the market has a long-term upward bias, one might say that right now, it has a heightened short-term probability of declining. Some people might wish to trade on that belief.
But that is not what dividend growth investing is all about. If one is primarily interested in building the income stream from a portfolio of high quality dividend growth companies, impending market corrections don't make much difference. One will be looking primarily at the growing cash stream from the dividends of individual stocks, not at "the market" and its price fluctuations.
Disclosure: The author is long JNJ, LNT. The author wrote this article themselves, and it expresses their own opinions. The author is not receiving compensation for it (other than from Seeking Alpha). The author has no business relationship with any company whose stock is mentioned in this article.