Many of you have asked me questions about how the current volatility situation plays into the strategies we have discussed. First, I sincerely thank you for the communication. I wanted to remind you that I am a teacher and have started working very hard to begin the next school year. I will get back to you, but there may be a delay. My students are my number one priority.
In my previous article we discussed the volatility outlook for August. You can read that article here. I predicted that the next volatility spike would be in the 16-17 range. We are currently in that range. However, volatility has not entered backwardation just yet. See below.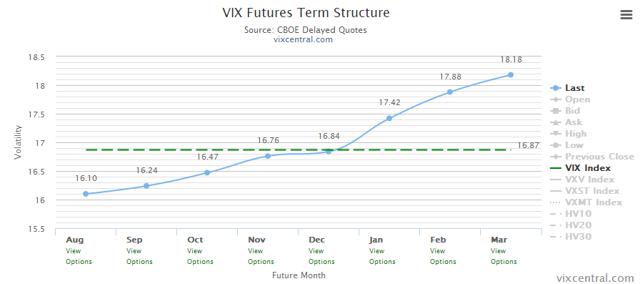 For my strategy on using contango and backwardation as entrance and exit indicators, click here.
Getting back to my previous prediction on volatility. Here is where we are currently:
Israel and Palestine continue to be in the news daily with new issues. I do not see this impacting volatility further unless the U.S. gets more involved.
The Russia - Ukraine tensions keep attracting negative attention and in turn influencing market movement.
Inflation continues to move closer to the Fed's targeted rate and increasing concern over interest rate hikes sooner rather than later.
Wage growth and consumer spending remains less than I would personally like to see in a healthy economy.
Economics
Some of my readers struggle with my comment that economics drives the VIX. Here is a clarification: the economy will naturally grow over time with dips and spikes along the way. In the current situation we have temporary issues causing the VIX to spike. However, the underlying economy is still showing more positive signs than negative. In my opinion, this tells me that economic data will bring down the VIX once current issues pass. This will remain true until such time as the data does not back up an improving economy.
Let's look at how the top short-term volatility products have performed in the past five trading days.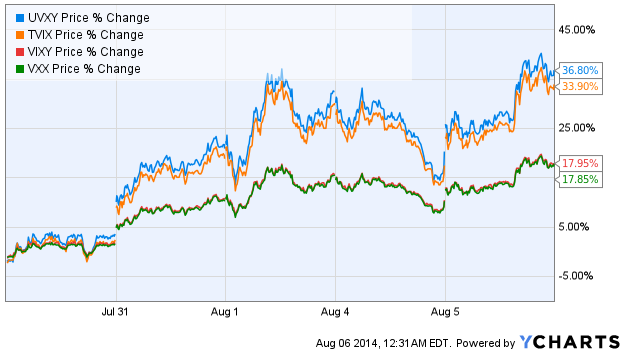 Inverse products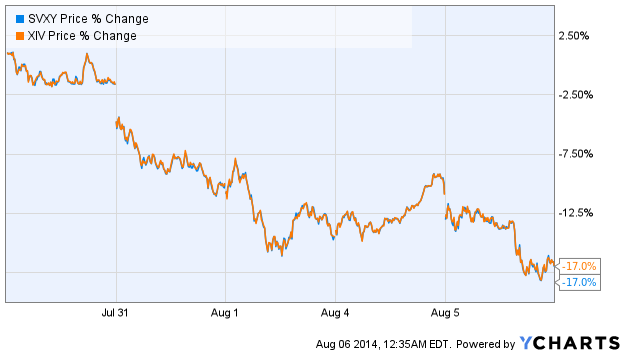 Some of my readers like a technical analysis of VIX futures ETPs, which is why I include them in most of my articles. I do not personally rely on technicals to make my trading decisions.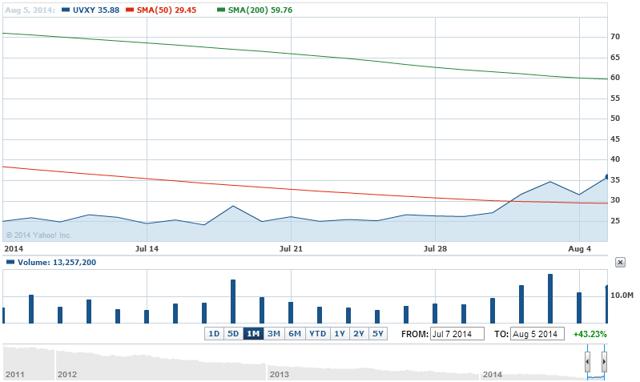 Proshares Ultra VIX Short-Term Futures ETF (NYSEARCA:UVXY) has moved about the 50 day moving average but is still well below the 200 day.
Conclusion
I am looking to initiate a short position in UVXY should VIX futures continue to move higher into and out of backwardation. I continue to monitor economic data and assess the current geopolitical environment for volatility opportunities. The spot VIX remains around the mean which makes me hesitant to execute a sizeable position.
Disclosure: The author has no positions in any stocks mentioned, but may initiate a short position in UVXY over the next 72 hours. The author wrote this article themselves, and it expresses their own opinions. The author is not receiving compensation for it (other than from Seeking Alpha). The author has no business relationship with any company whose stock is mentioned in this article.