This is the final of a four part series. Sunday we led off with a discussion on how the market feels like it is at an inflection point as the Federal Reserve finally is ending the final installment of its easing programs. Since the market declined in the double digits when both QE1 and QE2 ended before the Fed rose to investors rescue again, caution is the word of the day.
On Monday we discussed the probability that the European Central Bank will be forced to engage in their own massive easing program to keep the continent from sliding into recession again. Yesterday we looked as some of the large cap growth blue chips that have outperformed the market during this recent hiccup and why they should continue to do so.
Today, we will sift through the recent carnage in the small cap sector to find some bargains. These are stocks investors should consider slowly accumulating, not buying in big chunks, as this decline could have still have weeks or months to play out. I would also suggest selling slightly out of the money covered calls on these new stakes to further lower the volatility of one's portfolio. Here are a couple of small cap stocks that have had pullbacks that I am slowly accumulating.
I continue to like and add to small Bakken play Emerald Oil (NYSEMKT:EOX). It is down around seven percent from its recent highs. The company just reported earnings of 11 cents a share, seven cents a share above the consensus. Revenue came in slightly lower than expectations. However, sales were up more than 115% year-over-year so we will not quibble.
The future of Emerald is looking brighter as we close in on 2015. After losing money in 2013, the company should post earnings in the range of 15 to 20 cents per share this fiscal year. The consensus earnings per share for 2015 are in the 55 to 60 cents a share range currently.
Production is growing by leaps and bounds. Revenues should be up more than 120% year-over-year in 2014 - the vast majority from oil production. Consensus has Emerald delivering another 70% to 80% increase in sales in 2015 as well. Finally, Emerald could make an attractive buyout candidate given its acreage is undervalued compared to its peers in the Bakken.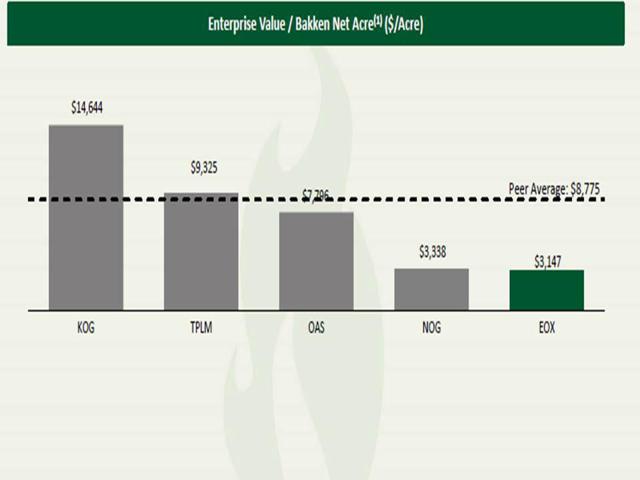 Click to enlarge
*Chart Source: Company Investment Presentation
The small cap biotech sector has seen several bumps in the road over the past several months. The sector is down substantially across the board since early March when this sector was at its peak. The decline has been indiscriminate as sentiment has turned decisively negative.
It is best to very slowly build positions in myriad promising plays to diversify across the sector as volatility in this space is one of the highest in the overall market. I have added a few shares to Ziopharma Oncology (NASDAQ:ZIOP) recently as it is down some 40% from highs earlier in the year even though little material has changed around the company prospects over that time frame.
This small biotech focuses on the discovery and development of new cancer therapies. The company is employing novel gene expression and control technology to deliver DNA for the treatment of cancer. It is developing a platform it hopes will be useful for attacking of variety of different cancers.
Insiders own over 20% of the firm and have been net buyers of the stock over the last year. The company also has some $60 million in net cash (~20% of total market capitalization). The company has several promising products in early stage development and I believe the stock makes a good speculative position at these levels.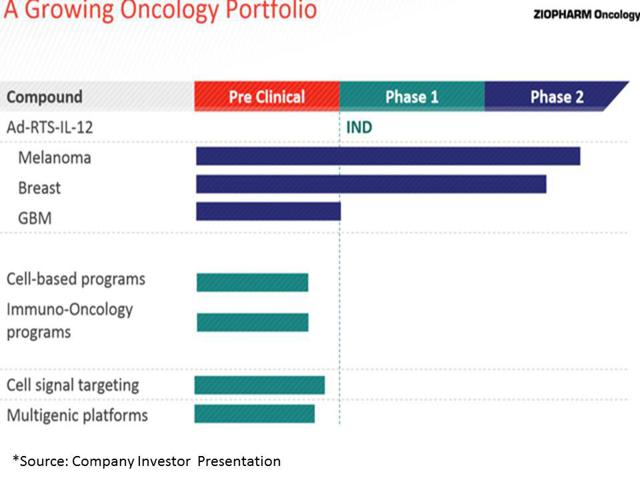 Click to enlarge
I have also added recently to Big Five Sporting Goods (NASDAQ:BGFV). The stock is down 25% from recent highs on a combination of a poorly received earnings report, challenges throughout the sporting goods sector currently and negative sentiment overall on the small cap sector.
As mentioned above the company recently delivered quarterly earnings that saw a low single digit decline in same store sales year-over-year. However, almost the entire revenue decline was attributed to gun and ammo sales continuing to decline which is impacting all sporting good chains right now. These comparisons will get better in the quarters ahead as the post "Newton Massacre" surge of gun & ammos sales will no longer show in year-over-comparisons as sales normalized after that surge.
In addition, the company is still solidly profitable, pays a four percent dividend which should help put a floor under the stock and the shares are also near book value. The stock is offering an attractive entry point to long term value investors at less than eight times trailing earnings.
Again, the recent decline in small caps could still have legs. Incremental additions to attractive small cap stocks on market dips are the patient and prudent way to action this pull back.
Disclosure: The author is long BGFV, EOX, ZIOP. The author wrote this article themselves, and it expresses their own opinions. The author is not receiving compensation for it (other than from Seeking Alpha). The author has no business relationship with any company whose stock is mentioned in this article.