When shares of RetailMeNot (NASDAQ:SALE) dropped 28% in a single day on Tuesday, August 5th, I began searching for some reasonable explanation to justify a $7 plunge in one trading session. What I discovered was inaccurate earnings information being reported across the market and serving as a catalyst for selling.
When the company reported earnings on Monday, August 4, 2014, reports that RetailMeNot had missed its EPS estimates began to be published almost immediately. According to Tiernan Raya of Tech Trader Daily, a spokesperson for RetailMeNot reached out to correct the misinformation that was being disseminated across the Internet.
RetailMeNot reached out via a spokesperson to point out that the non-GAAP number for EPS was 17 cents, while the 8-cent number was a GAAP number. By that metric, the company points out, [what] it reported actually beat GAAP earnings expectations.
Tiernan Raya also reported that Goldman Sachs analyst, Debra Schartz, also attempted to correct the misinformation by issuing a report that confirmed RetailMeNot actually beat non-GAAP EPS estimates by a penny. Unfortunately, this was too little too late. Shares plunged and panic selling seized control.
A Goldman Sachs report out a short while ago from Debra Schwartz estimates non-GAAP EPS was actually 18 cents, which would have been a penny above consensus.
The barchart below clearly shows the estimated non-GAAP consensus of $0.17 and a $0.19 EPS beating by $0.02.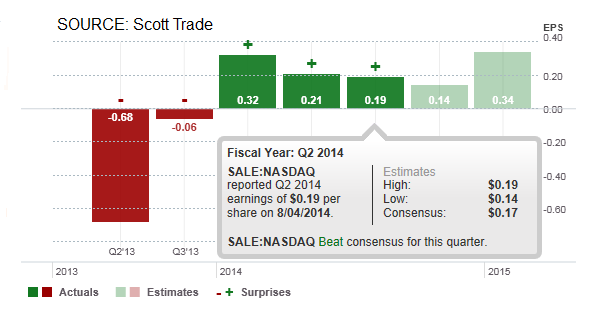 The 3 different sources above unequivocally demonstrate that Wall Street hacks and pundits misinformed the market by inaccurately comparing non-GAAP to GAAP EPS estimates and created the panic selling.
The incorrect EPS resulted from some reporters making erroneous comparisons to the non-GAAP estimate of $0.17 EPS to the actual reported GAAP report of $0.08 EPS. This initial misinformation sent the share price lower and lower as reports of an earnings miss spread like a wildfire. Only Tiernan Raya of Tech Trader Daily made the required correction.
EPS Misinformation Triggers Unwarranted Selling
Thinly traded stocks can easily overreact to news, financial reports, and other perceived negativity as information is released and assimilated by investors. These volatile and reactionary price moves sometimes turn out to be huge buying opportunities because they are unjustifiable on a valuation basis. Savvy investor's quickly realize that the volatile drop is an open door to purchase shares at huge discount to their intrinsic value. As quickly as the shares plunge they begin recovering without warning, sending short sellers and new investors into a panic buying mode. The door of opportunity quickly closes as investors conclude the price drop was unwarranted.
Other Concerns Addressed
Jefferies analyst, Brian Pitz issued a report that addressed investors concerns about the Panda 4.0 algorithm upgrade that was largely publicized and greatly exaggerated by pundits:
Negativity Now Fully Priced In

Brian Pitz of Jefferies maintained a Buy rating in a note to clients on Tuesday. The analyst believes that the long-term traffic damage from Panda 4.0 is now priced in and RetailMeNot can now look [to] focus on diversifying traffic away from organic search into mobile, e-mail and direct.

Pitz notes there are three compelling reasons to still buy shares, despite the price target lowered to $36 from a previous $47.
Pitz is "cautiously optimistic" on the management team's ability to continue diversifying away from traffic from organic search.
The company's long-term secular thesis for online coupons is still intact.
Mobile is a core growth driver and is still in the early stages.
Pitz went on to say, "RetailMeNot is one of the cheapest shares under the analyst's universe of e-commerce names."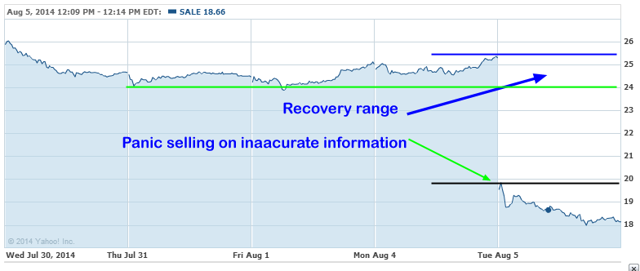 Conclusion
Shares settled at $18.15 per share on Tuesday, August 5th. RetailMeNot is trading at a huge discount due to misinformation. The company has reported its third consecutive quarter of profitability beating EPS by a penny. Financial metrics are solid and growing. Shares are poised to recover.
For more details and information about RetailMeNot please read this recently published article.
Disclosure: The author is long SALE. The author wrote this article themselves, and it expresses their own opinions. The author is not receiving compensation for it (other than from Seeking Alpha). The author has no business relationship with any company whose stock is mentioned in this article.