Janus Capital Group Inc. (NYSE:JNS) has hogged the headlines for the wrong reason. In a filing with the Securities and Exchange Commission (SEC), the company has revealed that it has received an enquiry from the authorities in an insider trading investigation on Wall Street. While Janus has expressed willingness to fully cooperate with the SEC, it declined to provide any further details on the enquiry.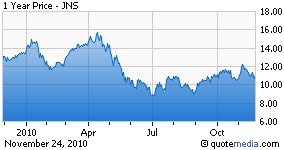 Insider trading is the trading of a corporation's stock or other securities, such as bonds or stock options, by individuals with potential access to non-public information about the company. It refers to a practice in which an insider or a related party trades based on material non-public information obtained during the performance of the insider's duties at the corporation, or otherwise in breach of a fiduciary or other relationship of trust and confidence or where the non-public information was misappropriated from the company.
Besides Janus Capital, other companies such as SAC Capital Advisors and Wellington Management Co. are said to have received enquiries related to insider trading, according to a report in the Wall Street Journal. Investigations are said to be on to see whether there was any leak of information from Goldman Sachs Group Inc. (NYSE:GS) for transactions regarding health care mergers. Hedge fund and mutual fund trading activities by these companies are being probed to see if they have resulted in illegal profits by utilizing inside information which was not made public.
Third Quarter Results
Janus Capital's third quarter earnings per share came in at 18 cents, outpacing the Zacks Consensus Estimate of 16 cents primarily due to lower operating expenses. Amid a tough environment, Janus Capital progressed through enhanced performance in fixed income and global businesses. Long-term performance remains solid and the company expects to grab opportunities in the market through its active equity strategies.
Our Take
Janus Capital has the best-in-class investment boutique with the potential to drive assets under management and revenue growth along with its competitive leverage. However, a weak demand due to the ongoing market volatility demands caution in the near-term growth outlook.
While initiatives to strengthen its business and broaden its vista are welcome, upfront costs for such initiatives cannot be ignored. Though fixed income and global operations are improving, headwinds persist and the company's equity-heavy portfolio exposes it to equity market volatility.
Given its healthy balance sheet and total AUM growth, we believe Janus has the potential to outperform its peer group in the long run, although near-term headwinds prevail due to the fragile state of the global economic markets.
However, the news of Janus Capital's investigation has made the investors a bit skeptical; the stock price dropped 2.83% in yesterday's trading in the regular session on the New York Stock Exchange.
Janus Capital currently retains its Zacks #3 Rank, which translates to a short-term Hold rating.