Background
Lloyds Banking Group (NYSE:LYG), like many other European banks during the financial crisis of 2008, was provided financial support by Her Majesty's Treasury ("HMT"). As a result, LYG was required to divest part of its UK retail banking business with the aim of bringing more competition to UK retail banking. Initially operating under a deadline of November 2013, LYG attempted to divest the business through a direct sale to a Co-operative group; however, those attempts proved futile, and with an extension by the European Commission to December 2015, LYG moved to divest the newly formed TSB Banking Group PLC (Yahoo: TSB.L) via a public offering, which was completed in June 2014.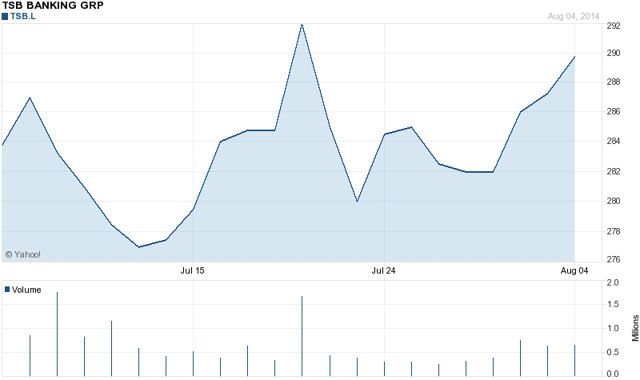 Click to enlarge
Business Description
With a history dating back to 1810, TSB is a simple retail bank with 631 branches throughout the UK. The Company has approximately 4.5 million retail and 113,000 small business banking customers who are offered a comprehensive product suite including: personal current accounts ("PCA"), savings products, mortgages, unsecured personal and business lending and certain insurance products services. The Company has a 5.5% share of the UK market based on branch locations and its £23 billion deposit base equates to a 1.3% share of UK customer deposits.
The Company generates revenue primarily through net interest income (difference between interest payments received on loans less interest payments made on deposits) and fee and commission income.
In addition to its retail banking activities (the Company refers to this as the TSB Franchise), the Company also receives interest income from its Mortgage Enhancement segment. As part of the divestment, LYG has guaranteed interest payments from a separate portfolio of mortgage assets that are operating as a run-off. The portfolio has a balance of £3.3 billion, and is legally owned by the Bank of Scotland (NYSE:RBS). Nonetheless, TSB is entitled to the economic benefit of the portfolio through 2017, without the associated liability.
Carve Out Details
As LYG was forced to divest the TSB business, the Company offered shares at compelling prices to facilitate the transaction. The pre-pricing range for the shares was 220 - 290 GBp/share and the shares were ultimately priced just above the midpoint at 260 GBp/share. As of March 31, 2014, the 260 GBp implies a Price/Book ratio of 0.91.
As part of the divestiture, LYG has agreed to support TSB's operations through two separate agreements. The first, the Transitional Services Arrangement (TSA) will run through 2016 and will then be replaced with a Long-Term Services Arrangement (LTSA), which is set to expire in June 2024. These agreements cover a variety of support services, but primarily will assist TSB with its IT infrastructure. The TSA core service charge is anticipated to be £92 million/year.
Industry
The UK retail bank market can be described as mature and consolidated. According to TSB, there are 76 million PCAs in the UK, of which 61 million are active. Additionally, the five largest providers (LYG, RBS, HSBC Holdings (NYSE:HSBC), Barclays PLC (NYSE:BCS), and Banco Santander SA (NYSE:SAN)) in the UK PCA market have between them a market share of approximately 85%.
The Company believes that success within the UK retail banking industry requires:
sufficient national and regional scale, including through a branch network;
a well-recognized brand and good reputation;
access to banking technology (including digital banking channels) and;
ability to generate sufficient profit to invest in the business.
Opportunity
Low-Risk Bank: TSB is "plain vanilla" bank with a very low-risk profile as evidenced by its Tier 1 Capital ratio of 21.6%, significantly above the 6% minimum threshold required by Basel III capital requirements. Furthermore, the Company has lower litigation risk versus comps as LYG has agreed to indemnify TSB in respect of losses arising from pre-Admission acts or omissions relating to customer agreements constituting breaches of applicable laws and regulations.
Potential Growth: With a market share of only 4.2%, TSB has the opportunity to grow market share by acquiring new customers from competitors and with LYG providing its infrastructure, TSB reaps the benefits of the banking infrastructure of a much larger established provider. With a loyal customer base already (72% of its customers having been with the bank for six years or more), the Board is looking to increase the balance sheet by 40% to 50% over the next five years.
Shareholder Friendly Policies: While the Company will require investment in its growth, the Board believes that it, "will, in time, be able to support a dividend distribution of 40% to 60%," and aims to initiate a dividend by the end of 2017.
Support: LYG is required to support TSB from an operational (TSA and LTSA) and financial (Mortgage Enhancement) perspective that should enable TSB to focus on executing its growth strategy and providing value to shareholders. Furthermore, LYG has agreed to not solicit any TSB clients for business for two years after it has divested its entire stake in the Company.
Valuation - Upside of 8% in the short-term; 54% for long-term
Key data:
Current stock price: 293.00 GBp
Number of shares: 500 million
Book value: 284.80 GBp per share as of March 31, 2014.
Estimated book value per share (2014): 327.53 GBp per share
Estimated EPS (2014): 17.49 GBp
Assumptions/Guidance:
Comp group includes 50+ Western European commercial and regional banks with market capitalizations of $500 million - $5.0 billion
Discount rate of 8%
Short-term upside


Stock trades in line with comps due to lower risk-profile than average bank for reasons outlined previously
Average return on equity (RoE) for comps is 7.5% with a price/book value of 1.0x
Current fair value of 317.19 GBp (upside of 8.3%) based on a 2014 year-end book value of 327.53 GBp

Long-term upside

The Board meets its stated goal of double-digit RoE
The Company grows its book value by 30% over the next five years
RoE between 10% - 15% which would result in a price/book value of 1.6x in five years based on comps
Current fair value of 449.51 GBp (upside of 53.4%) based on a 2019 year-end book value of 431.00 GBp
| Time Horizon | Book Value | P/B Ratio | Implied Price | Present Value | Upside |
| --- | --- | --- | --- | --- | --- |
| Short-term | 328 GBp | 1.00 | 328 GBp | 317 GBp | 8.3% |
| Long-term | 426 GBp | 1.60 | 682 GBp | 450 GBp | 53.6% |
Downside

As mentioned above, the stock was offered at a significant discount to fair value at 260.00 GBp/share, which I believe is a fair downside (~11% downside)
Risks
The major risk here is more technical than fundamental, as a share overhang will remain until LYG completes its share divestiture by the end of 2015. While LYG has already reduced its holdings to 307.5 million (61.5% of shares outstanding) from 500 million shares, their holdings still represent a majority of the shares outstanding, which will also keep the float low for some time.
Additionally, there are some operational and industry issues that one should keep in mind:
Interest Rate Risk: An extended low interest rate environment may result in lower net interest margins realized by the Company and therefore lower profitability. At the same time, an increase in interest rates may lead to an increase in default rates, which may also hurt profitability.
Competition: The UK retail banking market is considered mature and growth will mostly come from convincing customers from competitors to switch banks. While TSB believes that it will be able to be successful in this regard, the Company's competitors will be looking to do the same to TSB.
Scottish Independence: On September 18, 2014 Scottish citizens will go to the polls to determine if they will become an independent country. While independence from England looks unlikely at the current time, the outcome cannot be guaranteed. If Scotland were to become independent, it could create a whole host of new regulations and fees that could very well increase the cost of doing business for TSB, which conducts a significant (20% of its mortgages are based in Scotland) amount of business in Scotland.
Conclusion
The forced sale of TSB by LYG has provided the market an opportunity to buy a well-capitalized and low-risk bank with a significant market presence at below fair value. TSB's simple operating model and clean balance sheet should attract investors as it matures as a publicly-listed company. Given the limited downside and potential for significant upside in the medium to long-term, TSB is certainly worth owning at current levels.
Updated Situation
TSB released second quarter earnings on July 31 and announced that it "increased its share of new personal checking accounts to 9.2 percent in the second quarter, ahead of its target." Increasing market share is a major goal of the new Company.
Additionally, the Company confirmed that it is looking to buy up to £1.5 billion of mortgages from UK Asset Resolution, which holds assets from some of the collapsed banks during the financial crisis, furthering the Company's plan to increase its balance sheet.
Disclosure: The author has no positions in any stocks mentioned, and no plans to initiate any positions within the next 72 hours. The author wrote this article themselves, and it expresses their own opinions. The author is not receiving compensation for it. The author has no business relationship with any company whose stock is mentioned in this article.
Additional disclosure: I am long TSB Banking Group Plc, which trades in London (Yahoo: TSB.L) I may change or exit my position (buy or sell shares) without updating this article and without informing the Seeking Alpha community.