United Technologies Corporation (NYSE:UTX) has a diversified and broad business model which is enabling it to perform well in every business environment. The company's global footprint and diversified business model reduces the adverse political and economic impacts of any single country. Its strategy to maintain a diversified and balanced portfolio of businesses allows it to generate big profits year after year. This business model offers original equipment manufacturing and aftermarket parts and services in both its commercial and aerospace businesses. Its business strategy includes restructuring and acquisition of business to go forward with the changing business environment and to generate consistent growth in sales.
Further, its concentration on growth opportunities and on its core markets resulted in strong sales growth over the past few quarters. In the past three years, its sales growth was standing at 6.2%, compared to the industry average of 2.6% based on Morningstar data. At the moment, it is generating strong growth in emerging markets, particularly led by China, where the sales increased by 11% compared to the past year quarter. In the past quarter alone, UTX was able to increase sales by 7% and earnings by 12% over the past year quarter. Its greater revenue growth over the industry average is due to its diversification in commercial and residential businesses, which balanced it against exclusive dependence on the industry of Aerospace & Defense.
Its business mix also presents the amalgamation of shorter cycles at commercial aerospace aftermarket businesses and UTX Climate, Controls, & Security and longer cycles at aerospace OEM businesses and Otis. In addition, the company is expecting more significant growth in the next half of the year due to interests in China, combined with expansion in the U.S. economic situation and global data presented by the International Monetary Fund [IMF]. All of these factors have been allowing the company to post higher profits each year. This further allowed it to generate hefty cash flows to support investments in growth opportunities and return cash to shareholders. United Technologies has been able to increase dividends by 53.25% in the past five years, around a 10% increase each year. Going forward, it seems realistic that similar increases in dividends can be expected from the company in the fourth quarter of this year.
United Technologies is in a strong cash position. The company's operating cash flow is three times its capital requirements at the end of last quarter. Its operating cash flow was standing at $1.7 billion when capital investments were at $572 million, and thus free cash flows were at $1.17 billion. Its free cash flow is also twice as much as its dividend payments, as dividend payments were only standing at $512 million, representing a lot of room for potential increases. With a strong cash generating potential, it is also working on buybacks which will positively impact its dividends and share price. In addition, United Technologies has recently increased lower-end earnings per share guidance from $6.65 to $6.85 previously to $6.75 to $6.85. This is due to the organic growth trends, solid backlog and focus on generating growth in the core markets. The increase in guidance will also positively impact its cash generating potential and this could allow the company to increase its buyback program from 1 billion to 1.25 billion for the year.
Before making any conclusion, we have to consider risks associated with any investment. United Technologies is a diversified industrial company whose businesses mostly depend on the global economic conditions. With the healing of economy over the past two years, the company's businesses are growing. Based on International Monetary Fund, the global economy is expected to grow by 3.7% in this year and 3.9% in 2015. This removes uncertainties about future growth. In addition, United Technologies has a diversified business model which reduces its dependence on any single region or business segment. In terms of liquidity risk, the company stands at the low end of the ladder. It has strong cash generating potential which allows it to invest in growth opportunities and return cash to investors. As discussed above, I am expecting an increase in its dividend in the final quarter of this year.
In Conclusion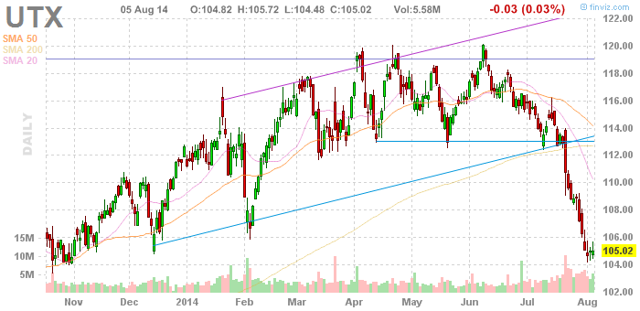 Click to enlarge
United Technologies with its strong product portfolio, smart business strategy, diversified global footprint and potential to introduce innovative products allows it to make big profits in the near future. Its fundamentals are also moving nicely. Its price to earnings per share is in line with the industry average while forward price to earnings ratio of 14 shows a trend of strong upside potential. I believe the company has very strong upside potential and the recent, huge market corrections offer an opportunity for investors to pick this defensive stock for healthy dividends and steady price appreciation.
Disclosure: The author has no positions in any stocks mentioned, and no plans to initiate any positions within the next 72 hours. The author wrote this article themselves, and it expresses their own opinions. The author is not receiving compensation for it (other than from Seeking Alpha). The author has no business relationship with any company whose stock is mentioned in this article.