It's been an ugly stretch recently. On Thursday, July 31, the Dow Jones Industrial Average plummeted 1.89%, and, for the first time since May 20, traded below its 50 day simple moving average. On Friday, the Dow fell another 0.44%, a move which was offset by Monday's 0.46% climb. Then, just as it felt like the markets could be stabilizing, the Dow dropped another 0.85% yesterday.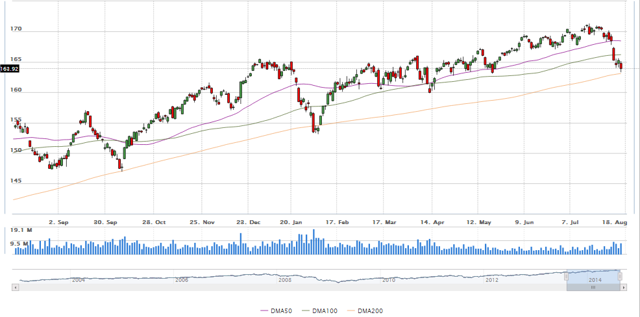 As always, there has been no shortage of explanations as to why the markets are doing what they're doing. Some have said this recent leg down is out of fear that the Fed could now consider raising interest rates earlier than originally planned because of strong economic data. What has increasingly become the prevalent argument, however, is that markets are falling out of fear that Russia will soon invade Ukraine. Yesterday, the Polish foreign minister was quoted in saying that Russia has more than 20,000 troops now stationed on Ukraine's border and that an invasion may be imminent.
What Happens If Russia Does Invade
For months the situation in Ukraine has been deteriorating. Before this recent pick-up in Russian military activity, it was the downing of Malaysia Airlines Flight 17, and before that it was Russia's annexation of Crimea.
While the United States and several European nations have scolded President Putin for his actions and implemented costly economic sanctions on the country, there is no indication that President Putin is at all ready to consider de-escalating the situation.
If Russia was to invade Ukraine, something which seems more and more likely with each passing day, the market would inevitably sell-off. The chart below displays the market's historic reaction to similar geopolitical events.
Major Geopolitical Events Since WWII
Event
% Sell-Off
Days to Bottom
Days to Recover
Japanese Tsunami (3/11/11)
-3.60%
3
6
Madrid Bombing (3/10/04)
-4.10%
10
18
Terrorist Attacks (9/11/01)
-11.60%
5
19
Iraq's Invasion of Kuwait (8/2/90)
-5.90%
2
30
OPEC Oil Embargo (10/17/73)
-1.90%
6
10
Cuban Missile Crisis (10/22/62)
-2.70%
1
5
Pearl Harbor (12/7/41)
-10.80%
18
257
While an invasion is very unlikely to bring about U.S. military intervention, it would effectively isolate Russia from the rest of the world, and, in turn, put in jeopardy the economic growth of, most importantly, Europe.
European nations aligned with the West potentially refusing Russia's oil and natural gas exports would be a big deal. According to the BBC, European countries account for 84% of Russia's oil exports and for about 75% of the country's natural gas exports.
Justifiably, the overall market would sell off if Russia invaded, given the introduction of a new formidable threat to a key international market's economic well-being. Here's the catch: companies with no exposure to Europe or even international markets at all will also likely sell off for no other reason than the overall market's decline. Here's where the opportunity comes in.
Look to These All-American Companies In The Case of Invasion
Here are three All-American companies I'll be looking to load up on in the event that Russia does invade Ukraine.
1. Chipotle Mexican Grill (NYSE: CMG)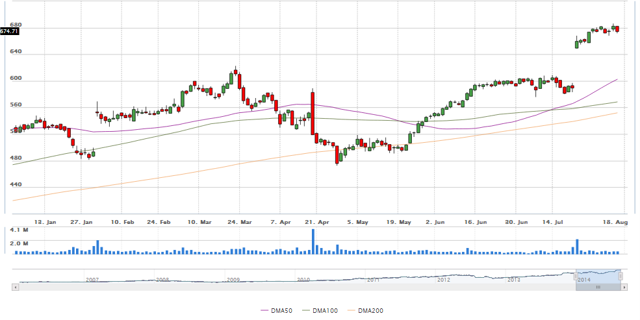 After a tremendous second-quarter report last month, which featured, most prominently, 17.3% comparable restaurant sales growth, Chipotle's stock has been off to the races. Currently, Chipotle is trading more than 22% above its 200 day simple moving average. A return to the 50 day SMA around $605 would be an attractive entry point for me.
2. Enterprise Products Partners (NYSE: EPD)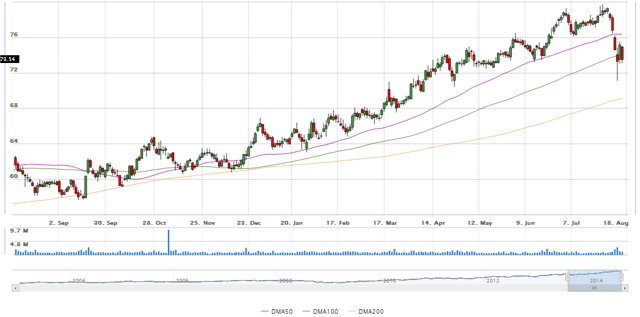 The biggest MLP out there has also performed well so far this year. As of yesterday's close, Enterprise Products Partners was trading 6.4% above its 200 day SMA. EPD is an especially interesting idea because if Russia's oil and natural gas were to be taken out of the global marketplace, the principle of supply and demand would result in prices rising. With oil and natural gas prices on the rise, producers would be scrambling to get product to market, increasing volumes for EPD and dividends for shareholders. Anywhere down near EPD's 200 day SMA ($69.11 currently) would be an interesting entry point.
3. CVS Caremark (NYSE: CVS)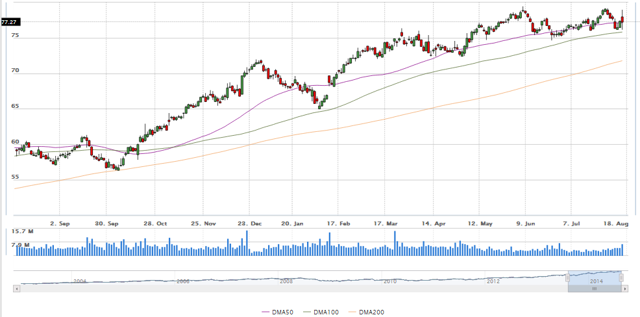 One of the only bright spots in the market yesterday was CVS's earnings report. Not only did CVS beat both EPS and sales estimates, the company also revised guidance upward for the full fiscal year. This is just another in a long string of strong performances that has distinguished the company as one of the best-performing retailers out there. CVS currently sits 7.6% above its 200 day SMA, which is where I'd look to jump in.
The Takeaway
Yes, a Russian invasion of Ukraine will certainly come with its disadvantages. Fortunately, however, I believe companies with minimal exposure to international markets will be punished right alongside everyone else.
That presents an opportunity for me, and other long-term investors, to take advantage of a short-term blip in the road to increase, or even initiate positions in strong all-American companies. Happy investing!
Disclosure: The author is long EPD, CMG. The author wrote this article themselves, and it expresses their own opinions. The author is not receiving compensation for it (other than from Seeking Alpha). The author has no business relationship with any company whose stock is mentioned in this article.