Precious metals have been the star of the show this year. In a crowded field, the ETFS Physical Palladium ETF (NYSEARCA:PALL) still manages to stand out.
In recent days:
Palladium's price has gained on fears that Russia, the world's largest producer, has exhausted its state stockpiles of the precious metal.
Rhiannon Hoyle for The Wall Street Journal reports that palladium has also been assisted by a weak dollar, which has made the metal more appealing for overseas investors.

Melissa Desroches for International Business Times reports that a host of other, broader factors are helping support the metal's price, including:
Automotive demand – palladium is used in catalytic converters.
Jewelry – palladium is becoming a popular alternative to white gold or silver; it's lighter, less expensive and requires less care.
Electronics – palladium has a big role in the production of capacitors and fuel cells.
ETF Securities Physical Palladium is a play on palladium's spot price, since it holds the physical metal. If you're looking for an alternative to gold or silver, consider this.
click to enlarge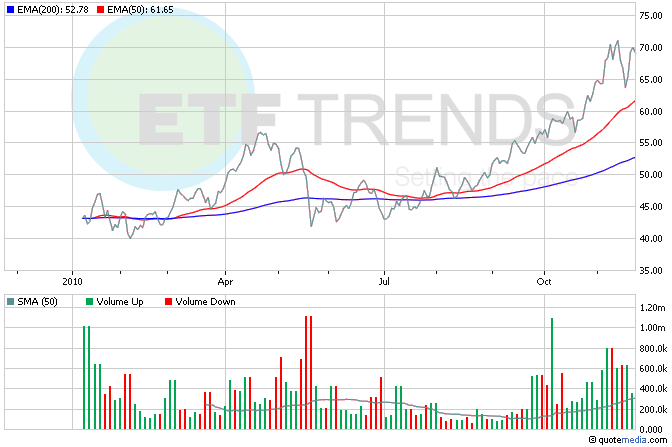 Tisha Guerrero contributed to this article.
Disclosure: None