by Sheena Lee
The jury remains out on how much Research In Motion's (RIMM) new PlayBook tablet will help the company retain its share of the mobile market, especially as it has missed the crucial holiday shopping season. While hope remains high among some Canadian analysts, others are concerned that even a successful PlayBook won't be enough to offset RIM's shrinking share of a growing smartphone market.
Of 41 sell-side and independent analysts tracked by Alacra Pulse, 16 are positive on the company, 4 are negative and the remaining 21 are neutral.
The median price based on the most recent targets tracked by Alacra Pulse is $67, unchanged from a month ago and higher than Tuesday's closing price of $57.85. The mean target is $66.71.
Current 12-month price targets of selected sell-side and independent analysts. Click image to enlarge.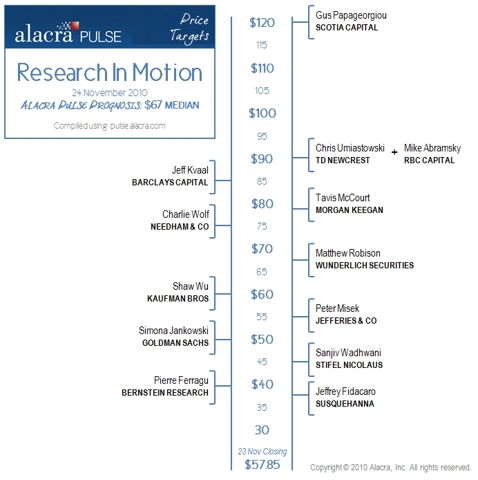 Canadian analysts are mostly more bullish than others on the Ontario-based company, led by Gus Papageorgiou at Scotia Capital. He nudged his price target up to $120 from $117, almost double the median and more than triple the low target of $37.50 from Susquehanna's Jeff Fidacaro. Papageorgiou said that with a price-earnings multiple of 9.8, the lowest among the smartphone makers (Apple shares command a multiple of 20), RIM shares are trading at absurdly inexpensive levels ."In our view, RIM's valuation at these levels is almost unprecedented and we would strongly encourage investors develop or maintain an overweight position."
RBC's Mike Abramsky kept his Buy rating and price target at $90, and believes that Research In Motion could sell 6 million PlayBooks next year.
Oppenheimer & Co. analyst Ittai Kidron expects 100,000 units being sold in the fourth fiscal quarter ending February. "If executed properly, the PlayBook could help RIM defend its enterprise leadership against intensifying competition from Apple, Android and WP7. With that said, much uncertainty remains and we're not convinced RIM has successfully addressed its competitive smartphone gaps," said Kidron. He downgraded RIM to Perform from Outperform and removed his target price of $58: "Although valuation is still attractive, we don't believe investors will reward RIM with a higher multiple until it addresses the competitive challenges on a sustainable basis. Thus, we're moving to the sidelines."
Kaufman Bros. analyst Shaw Wu also downgraded Research In Motion to Hold from Buy. Wu said he's picking up strong indications from his supply chain checks that "Android and iPhone are looking to extend their platforms into mid-range and low-end smart phones, where RIMM currently enjoys success with its Curve and Bold product families, particularly in international markets." He lowered his price target to $60 from $72.
Stifel Nicolaus analyst Sanjiv Wadhwani cut Research In Motion to Hold from Buy earlier this month and lowered his price target to $45 from $65. Stifel argues that Research In Motion's "window of opportunity to create a competitive ecosystem of smartphone content has closed," citing recent checks which suggest that "developers are devoting a declining share of dollars and creativity into developing apps for BlackBerry OS…"
Goldman Sachs analyst Simona Jankowski expects about 200,000 PlayBooks during its fiscal year 2011, and for the calendar year 2011, Goldman sees Research In Motion shipping about 1.6 million units of the tablet PCs, much lower than Abramsky's forecast. Jankowski raised RIM's price target to $50 from $45, but maintains a Sell rating on the company.
Carolina Milanesi, an analyst at Gartner is seeing rapid growth in the tablet market. "RIM will fit in very nicely in those segments where security is paramount," said Milanesi, and she's forecasting total tablet PC sales to balloon to 54 million in 2011 and more than 100 million in 2012.
But Apple's (NASDAQ:AAPL) dominance in the tablet market "is a concern and I don't think it would be prudent to project massive sales volume" for the PlayBook, said Tero Kuittinen, an analyst at MKM Partners. Still, MKM retains a Buy rating and $69 target on the stock.
(Sources: TechTraderDaily, ZDNet, StreetInsider, All Things Digital, Reuters, The Star, Phone Plus Mag, Bloomberg)