Q2 Earnings Announcement
Kimberly-Clark (NYSE:KMB), owner of brands such as Kleenex, Cottonelle, Scott, Huggies, and Pull-Ups, announced its second quarter earnings on July 22nd. There were no major surprises with revenues beating analysts' projections by $20 million while growing 1.3% year over year. My last article, which can be found here, supplied evidence that KMB was undervalued at $111. This article provides further evidence that KMB is still undervalued at its current share price of $105.23 as of August 4th and represents a compelling buying opportunity for value investors.
Levered Returns Cash Flow Model
A price target of $123 was concluded using Levered Returns three-year projection model which implies KMB is trading at approximately a 17% discount to its latest trading price as of August 4th. An Enterprise Value ("EV") of $52.1 billion was determined by applying a discounted cash flow approach. A total equity value of $46.1 billion was concluded after deducting net debt, non-controlling interests, dividends payable, and adding equity investments.
Overview EV Projection Assumptions:
Revenue reaches $22.9 billion in year three which represents a three-year compounded annual growth rate "CAGR" of 2.7%.
Operating income margin expands to 16.5% by year two.
Capital expenditures as a % of revenue remain at 4.8% throughout the projection period which is equal to the Company's 10-year average.
Working Capital as a % of revenue, excluding cash and debt, remains at 4.5% throughout the projection period which is equal to the company's average over the last four quarters.
Tax rate of 30.0% which is in line with the company's LTM effective tax rate.
Terminal value concluded by applying a perpetuity formula to the free cash flow in year three using a terminal growth rate of 3.0%
Discounting the terminal value and discrete cash flows using a weighted average cost of capital of 8.0%. The discount rate build-up is shown below.
KMB vs. Public Peers
KMB currently trades at 11.0x latest twelve months "LTM" EV/EBITDA multiple and an 18.9x LTM PE multiple which is illustrated in the table below. This compares to Clorox's (NYSE:CLX) LTM EBITDA multiple of 11.5x and LTM PE multiple of 20.3x. KMB has historically outperformed CLX in terms of EBITDA growth and is projected to continue to do so for the next two years according to Thomson Reuters analyst estimates. In addition, Colgate-Palmolive (NYSE:CL) trades at a significant premium to KMB as shown in the Levered Returns table below.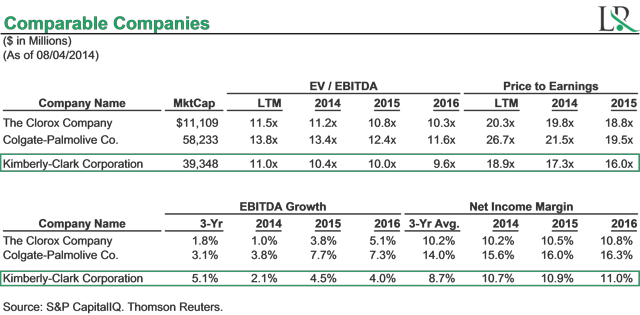 Conclusion
KMB is a globally diverse company that has historically outperformed CLX and is projected to continue to do so. Furthermore, CLX missed is its revenue estimates in FQ4 but continues to trade at premium multiples to KMB. KMB's share price has come down from its July 16th price of $114.24 and currently trades at $105.23 as of August 4th. I believe KMB represents a compelling buying opportunity for value investors as I am concluding a fair value price target of approximately $123. Try your own inputs in the Levered Returns models and let me know your thoughts in the comments below.
Disclosure: The author has no positions in any stocks mentioned, and no plans to initiate any positions within the next 72 hours. The author wrote this article themselves, and it expresses their own opinions. The author is not receiving compensation for it (other than from Seeking Alpha). The author has no business relationship with any company whose stock is mentioned in this article.