A recent report published by the INGAA Foundation estimated that energy companies will spend between $465 billion and $640 billion over the next twenty years upgrading North American midstream oil and gas infrastructure. Based on those estimates, it would seem long-term equity-income investors have plenty of reason to consider midstream-focused master limited partnerships, or MLPs, which sit in the sweet-spot of a continuing energy infrastructure build out.
While one solution might be to pick amongst the over 100 energy MLPs available on the open market, investors will need to deal with often times late arriving K-1s and handle potentially complex UBTI taxation rules in qualified accounts. Others might consider MLP-related ETFs or CEFs that offer simplified taxation through 1099s, and, in the case of levered CEFs, higher yields than can be found in passive or index-related pools.
Another option is the ETN, or exchange traded note, a debt security or promissory note typically linked to an underlying index, and underwritten by a guarantor bank. Since ETNs don't actually own the assets to which they are linked and merely track them, additional risk is taken on due to credit reliance on the underwriting institution.
The Known And The Unknown
When investors think of MLP benchmarks, they are likely to think of Alerian's flagship MLP Index, a 50 company market cap-weighted product. According to Alerian's web site, there is currently more than $16 billion of assets directly linked to its various indices.
While Alerian has become somewhat of a household word in the MLP universe, investors are much less likely to have heard of the Miller/Howard MLP Fundamental Index. Composed of only half the constituents of Alerian's flagship, Miller/Howard employs rules-based selection criteria which its creator Lowell Miller terms a smart-beta index strategy.
I recently had the chance to chat with Mr. Miller, founder of Miller/Howard Investments, a dividend-focused shop with AUM of $8.3 billion at the end of June. He and I discussed general prospects for MLPs, the particulars of his namesake index and The C-Tracks Linked to the Miller/Howard MLP Fundamental Index (NYSEARCA:MLPC), a less-than-one-year-old ETN underwritten by Citigroup (NYSE:C).
According to MLPC's prospectus, the note had an inception date of September 25, 2013 and has a maturity date of September 23, 2023. It is subject to early redemption beginning September 25, 2014.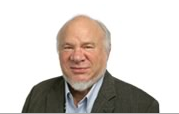 Lowell Miller
I started our conversation by asking Mr. Miller about his inspiration for creating the Miller/Howard MLP Fundamental Index, which will herein be referred to as 'MHFI.'
Lowell Miller: We have a lot of non-U.S. investors in our MLP strategy and another [in house] energy strategy. A lot of foreign investors have a lot of problems with the tax tricks of MLPs, as do domestic investors, so we worked with Citi to create this index because we didn't like the other indexes out there or other products.... so that investors could get our experience as managers embedded in an unemotional index.
We then moved on to a discussion of the differentiation and pros and cons, especially the tax "tricks", as Mr. Miller referred to them, of ETF/CEF MLP-related securities versus the ETN. While the somewhat complicated issue of MLP tax consequence is somewhat beyond the scope of this analysis of MLPC, it is worth noting that ETN distributions, unlike individual MLP and ETF/CEF distributions, are taxed as ordinary income. Thus, in general, to maximize tax benefit, an ETN might be better served in a qualified account while an ETF/CEF product might work better in an unqualified account, given the generally tax-deferred nature of the distribution. However, it's not always that simple.
Mr. Miller reminded me because of the tax drag that exists within ETF/CEF products, since they are classified as C-corps due to IRS rules, that an ETN and ETF tracking the same index will likely vary in results. The ETN will possess more upside during bull runs but also more downside in a bearish scenario. So it's possible even on an after-tax basis an ETN could provide the superior return in an unqualified account in a bullish environment.
Composition Of The Index
We next turned to how the composition of MHFI is determined. Mr. Miller explained that after evaluating the entire universe of over 100 MLPs, the index is first screened for liquidity and then whittled down to 25 primary positions based generally on focused criteria: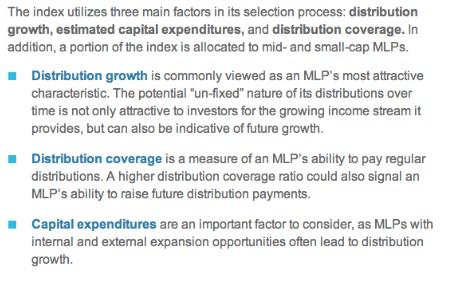 Source: MHinvest.com
As Mr. Miller explained:
Once we have established a universe of securities that are reasonably liquid, we want to know that the distribution is safe... we want to know what the company's EBIDTA is relative to what it is paying out. There are other metrics that people use, like distributable cash flow, but because that metric is interpreted in different ways by different companies, we just leave it as EBIDTA coverage. When you are creating an index you can't pick apart everyone's balance sheet and understand everyone's footnotes.

And then we want to know about future distribution growth, because that's what's going to drive the individual stocks. We use a surrogate for that. A lot of these companies don't really have coverage - there's no estimates out there. The surrogate that we are using is capex as a percent of total market cap. The reason we use that is because capex is a source of growth for MLPs. MLPs don't spend money unless they have a capital project that has already committed customers before they put a shovel in the ground. If a company has a high capex plan, you can pretty much count on it having higher EBIDTA in the future. And that's what will enable it to increase its distribution.
On a position basis, the MHFI includes an equal weighting of 15 large-cap stocks with a 5% allocation (75% of fund) but also includes 10 small-cap stocks, each with a 2.5% allocation to round out the index. Mr. Miller pointed out that the top 10 positions in the Alerian Index account for around 60% of its composition. His characterization of Alerian was that it tends to hold "the good, the bad, and the ugly," while MHFI wants to be more discerning in its constituent base.
Alerian Top 10 Composition

Source: Alerian.com
While the top 10 holdings of MHFI account for 50% of its assets, all of those positions are reset to a 5% weighting when the index is recalibrated on a quarterly basis. The Alerian Index is very top heavy, with just two stocks accounting for a quarter of assets, whereas MHFI attempts to create a selective, smoothed allocation not influenced by market cap. Here is the current composition of the Index as of last rebalancing (5/16).
MHFI Composition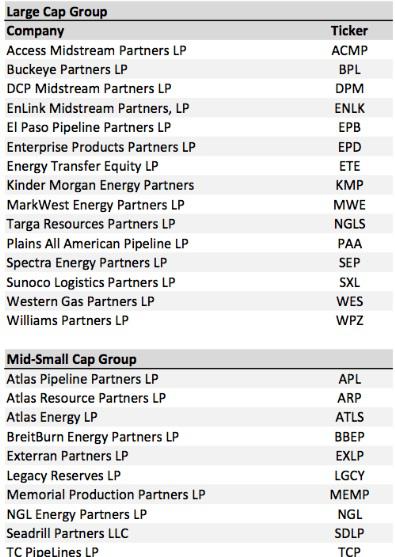 Source: MHInvest.com
Another current specification on the composition of the index is that 70% of MHFI must be characterized as a midstream MLP asset and that no more than 15% of assets be characterized as upstream or downstream asset. Hence, MHFI could currently be composed entirely of midstream MLPs. The current composition of MHFI is pictured below.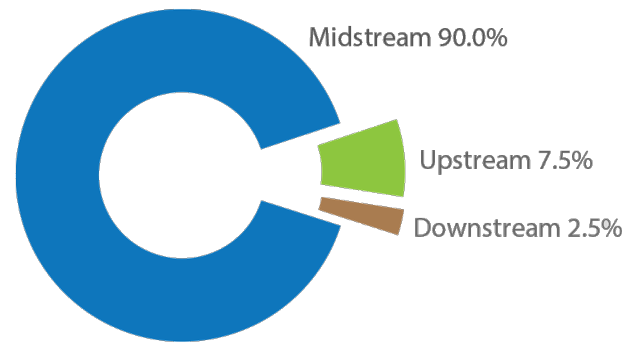 Source: MHInvest.com
Those with a greater interest in specifically how MHFI is rebalanced should read Miller/Howard's MHFI white paper.
As we moved on to further discussion of how the index is generated, Mr. Miller stressed that while there is some turnover in the fund, that investors in non-qualified accounts should not fear capital gains distributions, since the ETN structure, unlike ETF/CEFs, are not required to distribute ongoing net gains.
While MHFI is proprietary in nature, I asked him more about what goes into individual equity selection.
Lowell Miller: What happens on a quarterly basis is determined by the rules.... What we've done is attempt to embed, through algorithms, the knowledge and experience of investing that we have....It is an expert system where we have created absolute statements about the criteria/factors that we are looking for and embedded that into the rules of [MHFI]. I hate to use the phrase because it is so popular now, but this truly is a smart beta index. The key factors being distribution growth and equal weighting.
I asked him if assessment/interaction with management played into the quarterly maneuvering of MHFI at all.
For purposes of our actively managed accounts.... we do all the standard fundamental work an active manager would do. The Index attempts to embed all that we've learned from active management in some simple factors. For purposes of the Index we don't [take management into account].
I asked if there was more weight put on any factor.
No, what we do is what I call iterative screening......[Screening is done] until you are left with the number of stocks that you are looking for. So it's not a point system where all the elements are just kind of banded together.
We moved into a brief discussion of MLPs versus other income producing equities. While acknowledging that income stocks are trading at historically high valuations, he noted the following about MLPs.
Lowell Miller: The MLPs have something that very few of the other dividend stocks have. They have a tremendous tailwind... the North American energy revolution. If you look around the country and the globe and say where are there prospects for durable long-term growth....The MLPs are in this peculiar situation where they have the highest yield in the market - top 10 decile - but they also have a really strong growth story. Very few other groups can boast of this tremendous growth.

There are midstream assets that are owned by international majors that are not their core competency and which they are going to drop down into MLPs.... Estimates have that somewhere between $500 billion to $1 trillion in assets...There's a rather visible, wide and long runway for the midstream in this country. That does not include [international] expertise. There's an opportunity set that other industries can't address....We like to call MLPs "utilities without walls" because they have similar capital structure, but they aren't limited as to how they grow.
MLPC Analysis
Since MHFI was created less than a year ago it may be hard to get a grip on how much alpha benefit it might present relative to its more prevalent counterpart, the Alerian Index. Since its first day of trading - September 26, 2013 - not accounting for reinvestment of distributions, and net of fees, MLPC has returned about 18.55 percent. The JP Morgan Alerian Index MLP (NYSEARCA:AMJ) over the same time period has returned only 16.65 (based on mid-day Aug 4 pricing). The below chart shows a since-inception comparison strictly based on price.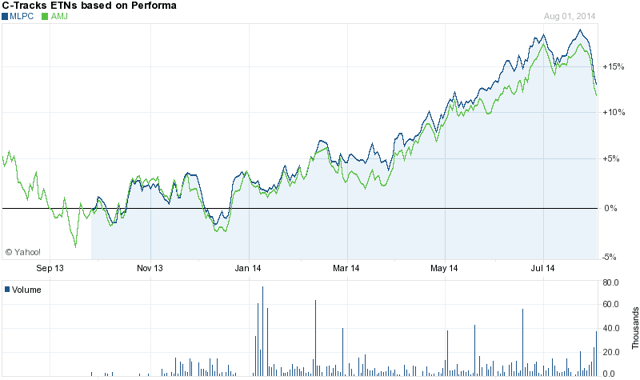 Source: Yahoo Finance
The next chart is a backtest executed by Miller/Howard comparing the performance of the Alerian MLP Index to a simulation of MHFI with some footnote parameters going back to July of 2009.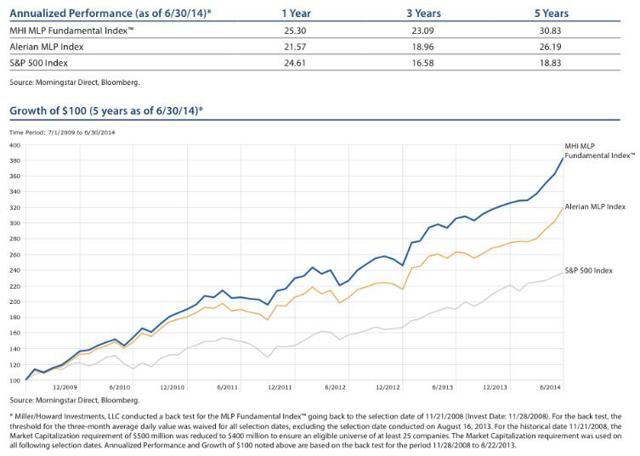 Source: MHinvest.com
While there's no way to authenticate the backtest without knowing MHFI's exact rules, MLPC's recent outperformance mildly verifies the study. In each of the 1, 3, and 5 year total return time frames, Alerian has lagged MHFI anywhere in the 3-5 percent range. During MLPC's short trading existence, it has bested AMJ, JP Morgan's Alerian ETN, by almost two percent. MLPC does possess 10 basis points more in tracking fees than AMJ (.95 vs .85), which would seek to slim its margin negligibly in the backtest which was conducted without fee inclusion.
Still, a several percent a year differential should be seen as statistically significant for the passively inclined MLP investor, especially total return investors that visualize adding to their position via distribution reinvestment or new share purchases over time.
Perhaps even more significant for those interested in income growth is the distribution distinction highlighted below.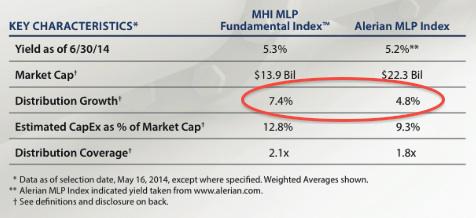 Source: MHinvest.com
Based on the last rebalancing on May 16, MHFI shows a 3.5% margin in YOY average distribution growth amongst its holdings as compared to Alerian. These numbers were calculated by taking the TTM distribution average on May 16 and comparing it to the "fifth" quarter. The yield illustrated above is before fees. The current yield on MLPC is about 4.55%, assuming a full year dividend run rate of $1.30. AMJ yields about 4.48 based on a TTM dividend.
Of note is the fact that MLPC bears a market cap of only about $58 million as of this writing, with average daily trading volume of around 10,000 shares. However, the more open ETF-like issuance/disposition features of an ETN and market maker flexibility, compared to micro-cap stocks or CEFs, makes large spreads and "well-away-from" NAV transactions less likely in normal markets. Retail investors should be able to build positions and dispose of shares of MLPC fairly efficiently. Thus, while this is a micro-cap security, it might be viewed in a somewhat different light.
All told, I believe MLPC represents an intriguing alternative to the flagship Alerian MLP Index or even a basket of individual MLPs as a core idea. Although the tax ramifications and credit risk of an ETN add a layer of contemplation to already elaborate MLP tax rules, the focused diversification of MHFI and its distribution growth strategy present an attractive proposition.
Of course with the group trading at an arguably frothy valuation and interest rate tightening looming, risk is not absent here and now may not be the best time to take a full position. But given the secular tailwinds of midstream energy, patient investors who take an opportunistic value approach to MLPC should be rewarded.
Disclosure: The author is long JPM. The author wrote this article themselves, and it expresses their own opinions. The author is not receiving compensation for it (other than from Seeking Alpha). The author has no business relationship with any company whose stock is mentioned in this article.
Additional disclosure: Disclaimer: The above should not be considered or construed as individualized or specific investment advice. Do your own research and consult a professional, if necessary, before making investment decisions.