There are situations in stocks that allow for two seemingly diametrically opposed perspectives to have certain merit at the same time, we think that the shares of Sphere 3D (NASDAQ:ANY) is a pretty good example of this. After a rather monumental run-up in a year in which the shares more than ten-folded (!), critics started to get vocal and the shares gave back a substantial part of the gains recently on valuation concerns.
But near panic selling turned into near panic buying on Monday on uplifting news from Overland (NASDAQ:OVRL), the take-over target of Sphere 3D and the company that is supposed to leverage Sphere 3D Glassware application virtualizer (and V3 System's VDI desktop virtualizer, from an earlier acquisition), providing these small companies with what they lack, a global footprint of clients, contacts, resellers and support and marketing organization.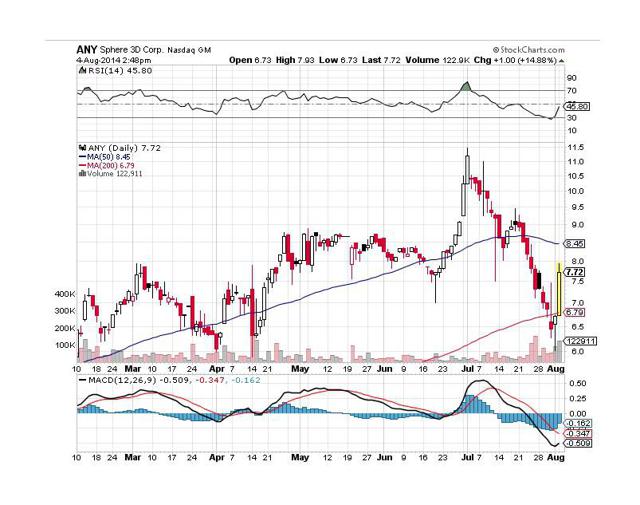 Glassware, Sphere's core capability
Let us first briefly introduce the company. Sphere 3D is a virtualization company which claim to fame is their Glassware 2.0 application, which provides a novel, and supposedly more efficient way to virtualize software, running it on basically any devise without regard to operating system.
The market for virtualization is big and growing, and it has established players like VMware (NYSE:VMW) and Microsoft (NASDAQ:MSFT). If you want to know why, according to the bulls, there is room for Glassware in this market, there is a brief description, accompanied by two figures from a Jacobsen research report, in a previous article by SA contributor Point of Return which show nicely the simplification that Glassware brings to application virtualization.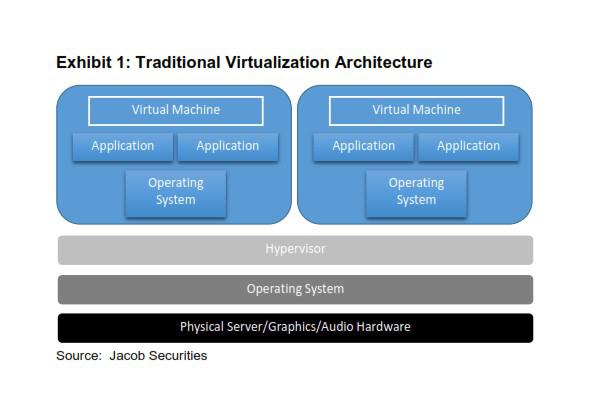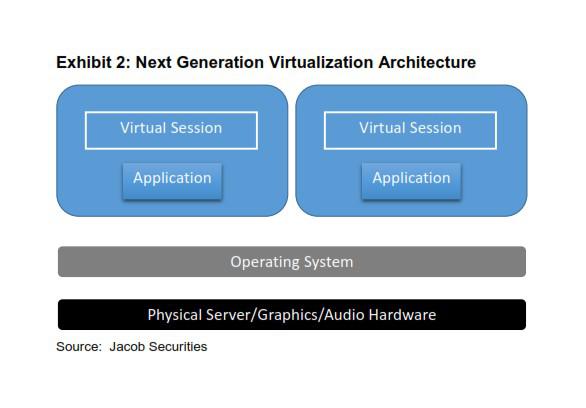 Here is what management itself argues in the latest F4 filing (22 July this year, from SEDAR):
The Company has taken a unique approach in that it has built its technology platform without the use of a hypervisor (as defined in the AIF) and instead has designed its own microvisor (as defined in the AIF). This required the Company to design Glassware 2.0 without resort to layers of OS programming code. With the removal of the OS, Glassware 2.0 did not connect to hardware so additional code was written to access that hardware directly. Glassware 2.0 has a series of different emulators within its design so that any device can access a wide array of applications that sit on top of Glassware 2.0.
This process is fundamentally different from other software that approximates the feature sets which management believes results in a quantum leap in functionality and a significant decrease in cost. One of the additional benefits of this approach is the ability to deliver multiple application sessions on either a single server or through clusters of servers without the requirement to deliver complete virtual desktop infrastructure ("VDI"). Through Glassware 2.0™, the process for "porting" and "publishing" applications is streamlined to the point that it is practically automated, requiring very little administration input.
We summarize some of the claimed competitive advantages:
Glassware is able to virtualize more applications (many critical applications are very hard to virtualize), it works where other systems provide no solution (

for instance, old legacy software running on mainframes)

The simplicity of the virtualization of applications, any Windows app can be virtualized with six clicks
It's considerably more resource efficient, opening up the market for small and medium enterprise
One has to note that:
Gartner estimates that about 70 percent of server environments have been virtualized as of 2013. The remaining 30 percent, which largely represents complex, transaction-intensive, mission-critical workloads, remains untouched by virtualization.
So there is room for new solutions, both to deal with the complexity issues as well as providing increases in efficiency (using less resources), eroding the competitive positions of incumbents and increasing the overall market (as it makes solutions available for companies which can't afford existing solutions).
Sphere further claims that their Glassware is still considerably improving, from a recent corporate update:
Glassware 2.0 has seen its architecture streamlined and gain efficiency continuously since the first iteration that required 8 individual hardware servers in 2010, to its current production state of availability on a single appliance.
A single appliance, that opens up further interesting possibilities:
DLA Piper, on behalf of the Company, filed a provisional patent for the first microvisor runtime environment available on a chip. The latest IP creation is a culmination of years of miniaturization work with the intent of making Glassware 2.0 completely portable and available offline... The most recent progress of the Glassware 2.0 single chip architecture allowed Sphere 3D to showcase Glassware 2.0 server technology running on a single laptop for attendees at BriForum.
Needless to say, offline virtualization would be quite a game changer, especially if this can be achieved with a single chip.
In essence, a company's competitive position depends on its core capabilities, so these claimed technology advantages are crucial. There are, at present, two problems here:
How much has been demonstrated independently
Whether Sphere can orchestrate the supporting capabilities necessary to sell them successfully in the market
Let's start with the latter. These technical advantages might be nice, but few big corporations are normally inclined to entrust such a small and new player with their core applications. Sphere first acquired V3 Systems to expand its offering to desktop virtualization, but it's more daring gambit is the proposed acquisition of Overland .
When (as we expect) this acquisition proceeds, Sphere will at once have the support organization that enables them to attract serious customers. What's more, Overland not only enables Sphere to attract customers, it's likely to function as a main vehicle for that due to its large footprint of existing customers, resellers (20,000) and presence in 60 countries.
Now, whether this acquisition involves Sphere to be a "Ticking time bomb set to self destruct," as a recent critical SA article from The Streetsweeper has it, remains very much to be seen. While one wouldn't know it from this particular article, the short thesis can be reduced to two main points:
Skepticism about the technology
Valuation concerns
Validating the technology
There is little doubt that V3 Systems has legitimate technology:
Founded in 2010 and based in Salt Lake City, Utah, V3 is a technology leader in desktop cloud management solutions. V3 is the creator of the Desktop Cloud Orchestrator™ ("DCO") software, which allows administrators to manage local, cloud hosted, or hybrid virtual desktop deployments and the V3 Appliance; a series of purpose-built, compact, efficient and easy-to-manage servers. As a VMware OEM embedded partner, V3 has revolutionized the speed, ease of use, deployment and even the data center required for virtual desktop infrastructure (VDI). V3 has won numerous awards including a DEMOgod™ Award, Best Startup Company at the Best of INTEROP 2012, and a Utah Innovation Award in 2013. The V3 customer list includes the FBI, U.S. Department of Labor, U.S. Naval Academy, University of Texas, Blue Cross Blue Shield, and Children's Hospital of Alabama, among others.
So it would be stunning if this company driven by virtualization experts let itself be acquired by a company selling some kind of dud product. Which is why the skepticism about Glassware, which was a prominent feature in earlier short articles, has largely disappeared.
This isn't actually so surprising as there is a growing list of other reports (from Jacobsen, Frost & Sullivan, How To Find Big Stocks), specialists, partners and deals (Novarad, Dell DRIVE, Corel, Chesterfield County Schools) and demonstrations on trade shows and technology gatherings that makes the chance we're dealing with some kind of hoax rather remote. Some of the customers, like Novarad, could function as lead customers and attract new ones:
Novarad Corporation, a leader in enterprise medical imaging solutions, introduced NovaGlass™, at the SIIM (Society for Imaging Informatics in Medicine) Conference in Long Beach, California in May 2014. Designed to leverage Novarad PACS and RIS solutions, NovaGlass™ resides on enterprise grade appliances, utilizes Sphere 3D software, and provides users with access to full imaging features while significantly enhancing operating speeds and choice of workstations.
And other markets are opening up:
The Company also announced their first converged solution for the MSP market in May 2014. The Sphere 3D Converged MSP Solution includes custom configurations of the V3 appliance, storage, industry-standard desktop virtualization, and Glassware 2.0. The new solution has been in production with various clients since the initial part of this year and additional trials are underway and in planning stages with several MSP customers, including Telco's and Data Centers.
However, the hard commercial traction is still very limited (revenues were $1M in Q1 and $1.7M in Q2 but the quarters are not entirely comparable the latter included more of V3 Systems sales, acquired in February this year and completed in March).
There are videos with demonstrations showing how easy it is done with Glassware, and this is Sphere's main "party trick", in order to attract customers (supposedly Novarad was swayed after such a presentation).
So there is a good deal of independent material out there which, as a whole, can be taken as independent validation of the technology. Which is why the critics no longer seem to focus on this and shifted to highlight the finances instead.
Ugly finances
Yes, the finances are pretty ugly, and this is now the main focus of the shorts. Sphere's Glassware sales are still tiny, and so are V3 System's sales. Overland suffered from declining sales and losses for years, and Tandberg suffered losses as well.
The Company has incurred losses for its last eight fiscal years and negative cash flows from operating activities for its last seven fiscal years. [Sphere 3D F4 filing 22 July 2014, SEDAR]
In 2013, Overland's net loss was $19.4M on sales of $45.0M while Tandberg's loss was $18.4M on sales of $61.5M (according to the recently filed F4 by Sphere 3D) not a pretty picture.
But this is a backwards looking approach which, while providing some relevant info, stock prices have a habit of discounting future growth, not passed growth, or lack of it. And there are reasons to be optimistic.
Glassware sales should grow on the back of growing market familiarity and the Overland organization and contacts.
A similar argument can be made for V3 Systems
Overland itself has a significant opportunity to turn around.
One could argue that the first two reasons are at least somewhat speculative, we will have to see what the increased market acceptance is.
The third is actually, somewhat surprisingly, on more solid footing. There are several reasons here to claim that Overland (including acquisition Tandberg) is turning the corner:
Losses could be significantly reduced, or even eliminated if the companies manage to achieve the $20M synergy benefit
Revenues are growing again
In a recent update, Overland argues it is on track achieving these $20M synergy benefits and even more encouraging, it announced growing sales:
Net revenue for the fourth quarter of FY2014 is expected to exceed $24 million, up from approximately $20 million from the third fiscal quarter.
Now, to a certain degree this is caused by the fact that in the previous quarter, Tandberg sales were only included from January 22, so that quarter missed three weeks of Tandberg sales (at roughly $1M a week) while the present quarter has no such gap.
But this is still an early indication that after years of declines, sales are stabilizing and might even be growing again. This seems an early vindication of a recent Jacobsen report, which argued that after settlement of the lawsuit with BDT (which happened last week, the two companies even went into a strategic partnership), sales of tape storage should be able to resume growth again.
Jacobsen argues that these past revenue declines are concentrated in tape storage, a legacy product. Apart from the fact that Overland and Tandberg took the no.1&2 spot in product prizes at the 2014 Storage Awards, tape storage isn't dead. There is still a large installed base facing high switching cost and tape offers greater data durability and much lower maintenance cost than competing products.
Yet the growth is expected to come mostly from other product lines, like the Snap server storage products, NAS storage, the BitTorrent collaboration and, of course, the increased value proposition from a combined storage and virtualization (Sphere and V3 Systems) product offering and leverage of the support system and world-wide footprint of Overland/Tandberg for Sphere and V3 Systems virtualization products.
The update also contains interesting tidbits regarding the latter:
Several customers are participating in the early adopter and pilot programs including organizations in key market segments such as:
Public Sector: Thousand+ Chromebook implementation based on Glassware 2.0
Healthcare: A network of hospitals are implementing a combined solution that includes SnapServer DX2, V3 appliances, and Glassware2.0
Cloud Deployment: A leading business productivity applications suite virtualized by the Glassware 2.0 and built on an Overland Storage cloud infrastructure
Again, not definite, but certainly encouraging. So, the shorts face a possible double whammy to their last standing thesis, that the combination of Sphere, V3, Overland and Tandberg is terribly overvalued:
Stabilizing or even increased sales for Overland/Tandberg, not only for their own products, but from the enhanced value proposition of combined storage and virtualization (in combination with Sphere's and V3 Systems products) and leveraging virtualization offerings of the small companies Sphere and V3 through the large client/reseller/support footprint of Overland/Tandberg
Achieving significant cost cutting through the $20M synergy benefits from the Tandberg acquisition.
With a couple of million shares short, it isn't terribly difficult why panic selling turned into something approaching panic buying. The shares are rather tightly held so short covering in volume isn't all that easy without rocking the boat.
And it looks like the ground is shifting under the short argument. While (excluding surprises) we don't expect an immediate explosion in the share price, we think that the pieces of the puzzle are falling into place to set them up for a material increase in the medium term.
Disclosure: The author has no positions in any stocks mentioned, but may initiate a long position in ANY over the next 72 hours. The author wrote this article themselves, and it expresses their own opinions. The author is not receiving compensation for it (other than from Seeking Alpha). The author has no business relationship with any company whose stock is mentioned in this article.