RetailMeNot, Inc. (NASDAQ:SALE) announced Q2 earnings on Monday after-hours, and disappointed on several fronts. Revenue of $60 million increased 37% annually, but declined 3% sequentially - totally unbecoming of a growth stock. Income from operations declined 10% annually and 25% sequentially; not only did revenue stall, but operating expenses ticked up, at least sequentially. The stock became a fire sale, dropping from $25.30 to $18.15 (nearly 30%) Tuesday - a 52-week low. Below is the one-year stock chart for the company: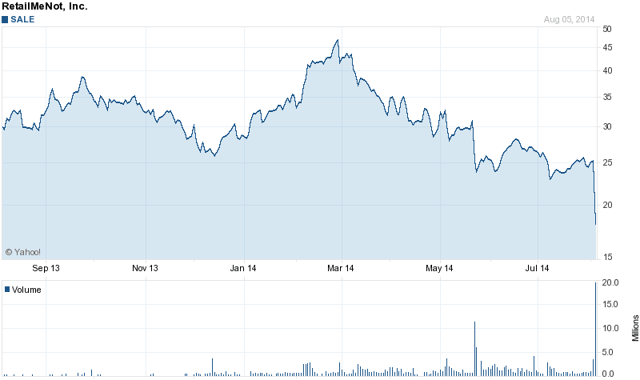 Below are the historical financial results for RetailMeNot: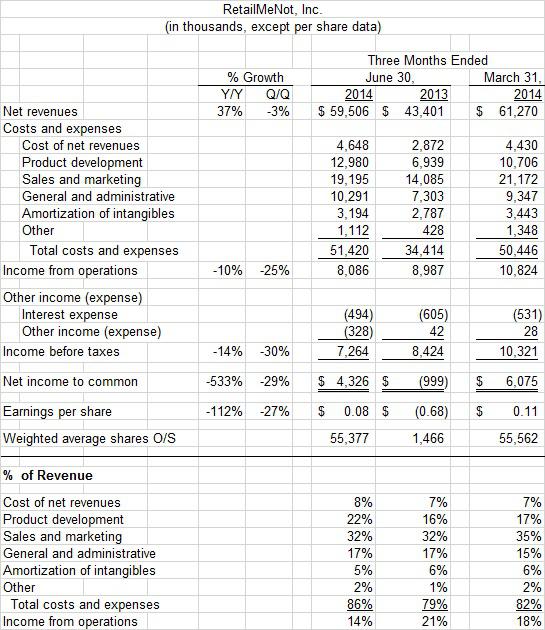 Revenue was up 37% annually and flat sequentially. However, net income of $4.3 million was down 16%, compared to the $5.1 million achieved in Q2 2013; the $1.0 million net loss to common shareholders for Q2 2013 was net of $6.1 million preferred dividends. It was also down 29% versus Q1 2014 results, and that was totally unexpected. Operating expenses as a percentage of revenue was 86%, 79% and 82% for Q2 2014, Q1 2013 and Q1 2014, respectively. Of note, costs of revenue and product development were 8% and 22% of Q2 2014 revenue, respectively.
Cost Of Revenue
Cost of revenue consists of personnel costs of merchandising, site operation and website technical support employees; fees paid to third-party contractors engaged in the operation and maintenance of websites. Such costs are increasing as the company builds infrastructure to create website traffic to spur consumer purchases and use of mobile applications.
Product Development
Consists primarily of personnel costs of product management and software engineering teams, and third-party contractors and consultants engaged in the design, development, testing and improvement of the functionality and user experience of the company's websites and mobile applications.
Too Dependent On Google Search?
RetailMeNot is heavily dependent on Google search engines (GOOG, GOOGL) in order to generate web traffic. Such "organic search" generated 64% of traffic on the company's websites during the quarter, which management represented was consistent with prior results. With the launch of Panda 4.0, Google tweaked its search algorithm in order to generate leads to higher-quality sites, and reduce spam and lower-quality pages from search results. According an article by Sramana Mitra earlier this year, RetailMeNot saw declines in web traffic from 10%-30%:
Within two days of the launch of the update, reports revealed that RetailMeNot lost 30% of their traffic. Stifel's analyst Jordan Rohan says that the update has led to RetailMeNot seeing a 10% decline in overall traffic. RetailMeNot is not significantly worried about this change and believes that the numbers for the loss of traffic are overstated. Google needs to keep changing their search logic to continue to deliver strong search performance, and RetailMeNot would just need to update their site to make sure it is able to meet Google's algorithm change requirement.
Organic Search Results Have Not Fully Recovered
Meeting Google's new algorithm change is not as easy as once thought. Based on last night's conference call with management, organic search results have still not fully recovered from Panda 4.0:
CEO Cotter Cunningham: Our Web traffic in the quarter grew to 154 million visits, of which 35% came from mobile devices. We did see our organic search rankings impacted beginning mid-quarter and while we've seen a partial recovery over the past two months in overall organic search rankings, we're not back to the growth levels we were seeing in the first quarter. Overall, organic search represented 64% of our total traffic on our Web sites for the quarter, relatively consistent with prior results.

CFO Doug Jeffries: Following the page rank disruptions in the second quarter; we've seen some shifts in our traffic mix that have resulted in lower monetization levels than we've seen in recent quarters. These trends include a reduction in traffic growth from organic search. While we've seen some recovery in organic search rankings organic traffic growth rates are not yet at the levels we experienced earlier this year. Organic search business has high conversion rates and strong monetization, though slower growth rate from this traffic source has an outside impact on monetization.

Second following the organic search changes, we've seen an increase in the proportion of our organic traffic that is directed to un-monetized offers. And lastly, we've seen continued strong growth in our non-organic traffic sources including email, social media and direct navigation to our Web sites, which has helped to mitigate the impact on total visits of slower traffic growth from organic search.
RetailMeNot Working Harder To Make Up For Lost Organic Search
Organic search results were down, yet the company still came close to reaching analysts' revenue estimates for the quarter of about $60 million. The CFO's comments about an increase in "non-organic traffic" through email, social, direct navigation, etc. implies to me that the company's product development team is working harder and longer to generate web traffic. That explains the uptick in the cost of revenues and product development costs to a combined 30% of revenue during the quarter. This compares unfavorably to the 23% and 24% of revenue for Q2 2013 and Q1 2014, respectively. For the company to continue to grow revenue, I would expect cost of revenue and product development costs to remain at or increase above current levels, exacerbating operating results.
Expanding Mobile Revenue Not A Lay-up
According to Yahoo Finance, analysts from Raymond James and Credit Suisse were upbeat on the company's ability to diversify search results:
Brian Pitz (Jefferies): Brian Pitz of Jeffries maintained a Buy rating in a note to clients on Tuesday. The analyst believes that long-term traffic damage from Panda 4.0 is now priced in and RetailMeNot can now focus on diversifying traffic away from organic search into mobile, email, direct ... Firstly Pitz is "cautiously optimistic" on the management team's ability to continue diversifying away from traffic from organic search. Second, the company's long-term secular thesis for online couponing is still intact. Finally, mobile is core growth driver and is still in the early stages.

Stephen Ju (Credit Suisse): RetailMeNot will once again see margin expansions in the future. As such, the analyst maintained a Neutral rating with a price target lowered to $32 from a previous $43 ... Ju explains that [it] is not expected for the company to veer from its product development initiatives (such as mobile) and as such this will result in near-to-medium-term margin compression. However, margin expansion will resume in the second half of 2015.
Mobile revenue during the quarter was about $11 million (19%) of revenue. For the company to change from organic search to mobile would require an entire change in strategy. This is even more of a reason that the stock should sell off until that strategy proves out. Here are my thoughts on RetailMeNot's attempt to change its business strategy mid-stream:
People Are Rational - I was an economics major in college, and the first assumption in economics is, "People are rational." There is a reason RetailMeNot has relied on organic search to drive traffic - driving web traffic via this method is one of the company's core competencies. Investors bid the stock up because management was good at what it did. Why should investors continue to pay up for skill sets - non-organic search monetization - that management has not proven it possesses?
Build It And They Will Come - Transitioning into mobile, email and direct sounds more like real estate investing at this juncture - "Build it and they will come." RetailMeNot will have to spend upfront in marketing and product development costs, with the hope that web traffic and monetization will come. This sounds like more of a lag effect to me - "Build it this quarter and they may come next quarter" - which is not good for quarterly financial results.
Margin Compression Similar To Groupon's? - Groupon, Inc. (NASDAQ:GRPN), a competitor in the space, has a higher percentage of mobile revenue - and lower margins - than RetailMeNot. For the most recent quarter, Groupon's gross margin was 52% and its operating income margin was negative 1%. Groupon is losing money, and it has far more scale than RetailMeNot; Groupon's Q2 revenue was $752 million versus RetailMeNot's $60 million. With the company's new mobile, direct and email strategy, investors should expect protracted margin compression.
"Show Me" Phase - RetailMeNot is now in the "show me" phase. The company could not have gone public with an unproven strategy. Secondly, I believe investors should avoid the stock until the new strategy proves out. Personally, I will remain short for a while. The analyst from Jefferies considers himself "cautiously optimistic" on the company's business prospects. That sounds like either a "short" or a "strong sell."
Conclusion
RetailMeNot's Q2 2014 results disclosed flat revenue sequentially and a higher cost structure. As the company attempts to wean itself from organic search and transition more to mobile, I anticipate slower revenue growth with protracted margin compression. Investors should continue to avoid the stock until the new business strategy proves out. I rate the stock a strong sell.
Disclosure: The author is short SALE, GRPN. The author wrote this article themselves, and it expresses their own opinions. The author is not receiving compensation for it (other than from Seeking Alpha). The author has no business relationship with any company whose stock is mentioned in this article.