I just bought RYAM for my portfolio and wanted to write down the reason why.
Rayonier Advanced Materials (NYSE:RYAM) manufactures high-purity cellulose derived from wood. Also known as "cellulose specialties," (CS) the company's products are used in a variety of applications, including cigarette filters, LCD, paints, pharmaceuticals, and food. The business, which has a 88-year old history, has just spun off from Rayonier (NYSE:RYN), a timber REIT, on June 30, 2014. RYN shareholders received one RYAM share for every three RYN shares. The following chart shows the share performance of the parent and the spin-off since separation.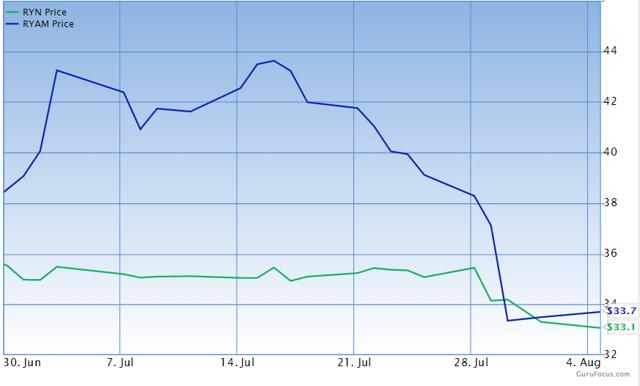 Click to enlarge
RYAM operates from two facilities in Georgia and Florida, and sells its products to chemical companies such as Eastman Chemical (NYSE:EMN) through long-term contracts. Last year, CS accounted for 76% of production, with the remainder going to commodity grades.
RYAM's high-purity CS gives it a moat around the business. Apparently, it's not easy to make this stuff to the exacting specifications required by customers. For example, CS's biggest use is in manufacture of acetate tow, which is used in cigarette filters. Apparently these filters made with a particular CS give a unique taste to a cigarette, and each filter cigarette brand is therefore somewhat locked into its CS/acetate tow supplier. Since the cost of CS in a cigarette is a very small fraction of the total cost of a cigarette, there is little incentive for a brand owner to save a few dollars in changing suppliers and risking consumer dissatisfaction. The same can be said to a lesser extent of pharmaceutical applications. Changing suppliers in the pharma industry is not trivial, and given a non-medicinal ingredient like cellulose is such a trivial part of the whole formulation, it's risky and costly to try to change a trusted supplier. RYAM is the dominant global CS supplier, and thus has the dominant share of locked-in customers. RYAM also controls the bulk of incremental CS capacity in the industry, giving it pricing power. The industry demand is expected to increase at the rate of around 3% per year (in line with GDP).
RYAM's 2014 financial estimates from the investor presentation and Morningstar are given below:
| | |
| --- | --- |
| Market Capitalization | $1.4 billion |
| Debt | $950 billion |
| Forward P/E | 13.1 |
| Revenue | ~$1.042 billion |
| EBITDA | ~$324 million |
| Adjusted free cash flow | ~$186 million |
| Cap ex. | ~$80 million |
| Dividend | > 1% |
Balance Sheet
RYAM's has a negative book value of $38.8 million, which is not material. So RYAM has to be valued solely on the basis of discounted cash returns.
Valuation
This is a bit of a back-of-the-envelope calculation - but I follows Keynes' advise that it's better to be roughly right than precisely wrong.
Debt carried by RYAM is low-cost - though new debt has been financed by RYAM at 5.5% interest for 10 years - my back-of-the-envelope calculations estimate the interest expense to be around $40 million per year. If I add this to the free cash flow ($186 million), this gives me a Cash Return of $226 million. If I divide this by the enterprise value of RYAM of $2.66 billion, I get a Cash Return yield of 8.5%. (At the risk of comparing apples with oranges, AAPL's cash return is 8.5%). This is a very profitable business throwing out a lot cash, and it should continue to grow at around 3% per year on a volume basis. Also, given that the bulk of RYAM's capital expenditure is behind it - free cash flow will likely increase from here, driving market capitalization increases.
If I assume that RYAM generates earnings per share of 3.23 in 2015 a share (which is in line with the Cash Return estimate above), a 10% growth in FCF and a combined cost of capital of 11%, and plug these numbers into the gurufocus.com DCF calculator, I get a discounted value of $51.73. This, in turn, is in line with a fair value of $49 estimated by Morningstar. (The 10% FCF growth per year is a guess, but I think reasonable, given moderation of cap ex going forward and growth in the CS market, as well as RYAM's dominant share of spare capacity in the industry).

Click to enlarge
Source: Gurufocus.com DCF Calculator
Conclusion
Since the spin-off, RYAM's shares have sold off significantly. This is due to short-term weakness in prices for CS due to increased manufacturing capacity, as well as, I think, legacy RYN's investors unfamiliarity with this new name which appeared in their portfolio. Another reason could be that the company is undergoing shareholder churn, as legacy RYN investors are mainly dividend investors and may be uncomfortable holding RYAM, which pays a tiny dividend.
Most of this increased capacity in the market which is causing CS price weakness belongs to RYAM, and as the economy absorbs this increased capacity, RYAM should increase its market share and long-term moat. This increased capacity also deters new competitors from entering the market. The appreciation potential of RYAM shares is significant here - in the order of 30% to 50% over the next 3 to 5 years, which is an outstanding value in this overpriced market. The management of the new company is strongly incented to deliver. It is interesting to note that the CEO of legacy RYN (Paul Boynton) has decided to move to RYAM rather than remain with the parent. This appears to me as solid validation of the investment potential of RYAM.
Disclosure: The author is long RYAM. The author wrote this article themselves, and it expresses their own opinions. The author is not receiving compensation for it (other than from Seeking Alpha). The author has no business relationship with any company whose stock is mentioned in this article.