The last 24 hours have been quite interesting as it pertains to M&A activity and it is turning out to be a situation where companies, for the most part, are darned if they do and darned if they don't. There is not a whole lot to take away from these recent events other than the fact that buyers are not willing to overpay in this market, regardless of the merits of any deal.
World markets have been under pressure because of issues in Ukraine, with Russia continuing with its buildup of troops and rumors circulating that a Russian general put in a request for winterized gear for soldiers. Also in the news is talk about Russia focusing on ways to hit back at the west in response to economic sanctions. The latest we have heard is that Russia could be planning to force European airlines to avoid Russian airspace and fly around the country's borders; potentially adding millions in costs to the airlines.
Chart of the Day:
Yields are heading back towards 3 month lows, which in our opinion is good news as it appears the bond market and stock market are no longer moving in the same direction. Some have been worried recently as both equities and bonds moved lower in tandem.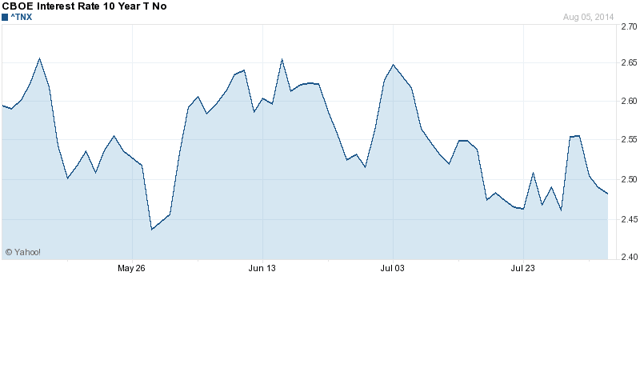 Source: Yahoo Finance
We have economic news today, and it is as follows:
MBA Mortgage Index (7:00 a.m. EST): Est: N/A Act: 1.6%
Trade Balance (8:30 a.m. EST): Est: -$45.2 B Act: -$41.5 B
Crude Inventories (10:30 a.m. EST): Est: N/A Act: -1.756 M
The Asian markets are lower today:
All Ordinaries -- down 0.12%
Shanghai Composite -- down 0.11%
Nikkei 225 -- down 1.05%
NZSE 50 -- down 0.23%
Seoul Composite -- down 0.27%
In Europe, the markets are lower this morning:
CAC 40 -- down 1.04%
DAX -- down 1.02%
FTSE 100 -- down 0.92%
OSE -- down 1.52%
Investors Fume Over Walgreen's Deal
For months investors have been expecting Walgreen (WAG) to purchase the remaining equity in Alliance Boots that it does not already own. The initial buy has turned out to be a big winner and some large investors had argued that the deal made even more sense because it would allow the company to cut its tax bill by moving overseas and performing a tax inversion. Now it is important to note that Walgreen never stated they would do an inversion, but the investor community thought that the move was so logical that the company would have to go through with it.
That is not the case and even though Walgreen is sealing their entry into Europe, they are remaining an American company and keeping their headquarters in Chicago. This has been one of our favorite stocks for some time and although today the stock is not a buy, we do see promise in opening new positions once the dust settles.
Sprint Hangs Up
Sprint (NYSE:S) announced that the long rumored bid for T-Mobile USA (NASDAQ:TMUS) will not be happening and that they are shifting their focus back to their business. The first item on Sprint's to-do list was to find a new CEO, something they had delayed as it appeared a deal with T-Mobile would require that company's CEO assuming the lead role, and they made short work of that as they announced this morning that Marcelo Claure would be the man to succeed Dan Hesse.
While both stocks are down this morning on the news, Sprint is getting the worst of it as investors worry about the trajectory of the company moving forward. T-Mobile USA is in a much better position to build their business as a standalone entity right now and a merger with Sprint was seen as a necessary move for Sprint to bulk up to take on the larger players in the industry. The failed attempt at a merger has cost Sprint dearly as they have spent a lot of time and effort on a potential tie-up and lost some focus over the past few months as discussions with T-Mobile USA and regulators became top priorities.
It has been somewhat obvious that something was up with Sprint since June as the stock has underperformed against T-Mobile USA. Investors knew that the longer it took get a bid, the smaller the chance of regulators allowing the #3 and #4 carriers to merge.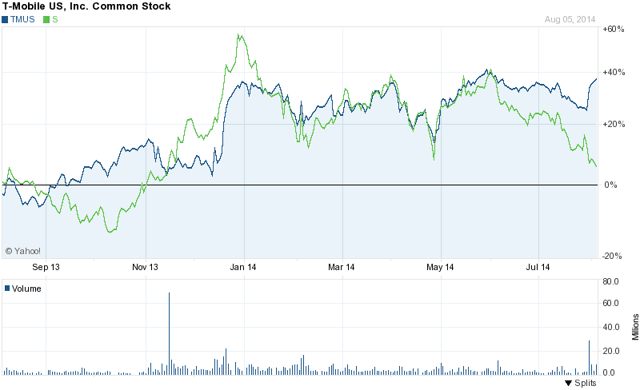 Source: Yahoo Finance
As Sprint moves forward, investors need to be prepared to see the company significantly increase their capital expenditures in order to boost network capacity and speeds. Fresh product offerings and lower plan costs also appear to be on the table, both of which could hamper margins for the next 12-24 months. With the deal having fallen apart over objections from US regulators and their desire to have four national carriers, it seems clear that neither Sprint or T-Mobile USA will be involved in any significant domestic M&A transactions until a new administration enters office. Right now T-Mobile USA is the better buy as it has a better short-term outlook and a business which has finally gathered momentum and is adding subscribers while driving down the churn rate.
Rupert Calls Off Bid
Showing a new character trait, Rupert Murdoch has decided to have his Twenty-First Century Fox (NASDAQ:FOX) rescind their offer to purchase Time Warner (NYSE:TWX) in a cash and stock deal. Many, including us, had expected Mr. Murdoch to go back to the table with a better offer; which probably would have led to Twenty-First Century Fox's overpaying for the few prime assets within the Time Warner portfolio.
With Time Warner stock having risen sharply and Fox's shares having sagged since the bid was leaked to the press and the reluctance of Time Warner to negotiate drove Mr. Murdoch away. Fox did not see the wisdom for inflating another's stock at the expense of their own shareholders, so rather than dragging the process out, the company decided to continue to allocate capital effectively by walking away and not overpaying. Fox also announced a $6 billion share repurchase plan, which should be completed within a year.
Disclosure: The author has no positions in any stocks mentioned, and no plans to initiate any positions within the next 72 hours. The author wrote this article themselves, and it expresses their own opinions. The author is not receiving compensation for it (other than from Seeking Alpha). The author has no business relationship with any company whose stock is mentioned in this article.