By David Russell
Bears are migrating to the "short end of the curve."
Short-term Treasury notes have been one of the safest investments in the entire market for the last three years, enjoying a steady inflow of capital as the Federal Reserve flooded the economy with easy money. But recent trading activity suggests that this run is coming to an end.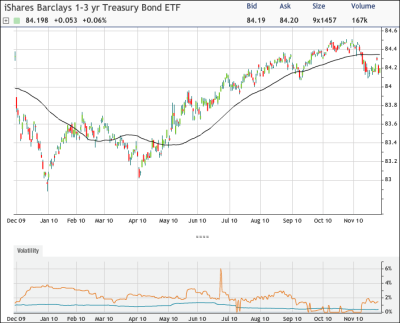 optionMONSTER's Depth Charge tracking system detected the purchase of 6,000 June 83 puts on the iShares Barclays 1-3 Year Treasury Bond fund (NYSEARCA:SHY) today for $0.30 and $0.35. It was at least the second instance of put buying in the fund this month.
The bearish options activity has occurred as the fund slips below its 50-day moving average for the first time since April (black line on chart), which some traders may consider prelude to a push lower. It's up 0.06 percent to $84.20 in early afternoon trading.
The yield on two-year Treasury note fell to an all-time low of 0.33 percent on Nov. 4 but has been working its way higher since. Bonds mostly follow the trend in yields, so an increase in rates would hurt prices and thus benefit today's put buyer.
The SHY, it should be noted, moves more slowly than the yield because it is constantly rolling into and out of new securities.
Overall option volume in the fund is 10 times greater than average so far today, with puts out-numbering calls by more than 270 to 1.
Disclosure: No position