Consumer electronics retailer Best Buy (NYSE:BBY) has taken investors on a roller coaster ride over the past few years. The stock fell from the high $40s in 2010 to just $12 per share in late 2012, only to rebound back to the low $40s by the end of 2013. It then crashed again, this time into the low $20s, and now it sits around $30 per share.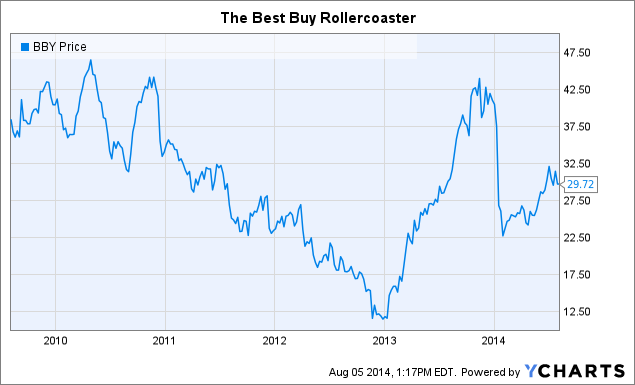 Despite the pessimism-optimism cycle that has driven Best Buy's stock price, Best Buy is extremely undervalued, and it represents the best value in retail. A conservative estimate of Best Buy's fair value is $50 per share, giving investors at least 66% upside from current levels.
The story so far
The fall of Circuit City left Best Buy as the only nationwide consumer electronics chain left standing, excluding the soon-to-be bankrupt RadioShack. This gave Best Buy an important competitive advantage, as the store became the go-to place for consumer electronics, but online retailers like Amazon.com (NASDAQ:AMZN) threatened to upend Best Buy's business model. Over the past decade, Best Buy managed operating margins of around 4%-5%, but starting in 2011, profitability began to decline.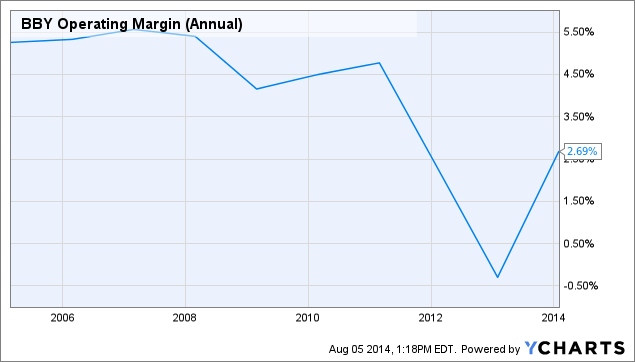 BBY Operating Margin (Annual) data by YCharts
Unfounded fears of bankruptcy led the stock to decline to around $12 per share in late 2012, around the same time that Hubert Joly was named CEO. Joly implemented a turnaround strategy dubbed Renew Blue, with a focus on aggressive cost-cutting, employee training, price-matching competitors, and investing in the online channel.
Shares of Best Buy rose into the low $40s by the end of 2013 on optimism that Best Buy was back on track, but disappointing earnings reported at the beginning of this year sent the stock back into the low $20s. It has recovered a bit since then, currently trading around $30 per share.
A massive overreaction
The negative reaction which sent the stock tumbling earlier this year has created an opportunity for long-term value investors. Best Buy is worth at least $50 per share, a number which I'll justify in the next section, and there are plenty of reasons to believe that Best Buy will not only survive, but thrive.
Joly has done an excellent job slashing costs at Best Buy, and this has helped the company maintain profitability as it invested in price matching and lower prices in general. Best Buy has removed a total of $860 million in annualized costs since Joly began his cost-cutting crusade, and the goal of $1 billion in annualized cost cuts is in reach.
This cost-cutting has allowed Best Buy to keep operating expense as a percentage of revenue around 20%, despite the fact that revenue has been declining. While comparable-store sales declines are never a good thing, during the first quarter, Best Buy actually gained market share due to the consumer electronics market declining at a greater rate than Best Buy's comparable-store sales, according to the company's earnings report. The lack of new, exciting products is one culprit behind the weak consumer electronics market, but the fact that Best Buy is winning market share while remaining profitable is good sign that Joly's turnaround is working.
Online sales have been booming, thanks to an increased focus on e-commerce. During the first quarter, online sales jumped 29.2% year-over-year. One driver has been Best Buy's ship-from-store initiative, where each of Best Buy's 1,000+ stores acts as a mini-distribution center, shipping online orders directly to customers. This increases the availability of products on Best Buy's website, and it speeds up shipping times.
Fast shipping times are critical when competing with services like Amazon Prime, as is being competitive on price. Best Buy implemented a price-matching policy last year to battle showrooming, where shoppers browse in-store and buy online, and the company has actually embraced being a showroom for consumer electronics products. With the price disadvantage removed, and with Amazon now charging sales tax in many states, showrooming now makes no sense for the most part.
In short, Best Buy is now a lean company that is getting leaner by the quarter, and its prices are competitive with online rivals. Initiatives like ship-from-store cannot be replicated by online-only retailers, and the ability to both pick up and return items purchased online in-store is a key advantage that brick-and-mortar retailers have over online competitors.
The value case
Instead of looking at net income or free cash flow, I prefer to look at owner earnings in order to evaluate companies. Owner earnings is a term coined by Warren Buffett, and while my version may differ a bit, the spirit is the same.
I calculate owner earnings by taking net income and adding back all items that are one-time, such as restructuring charges and write-downs. These items aren't operational, and they only act to hide a company's true earnings. I then add back depreciation and amortization, and subtract capital expenditures. For a growing company, where capital expenditures outpace depreciation, only the maintenance capex should be subtracted in order to get a steady-state estimate of a company's earnings power. But for Best Buy, depreciation is actually greater than capital expenditures, and this has the effect of artificially depressing net income.
I then add back tax-adjusted interest, and that gives me an estimate of owner earnings. I then calculate the OE/EV ratio, or owner earnings to enterprise value ratio, by accounting for the cash and debt on the balance sheet. This ratio gives a better picture of a company's valuation than a traditional P/E ratio.
In fiscal 2014, Best Buy's owner earnings were $1.22 billion, or about $3.50 per share. Turning to the balance sheet, Best Buy's financial position has improved dramatically over the past few years, helped by the sale of its European operations. The most recent balance sheet, reported at the end of the first quarter, shows $3.06 billion in cash and investments and $1.65 billion in debt. While there is a net cash position, I'll be conservative and assume that Best Buy needs to have a strong cash position for the sake of stability. For a company with a large amount of excess cash, like Microsoft (NASDAQ:MSFT) for example, this excess cash would effectively lower the OE/EV ratio.
With a stock price around $30, Best Buy currently trades at just 8.5 times owner earnings. A ratio of 14 would lead to a stock price of $50 per share, and if Best Buy can improve profitability and eventually return to growth, which will require the consumer electronics market to strengthen, Best Buy could be worth a lot more.
Along with trading at a bargain valuation, Best Buy also pays a solid dividend yielding 2.5%. This dividend was recently increased by about 12%, and there's plenty of room to grow it further over time. Best Buy's large cash balance also opens up the possibility of share buybacks, which would help drive per-share earnings even higher.
Conclusion
Best Buy is in a strong financial position, and it is still an extremely profitable company, despite all of the pessimism surrounding it. Best Buy is severely undervalued, and the stock has the potential of rising 66% or more.
Disclosure: The author is long BBY. The author wrote this article themselves, and it expresses their own opinions. The author is not receiving compensation for it (other than from Seeking Alpha). The author has no business relationship with any company whose stock is mentioned in this article.