Shares of Sprint Corp. (NYSE:S) are trading sharply lower on Wednesday following news the company has dropped its bid for rival T-Mobile (NASDAQ:TMUS). The deal was derailed due to regulatory issues.
Sprint Down Sharply Since My Short Call
Since publication of my short thesis on February 4, 2014, in a piece entitled "Short Sprint As AT&T Cuts Prices," shares are down more than 23%. I had been bearish on Sprint for a number of reasons including AT&T's (NYSE:T) move to lower prices, Sprint's strong performance relative to its peers, and the increasing regulatory issues facing Sprint's move to acquire T-Mobile. Without being able to acquire T-Mobile, it will be extremely difficult for Sprint with larger rivals AT&T and Verizon (NYSE:VZ).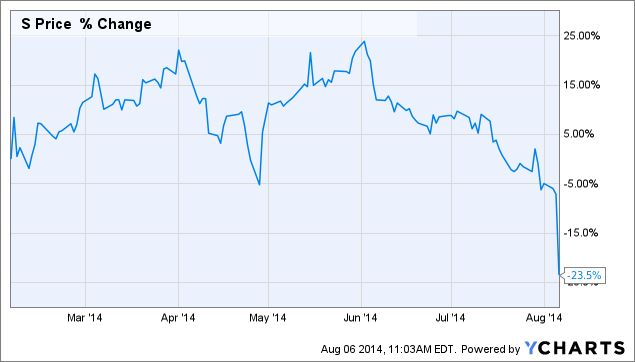 S data by YCharts
Time To Cover Short
While I would not be a buyer of Sprint at current levels, I believe traders who are currently short Sprint should considering covering to lock in profits. One of the main reasons why I believe it is a good time to lock in gains on the short side is the possibility of a bidder emerging for Sprint itself. In particular, I believe the most likely suitor for Sprint would be Dish (NASDAQ:DISH). Dish tried to buy Sprint in 2013 at $7 per share. Softbank (OTCPK:SFTBF) President Masayoshi Son has said that he believes consolidation between Sprint and T-Mobile is necessary to provide a real challenge to AT&T and Verizon. With a deal for T-Mobile now off the table, Softbank, which owns a controlling interest in Sprint, could be willing to sell Sprint to Dish for the right price. Given the favorable financing environment, it is not unreasonable to believe that Dish could raise its bid for Sprint to $8 or $9 per share.
Disclosure: The author has no positions in any stocks mentioned, and no plans to initiate any positions within the next 72 hours. The author wrote this article themselves, and it expresses their own opinions. The author is not receiving compensation for it (other than from Seeking Alpha). The author has no business relationship with any company whose stock is mentioned in this article.