I've been cheering on Buckle (NYSE:BKE) investors for over a year now. Just in time for the holidays, BKE, the teen apparel company, delivered a $2.50 special dividend in keeping with my prediction.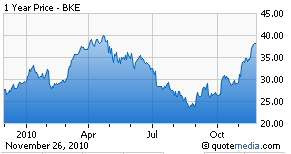 With all this great news, I would like to take the time to commiserate with those who have shorted this stock. The stock is up 60% in the last 3 months. The "surprise" dividend creates a terrible dilemma for short sellers. As of December 3, short sellers are obligated to pay that dividend out of pocket. They do have the option of covering their short position prior to that date to avoid the $2.50. The problem is that the number of shares sold short is enormous, standing at 7.05 million on November 15 (the stock has a float of 26 million).
On October 29, short positions numbered 7.35 million, indicating 300,000 net shorts were covered. That still leaves quite a few shorts out there. Currently, the short ratio is 16 days for BKE. Short sellers have 4 days left to make their decision on whether to cover or pay the dividend. We could see a short squeeze coming.
Disclosure: Long BKE