Speculation or actual developments concerning an expanded EU/IMF rescue fund that could even cover Spain is the likely market driver to dwarf all others this coming week.

That's the biggest REAL issue for the EU and global markets. Confidence that this will or won't happen is likely to be the primary factor in whether the EU crisis subsides, and whether markets stabilize or continue to struggle and risk collapsing.
PRIOR WEEK MARKET DRIVERS
Big theme: another week of the dominance by the wildcards, i.e. sources of market volatility that we know WILL move markets, we just don't know when.
Primary Drivers In Order Of Importance:
EU: Making Many Of The Same Mistakes That Caused The Spring EU Greek Crisis
Sadly, we are seeing many of the same mistakes being repeated that lead to the Greek crisis. In essence they all involve a failure to address the market's need for certainty that there won't be any defaults. Only then will yields come down for the rest of the EU, especially the most likely candidates for speculative attack on their bonds rates (already happening), Spain and Portugal. These include:
Lack of Details
With Ireland, as was the case with Greece, we only have an agreement to reach an agreement, nothing more. See:
Spain: All That Matters for EU Future
. As of this writing, Irish, EU, and IMF officials were holed up in Dublin to finalize details on an €85 bln rescue package.
Questions remaining include:
Can the lame duck government pass the spending cuts required for receiving EU/IMF aid?
If so, will the new government, likely elected on Irish outrage, further austerity to pay off wealthy EU banks?
If so, will the US Congress, now much more influenced by budget cutting Republicans, be willing to increase funding to hold up its 20% of IMF funding? Much of EU aid depends on mutual contributions from the IMF. If Republicans decide to retain funds for needed state bailouts, the entire EU rescue mechanism could be in trouble.
Lack of Funds To Prevent Systemic Collapse – The REAL Market Concern
Markets worry that as one nation is covered, speculators will simply move on to threaten another weak economy, so they want to see a plan to cover all nations at risk , just as they did last spring in the throes of the Greek mess. EU officials want to increase their war chest to scare off speculators from Spanish bonds, however…
Germany Plays Politics, While EU Burns
Suspicious Denials
Portugal continues to insist it won't need a bailout (just like Greece and Ireland did) amid obvious financial deterioration.
Spain Is The Big Concern
Again, no one believes the EU/IMF have enough stashed away to rescue Spain, which has a GDP of roughly twice that of Greece, Ireland, and Portugal combined. It's deficit is 7.9% of GDP, twice the EU limit and widely believed to be seriously understated. It accounts for over 10% of EU GDP and its debt represents about 20% of French bank assets alone. Even if/when Germany yields to reality, there will still be the question of whether the IMF's chief funder, the US, will be able to expand IMF funding with the increased influence of budget-cutting Republicans in Congress. For more on this see:
Spain: All That Matters for EU Future
, and
The Main Event Is Here: Everyone Is Freaking Out About Portugal And Spain
. The key point is that Spain can handle paying higher yields on its bonds, currently up from 4% earlier this month to well over 5%, but over 6% starts to threaten Spanish stability. As the below chart shows (
click to enlarge
), at the current rate of increase, yields could soon reach that critical level.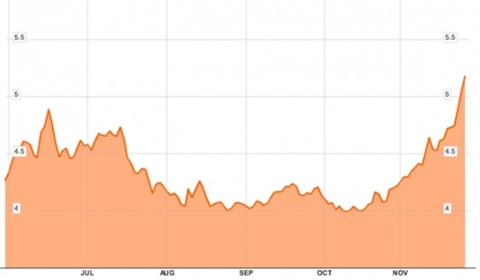 10 Year Spain Bond Yield Curve. Note the dramatic spike since late October (when most asset markets were still rallying on anticipated benefits of coming US stimulus) 02 nov 27 23
As my colleague Clive Corcoran points out:
Financial contagion brings with it non-linear dynamics which is why, beyond a certain tipping point, the rate of acceleration in increases in Spanish bond yields could quickly start to resemble those of previously distressed borrowers ranging from Lehman Bros to Argentina.

In other words, fear can quickly and unpredictably turn into panic as reflected in spiking rates markets demand to compensate for the perceived much higher risk.
For those unfamiliar with the mechanics of how a seemingly small, isolated financial crisis can drag down the entire global economy, see How a Lack of Market Confidence Spreads in the Wall Street Journal for a good summary.
EU officials know they must work fast. Spain had an essentially failed bond auction that saw rates shoot over 5% with poor demand. The EU is unprepared to rescue Spain, so stabilizing confidence in Spain is essential to avoiding risk of a potentially fatal escalation in the EU crisis. Even core states like France and Belgium are seeing their borrowing costs rise. See
Heard: Belgium Is the One to Watch
for more.
Threat of Further China Tightening, Slowdown
That would likely spread to its neighbors and to China's prime commodities suppliers. Recent moves have included the fifth increase in bank reserve requirements this year. Further tightening is likely, even though Chinese growth is expected to remain robust.
US Banking Crisis
This wildcard has been mostly quiet, since the breaking of the foreclosure fraud issue. Now there may be a third component to it. In addition to the first 2 parts:
Part I: subprime and resets of alt-a killing bank balance sheets much of it not yet recognized
Part II: foreclosure fraud liability, further slowdown in home sales as foreclosure sales stall under doubt about title
New Part III: insider trading scandal may implicate major investment banks
Korean Military Clashes
Markets have actually been fairly calm about this one as it is widely believed while North Korea's motives are unclear, it does not seek an escalation, nor would China let one develop.
COMING WEEK
New Speculation About A Bigger Bailout Fund To Cover Spain
The likely key event is again not on the calendar, but rather whether EU can expand the bailout fund as is being discussed, OR otherwise ease market concerns about contagion risk and stabilize, then lower sovereign and bank bond yields for Portugal and more crucially, Spain. If not, the EU crisis is likely to continue to pressure markets and boost safe haven currencies and their government bonds. If EU/IMF officials succeed in easing market concerns about contagion risk, then look for risk asset prices to stabilize and for the USD rally to ease.
One Or More Wildcards
The past week suggests there is a good chance that markets may continue to move with news related to one of our wildcards (events that will move markets but don't know when):
EU sovereign debt/banking crisis: In addition to possible settling of an Ireland bailout deal and expanded bailout fund, watch for:

Portuguese and Spanish bond auctions
ECB press conference expected to announce a continuation of asset purchases, tossing aside any remaining hope EUR bulls had for an exit.
US banking/housing crisis: Housing data is expected to be poor, new revelations on the insider trading probe?
News on 'Black Friday' US and EU retail spending as an initial gauge of the critical US holiday consumer spending season – a make or break season for US retailers, in which many generate 25%-50% of annual sales. Expectations are modest for the US, glowing for Germany. See here for details
China tightening
US Insider Trading Investigation
Korea Tension
Scheduled Calendar Events
This week's calendar is likely to be more influential than any in the past weeks.
The first week of the month is typically the most potent for scheduled risk events, climaxing in the key US jobs reports Friday.
DISCLOSURE & DISCLAIMER: AUTHOR SHORT THE EUR FOR PERSONAL PORTFOLIO. THE ABOVE IS FOR INFORMATIONAL PURPOSES ONLY AND NOT TO BE CONSTRUED AS SPECIFIC TRADING ADVICE. RESPONSIBILITY FOR TRADE DECISIONS IS SOLELY WITH THE READER