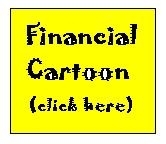 Outlook: The nascent signs of a domestic economic recovery are being "shouted down" by the headline risks of the reemergence of the European debt crisis and North Korea's desperate attempts to renegotiate its feeble standings in the world through provocative military action. (See "Financial Cartoon"[1])
Uncertainty versus Risk: While there is no denying the seriousness and the potential negative impact on the financial markets if either were to materialize in a substantive fashion, such risks are hard to quantify. Of the two, the European debt crisis seems more serious as it follows the road map of investors targeting weak US banking institutions. This seems to be the same pattern with investors targeting weaker Eurozone countries—with Portugal and Spain on deck.
Bag Man? Given the increasing resistance of Germany to play the "bag man" for such extortion, and a Germany-Spain merger not likely in the cards, alternative sources of defusing the situation will increasingly rely on global financial institutions like the IMF in cooperation with EU regulatory and financial institutions.
Maybe, Maybe Not: The likelihood of a strong dollar, weaker commodity prices and lower interest rates would seem a predictable outcome in the interim. Albeit, predicting market trends on historical precedence has been lent a blow by the intervention of the Fed "gaming" the financial markets. If the Fed where to have it its way, stock valuations would certainly be rising as it is key to corporate and investors' confidence.
Money Flow: Mutual Funds: The total inflows into mutual funds for the week ending 11/17/10 experienced its first significant outflow (-$5.0 billion) since May of this year; before that, March '09. The source of that outflow was concentrated in the withdrawals from muni bonds totaling $5.0 billion. The last time muni bond funds experienced an outflow of equal magnitude was December of '08.
Muni bond funds continue to be under pressure as valuations have fallen in the wake of market and non-market pressures including: increasing supply, weak demand, and failing municipal finances. Interestingly, taxable bond fund inflows dried up for the week with only $457 million versus an YTD average inflow of $16.2 billion. Is this the beginning of the end for fixed income inflows?
Foreign equity funds were investors' favorite for new commitment of capital with an incremental increase of $1.6 billion inflow.
Money Market: Money market funds may have sopped up that decrease in fixed-income mutual funds drawing in $15.4 billion for the week of November 23rd. Taxable government funds increased by $2.1 billion, taxable non-government's decreased by $14.0 billion, and tax-exempt funds decreased by $0.7 billion.
CEF Weekly Review: The 13 closed-end fund (CEF) types on average posted a 0.5% increase for the week ending 11/26/10. The high-low spread was a +3.7% versus +4.4% the previous week on an average price increase of 0.5% versus a decrease of 0.3%, respectively. On an aggregate, unweighted basis, the weekly average price change for the 500 plus CEFs in the Eqcome database was up 1.0%.
The PowerShares CEF Income Composite (NYSEARCA:PCEF), an ETF that invests in taxable income CEFs, was up 0.1% for the week. The S&P 500 was down 0.9% for the week and up 6.7% YTD. The S&P 500's average daily share volume fell precipitously on a holiday week; down 23.3% to 3.2 billion shares.
click to enlarge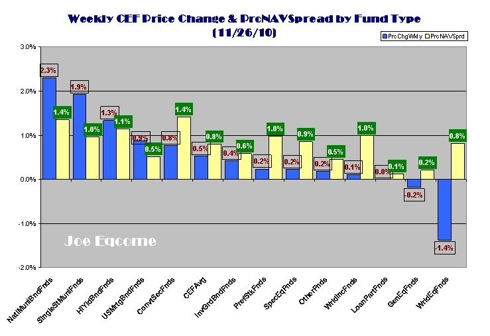 (Click Here [2] for YTD CEF Performance. The table is based on a smaller CEF sample size as all the data fields are not available for the CEF universe.)
The Eqcome CEF Fear Index for the week continued to ease in the wake of a rebound in muni prices. The average price increase was 1.0% while NAV was flat. The CBOE Volatility Index (VIX), which typically moves inversely with the stock market—but is mostly a measurement of volatility based on stock options' premiums—surged 23.2% as investors took refuge in "puts" to protect themselves from the global uncertainty.
CEF Weekly Fund Type Performance: The 13 CEF fund types weekly performance shifted toward the fixed-income side after several previous weeks of being the laggard. Muni CEFs experienced a surge in prices after having suffered almost a month of downward pricing pressure. WrldEqFnds on average declined 1.4% in share price valuation while their respective NAVs declined even further at 2.2% in the wake of global concerns.
Weekly CEF Winners and Losers: One of the CEFs with the greatest positive spreads was Wells Fargo Advantage Global Dividend Opportunity Fund (NYSE:EOD). EOD's price advanced 3.5% versus its NAV declining 2.3% generating a positive PrcNAVSprd* of 5.8%. Last week, EOD declared its regular $.28 per share quarterly distribution from net investment income that goes ex-dividend on December 13th. There has been neither extraordinary trading nor any insider transactions. The stock bottomed out on a spike in volume November 16th prior to its distribution announcement.
EOD trades at a premium of 3% and at an annualized distribution yield of 10.7%. The stock trades in line with other "Opt Arbitrage/Opt" CEFs on both metrics.
One of the CEFs that experienced the greatest negative PrcNAVSprd was Cornerstone Total Return Fund (NYSEMKT:CRF). CRF's share price declined 6.1% while its NAV declined 1.1% generating a negative PrcNAVSprd of 5.0%. CRF is in the midst of a non-transferable rights offering along with its sister CEF Cornerstone Strategic Value Fund (NYSEMKT:CLM). Neither of these stock valuations makes any sense for holders of the shares that don't plan to exercise their rights.
Eqcome CEF Portfolio™: Joe maintains three separate CEF portfolios that have different investment objectives: CEFBig10™, CEFMuni10™ and CEFDisc10™ (see website).
The first is a balanced equity-income portfolio, the second a tax-exempt income portfolio and the third a portfolio whose objective is capital gains with a secondary objective of current income. These portfolios will soon be available to retail investors at a nominal fee to maximize equity-income for retirees and retail investors. (See: Performance Data[3])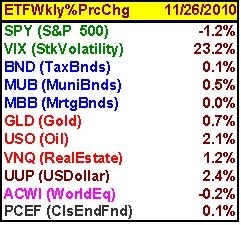 Economic & Earnings Outlook: (Click here [4] for next week's economic calendar; click here [5] for earnings' announcements and estimates.)
ETFs: For a more detailed ETF performance by sectors, click here [6].
Insider Trading: There were several insider trades for the week ending November 26th.
The largest insider acquisition was in TCW Strategic Income Fund (NYSE:TSI). Mitch Flack, a portfolio manager at TCW, continued to acquire additional shares in November culminating in accumulating an initial position of 29,525 shares at $5.32 per share in four separate transactions.
Karpus Management, an activist CEF investor added to its position in Putnam Municipal Opportunities Trust (NYSE:PMO) in November by an additional 2,700 shares at a price of $11.38 per share for a capital outlay of $30,726. It increased its share holdings to 204,377 shares or 25.3% of the shares outstanding.
Robert P. Badavas, a director of Hercules Tech Growth Capital (NASDAQ:HTGC), added 2,000 shares at $10.00 per share to boost its stake to 74,632 shares. He was the second insider this month to acquire shares in HTGC. COO, Scott Gable, acquired an initial stake of 10,090 shares at a cost of $9.88 per share the previous week. HTGC has recently raised additional capital and reshuffled its management.
(Click here for a hyperlink to the Joe Eqcome's CEF Weekly Insider Report.)
CEF Distribution Announcements This Week: The following is a link to a table of CEF distribution announcements this week as well as the previous week's with yet expired ex-dividend dates. The list is not intended to be inclusive. (Click Here for Joe Eqcome's Weekly CEF Distribution Announcements)
Significant CEF Corporate Events: DWS High Income Opportunities Fund, (formerly, DWS Dreman Value Income Edge Fund) (NYSE:DHG) and DWS Global High Income Fund (NYSE:LBF) announced that, in accordance with their respective tender offers for up to 25% of their issued and outstanding shares of common stock, which expired at 11:59 p.m. Eastern time on November 19, 2010. They have accepted, respectively, 6,073,252 (DHG) and 2,471,105 (LBF) properly tendered shares at a price per share equal to 99% of their respective net asset value as of the close of the regular trading session of the New York Stock Exchange on November 22, 2010.
Approximately 11,332,261 and 3,286,951 shares of common stock for DHG and LBF respectively, or approximately 47% of DHG's and 33% of LBF's common stock outstanding, were tendered through the stated expiration date. The tender offer for each Fund was oversubscribed.
The European Equity Fund (NYSE:EEA) EEA will conduct a tender offer for up to 5% of its outstanding shares at a price equal to 98% of NAV. Details concerning the tender offer for EEA will be announced in the upcoming weeks.
CEF Focus Stock(s) for the Week: The focus this week is on the Morningstar CEF rating system. Unlike "The Morningstar Rating™" system for corporate stocks (based on the Morningstar's fair value assessment versus the stock price), the CEF system is not designed to be predictive with regards to stock price performance.
A Point of Departure: The definition of Morningstar's CEF rating system is "a quantitative assessment of a fund's past performance." Additionally, and I quote: "is intended for use as the first step in the fund evaluation process. A high rating alone is not a sufficient basis for investment decisions."
In fact, investors would be better off picking the lowest Morningstar CEF "star rating" (Rating "1") as it has consistently generated better share price performance than the higher ratings ("2" through "5") for a 14 to 16 month period. (See article for details, Morningstar CEF Ratings Continue to Provide Inverse Share Price Correlation (11/24/10)[7]
Caveats: Much like the Morningstar CEF rating system, The "CEF Focus Stock(s) for the Week" section includes CEF stocks of interest to me—and possibly other retail investors—and are subject to further analysis. Their inclusion in this section should not be viewed as recommendations based on the analysis provided here alone. Such stocks are basically a "heads-up" of something that might be of interest—or, not.
The difference the "CEF Focus Stock(s) for the Week" and the Morningstar CEF ratings system is one of ready, purposeful disclosure.
Joe Eqcome (Owns a diversified portfolio of CEFs and ETFs and is long stocks in the CEFBig10™, CEFMuni10™ and CEFDisc10™)
[*] All things being equal, price and NAV should move in tandem. A price movement greater than the NAV generates a positive PrcNAVSprd and may be interpreted as negative on a near-term basis and indicate that the stock is overvalued relative to its NAV which in theory is the stock's intrinsic value. The opposite would be true for a negative PrcNAVSprd.
[1] http://www.youtube.com/watch?v=y75FO51OR_M&feature=related
[2] http://joeeqcome.web.officelive.com/Documents/JoeYTDCEFWebTblRpt.pdf
[3] http://joeeqcome.web.officelive.com/Documents/CEFPortPerformGrph_111210.pdf
[4] http://www.bloomberg.com/markets/economic-calendar/
[5] http://www.bloomberg.com/apps/ecal?date=20100802&strtpt=1&endpt=50&c=US
[6] joeeqcome.web.officelive.com/Documents/JoeYTDETFWebTblRpt.pdf
[7] http://joeeqcome.web.officelive.com/Documents/JoeRschMornStarRevisit_112410.pdf
Disclosure: Owns a diversified portfolio of CEFs and ETFs and is long stocks in the CEFBig10™, CEFMuni10™ and CEFDisc10™