The euro crisis is getting ugly... again.

The Daily Telegraph reports a sharp jump in market jitters over German creditworthiness, as speculation grows that Portugal, Spain and even Italy will eventually come under Ireland-sized pressure for a bailout.
Credit default swaps (CDS) measuring risk on German, French and Dutch bonds have surged over recent days, rising significantly above the levels of non-EMU states in Scandinavia.

"Germany cannot keep paying for bail-outs without going bankrupt itself," said Professor Wilhelm Hankel, of Frankfurt University. "This is frightening people. You cannot find a bank safe deposit box in Germany because every single one has already been taken and stuffed with gold and silver. It is like an underground Switzerland within our borders. People have terrible memories of 1948 and 1923 when they lost their savings."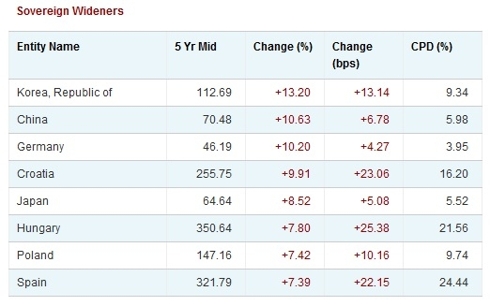 Germany has seen some of the sharpest widening among sovereign credit default swaps over the last few days.

The Daily Telegraph goes on to note that, as bailout-outrage and euro-skepticism among German taxpayers intensifies, German constitutional courts are set to rule on the constitutionality of Germany's involvement in euro-bailouts by February.

It's turning out to be einem kalten wintertag (a cold winter day) in Europe in more ways than one.

I still see this as an opportunity, if only because Europe is ahead of the U.S. in confronting (or being forced to confront) economic and financial realities that have historically forced policy reform elsewhere, but it's clear the entire eurozone project is at growing risk in the interim.