This is a busy week for US domestic oil plays with some of the largest and most influential names reporting their quarterly results. The conference call transcripts are piling up on our desk and we are doing our best to work our way through all of the information. There have not been many big surprises thus far, but we do think that before the week is over that there could be some big surprises; to the upside and downside.
Regarding oil prices, we are seeing the differential between WTI Crude and Brent Crude increase as both have fallen but WTI has been hit hardest as fast money exits speculative trading positions.
Chart of the Day:
Looking elsewhere in the commodity arena, the grains remain quite weak. Even with the issues in Eastern Europe and the world economy getting stronger, the pricing has remained weak. This could be bad news for a number of commodity companies, specifically the fertilizer companies.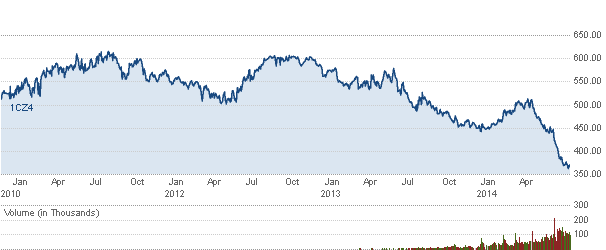 Source: CNBC
Commodity prices are as follows (at time of submission):
Gold: $1,308.20/ounce, up by $22.90/ounce
Silver: $20.06/ounce, up by $0.227/ounce
Oil: $97.31/barrel, down by $0.07/barrel
RBOB Gas: $2.752/gallon, up by $0.0365/gallon
Natural Gas: $3.928/MMbtu, up by $0.031/MMbtu
Copper: $3.1675/pound, down by $0.037/pound
Platinum: $1,465.40/ounce, up by $9.50/ounce
Earnings After The Close
Gulfport Energy (NASDAQ:GPOR) is set to report quarterly results after the market close and we have mixed feelings about this quarter; much like we did last quarter when the company reported while near all-time highs. The shares are no longer anywhere near all-time highs as a consequence of the change in strategy by the new CEO. His plan to slow growth in the near-term in order to build up an inventory of drilling sites to deliver more predictable growth moving forward shocked investors and saw shares sell-off by nearly 20%.
Although the market should be expecting some growing pains as the company adjusts to this new strategy and actually implements it, our fear is that last quarter's news has already been forgotten and that there is a risk that investors could be 'surprised' once again. They should not be, but we would not be shocked if they overreacted to any negative news.
The recent market correction, coupled with last quarter's surprise announcement from the company's new CEO, has Gulfport shares trading near their 52-week lows.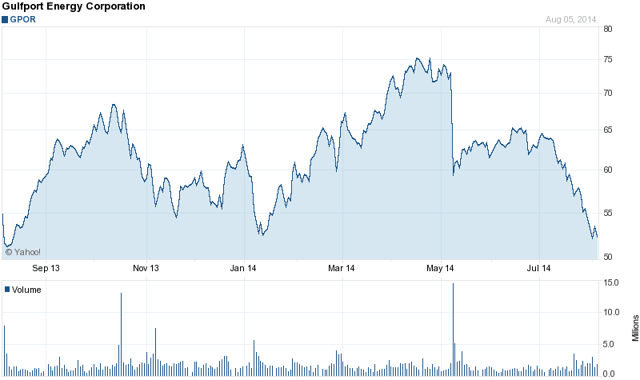 Click to enlarge
Source: Yahoo Finance
Backlog of Wells
We highlight Gulfport for a few reasons, mainly because of the risk with new management but also because of what we saw from Chesapeake Energy (NYSE:CHK), another big player in the Utica. Chesapeake indicated that they had a huge backlog of wells that have been drilled, but are awaiting the construction of pipelines to transport production to market. Midstream infrastructure has been a problem in a number of plays, but especially in the Utica as the pipeline companies have faced issues trying to procure easements from landowners.
If pipeline infrastructure is still an issue and will be a lingering issue over say the next 6-12 months, then production numbers for many of these names will have to be revised lower. The exit rates will probably remain unchanged, but total production will be much lower.
Bakken Producers
We will have to read over the conference calls of EOG Resources (NYSE:EOG) and Continental Resources (NYSE:CLR) once those calls have been completed, but our initial takeaway after reading through their press releases has us believing that this is one of those quarters which sets the field for the companies to impress investors further down the road. While these two names did not provide any fireworks, they also did not disappoint with anything that was stated in the press releases.
One company which did impress investors is WPX Energy (NYSE:WPX), which had a very strong quarter and increased dramatically their guidance for the year in numerous areas. The company has increased the number of wells they are going to drill in certain plays (while using the same number of rigs) and disclosed that they have already surpassed their planned drilling numbers in the San Juan Basin's Gallup oil play. WPX Energy continues to decrease well costs and improve drilling techniques which has increased production from new wells.
WPX Energy also added 200 drilling locations in the Williston Basin to its inventory in the quarter and has seen new production increase its liquids production to 47% of total production revenues. For full year 2014, the company increased its guidance for production growth from 40% year-over-year to 55%.
Disclosure: The author is long GPOR. The author wrote this article themselves, and it expresses their own opinions. The author is not receiving compensation for it (other than from Seeking Alpha). The author has no business relationship with any company whose stock is mentioned in this article.