Year-to-date, we have seen a high correlation between the Japanese Yen (NYSEARCA:FXY) and the yield on the 10-Year U.S. Treasury (NYSEARCA:IEF). The primary trend has been Yen strength with U.S. 10-Year yields moving lower. However, from July 17th to July 31st, the Japanese Yen broke its strengthening trend, weakening from ¥101.18/USD to ¥102.80/USD. Meanwhile, the U.S. 10-Year yield increased only modestly from 2.44% to 2.56%. Treasury yields have since dropped, creating a divergence in the tracking of these two assets. If the relationship seen during the first seven months of 2014 holds, the Yen could strengthen towards ¥101.50/USD or the U.S. 10-Year yield could rise towards 2.70%.
Look for this JPY/UST relationship to deteriorate in the coming weeks as USD strength, a bid for U.S. Treasuries, and negative U.S. economic data surprises keep U.S. interest rates anchored. Additionally, the Bank of Japan is expected to keep aggressive monetary and fiscal accommodation on tap (the next BOJ meeting takes place August 7th-8th). Should Japanese inflation and economic growth continue to slow this fall, the market will speculate on the possibility of additional easing, pricing in lower JGB yields and a weaker Yen. We like hedged Japanese equity exposure via the WisdomTree Japan Hedged Equity ETF (NYSEARCA:DXJ) or the db X-trackers MSCI Japan Hedged Equity Fund ETF (NYSEARCA:DBJP), as well as long exposure to the U.S. dollar through the PowerShares DB USD Bull ETF (NYSEARCA:UUP) and long exposure to intermediate-term U.S. Treasuries through the iShares 3-7 Year Treasury Bond ETF (NYSEARCA:IEI).
Conversely, if the correlation/relationship holds, we anticipate that the Yen will stay weak and 10-Year U.S. Treasury Yields will move more swiftly towards 2.70%. This could signal better-than-expected U.S. employment and inflation data. A development like this could be a sign of a better market environment for U.S. risk assets (SPY, QQQ, IWM, HYLD), but may simultaneously put selling pressure on more "fragile" emerging market currencies, equities, and debt (TUR, EZA, INDY, IDX, and EWZ).
View the rest of this week's charts here.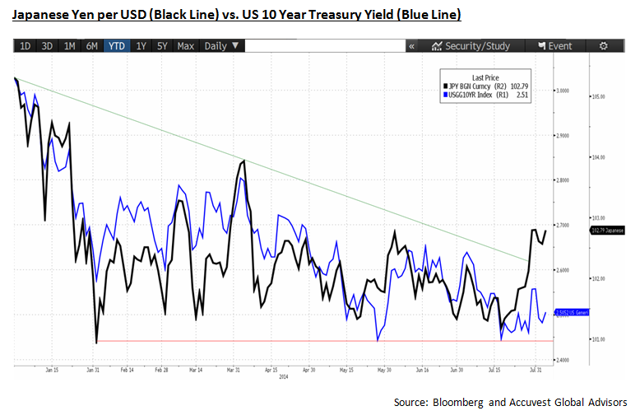 Disclosure: The author is long DXJ, UUP, SPY.
Business relationship disclosure: Accuvest Global Advisors is a registered investment advisor in the SF Bay Area. This article was written by James Calhoun, one of portfolio managers. We did not receive compensation for this article, and we have no business relationship with any company whose stock is mentioned in this article.