Biglari Holdings (NYSE:BH) is a holding company run by former hedge fund manager, Sardar Biglari. Its primary business is Steak n Shake, but they also own Western Sizzlin and a few other smaller assets in addition to their stock investments.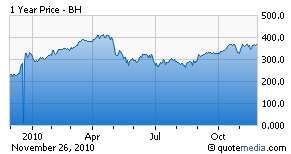 The stock was trading above $400 earlier this year, but lost more than a quarter of its value on Sardar Biglari's doomed pay package. I'll get into more of that later. The price is now back in the $370 range. The transformation of Steak n Shake (now Biglari Holdings) has been pretty phenomenal. It's now obvious that the previous management was spending way too much money on opening new, unprofitable restaurants, and throwing money at problems that would better be solved by higher company expectations. For example, customer service has greatly improved under Biglari, leading to significantly higher revenue and more return visits by customers. Now that the clean-up of the previous management's mess is nearly complete, the challenge will be for Biglari to successfully implement the next phase of growth, both in Steak n Shake and in the holding company. There are two goals here: For Steak n Shake, they want to move to more of a franchise model, and for Biglari Holdings they want to better allocate the free cash they generate into focused investments and outright purchases of other companies. I think this next phase will be successful.
I'm currently focused on four issues:
1. Biglari's compensation package is complete. This has been a catalyst for the stock. Without getting into too many details, Biglari originally suggested a pay package more fit for a hedge fund manager than a CEO. Mario Gabelli even criticized it. Plus, there was a fairly low hurdle rate of 5% book value growth in order for him to collect on a sizable bonus. The package was set to be voted on by shareholders, and would have gone down in defeat. I believe the suggestion of the pay package turned off a large number of shareholders, and ultimately drove the stock price down to less than $270. Ironically, it also drove out some of the fair weather shareholders.
I think there is a much stronger floor for the stock price now. Biglari and his hedge fund were big buyers at around $300. The new pay package is reasonable. The main point of it is the $10 million incentive pay cap. He gets 25% of annual growth in adjusted book value above a 6% hurdle rate with the cap. He's also required to use at least 30% of the incentive pay towards buying company shares at market rates. Considering what he means to the company, and how much skin he has in the company already, I don't mind the package. All of our incentives are aligned.
2. Same store sales are increasing. Same store sales increased in Q3 by 7.5% YoY. That's pretty impressive when compared to their competition. Considering they had about 5% growth YoY for Q3 2009, they didn't just get better because of poor results of the previous year. The criticism was that by cutting so much spending, same store sales growth would slow because restaurant upkeep would be poor. Time has shown that that criticism has not come true. I'm typically not concerned about results over a short term period, such as a month or quarter, so the important thing here for me is that same store sales growth has been consistently strong for an extended time period, especially when compared to their competition.
3. Biglari's offer for Fremont Insurance (OTC:FMMH). Biglari had dabbled in Fremont Insurance, a small Michigan-based insurer, before. He owns a bit under 10% of the shares, and his earlier $24.50 buyout offer was rebuffed by the company and led to state political intervention. So much for Michigan's façade of being business-friendly. The new offer is $29/share, which was a 41% premium over the previous stock price. There's still about a 10% spread, indicating the market doesn't believe the buyout will happen. Whether Biglari succeeds here, or goes after another insurance company, I think his mind is in the right place. He clearly would like to emulate Berkshire Hathaway (NYSE:BRK.A) by using the float from an insurance company as investable cash. If he ends up getting Fremont, great, if not, look for him to find another small insurance company to go after.
4. The ability for Biglari to successfully invest cash. The idea behind Biglari Holdings is that the free cash generated by the wholly owned businesses will be profitably reinvested where the returns are greatest. If they can make better returns by opening more Steak n Shakes, then they'll do that, but if they can do better investing in another public company, they'll do that as well. This idea has finally been implemented over the last quarter. Since Biglari took over, they've held a large proportional cash position. Over the last quarter, he's put about $48 million to work, while still having about $35 million in cash. This should continue going forward, and I expect his investment returns to be good.
If you want to get into this name, you have to have a certain amount of faith in Biglari, especially now that the low hanging fruit have been picked. Although he's young, his ten year track record gives me confidence in his abilities, and he has creatively navigated challenges in the last few years. When he runs into difficulties in the future, I think he'll be able to handle them well. At the same time, others may take a different view of him, and this would obviously, negatively affect assumptions going forward.
My assumption is that sales will continue to increase. I think they can generate revenue of about $725 million in 2011, and assuming a return of about 10% on their investable cash, they can make about $33 million after tax. That would provide them with an EPS of about $23. They deserve a market premium PE, and I think they should trade at about $460 next year. Going forward, cash generation and investments, particularly the purchase of entire companies like Fremont, may allow them to grow exponentially.
Disclosure: Arquitos Capital Management is long BH.