By: Craig Bowles
Overview
Priceline.com (NASDAQ:PCLN) is slated to report 2Q 2014 earnings before the bell on Monday, August 11th. The earnings release is expected at approximately 7:00 a.m. EST followed at 7:30 a.m. with a webcast presentation available through Priceline Investor Relations. The company is, among other things, the top global online hotel reservation service and could therefore influence direction of the index futures and other broad market gauges.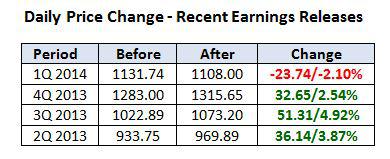 Outliers & Strategy
Key measures:
Adjusted Earnings Per Share: Company guidance is in the range of $11.22 to $12.02. The current Street estimate is $12.04 (range $11.62 to $12.93) (Source: Yahoo! Finance).
Revenues: Analysts expect an increase of 28.1% y/y to $2.15 bln (range $2.09 bln to $2.42 bln).
Gross Travel Bookings: Company guidance is 22% to 32% y/y growth from last year's $10.117 bln and translates to a range of $12.343 bln to $13.355 bln, so the midpoint is $12.849 bln. Analysts expect $13.237 bln (Source: Zacks Institutional Services).
Adjusted Earnings Per Share Guidance for 3Q 2014: The current Street estimate is $21.27 (range $19.79 to $23.20).
Revenues Guidance for 3Q 2014: Analysts expect an increase of 23.5% y/y to $2.80 bln (range $2.63 bln to $2.99 bln).
Priceline insiders have bought 2,045 shares over the past year but sold 11,000 shares in the last three months. The company instituted a $1 billion stock buyback plan a year ago.
Priceline and Expedia (NASDAQ:EXPE) are the top two global online travel agents with similar gross-hotel bookings (US$30bn) and results could also impact other online travel agents, such as Travelzoo (NASDAQ:TZOO), TripAdvisor (NASDAQ:TRIP) and Orbitz Worldwide (NYSE:OWW). The growth of Expedia and Priceline are threatening to make the smaller outlets irrelevant to the industry, according to some analysts.
Priceline shares have a 1-day average price change on earnings of 10.37%. Options are pricing in an implied move of 5.77% off earnings.
Recent News
08/01 Expedia shares jumped 4.5% in after-hours trading, after the company reported a very strong second-quarter beating both top and bottom line estimates, according to a post by Zacks.com.
07/25 Both Expedia and Priceline Group have redoubled efforts on expanding in China and Asia-Pacific region in the past year, according to a post by Investors Daily.
07/10 FBR Capital said its latest property count for Booking.com shows strong Q2 growth and points to potential earnings upside for Priceline, according to a post on finance.yahoo.com.
07/01 Oppenheimer initiated coverage of Priceline with an Outperform rating citing execution and a strong presence in high growth, underpenetrated international markets, according to a post on Daily Buzz.
Technical Review
Priceline doubled in just over one year before consolidating around $1200 for much of this year. This summer has met resistance when close to $1300 with $1199 support also the location of the uptrending 200-day moving average. 2014 price action is somewhat similar to 2012, which if continued, would have limited the upside to around $1250, so the stock has held up better so far than two years ago. Above $1300 has limited resistance other than the recent all-time high. (Chart courtesy of StockCharts.com)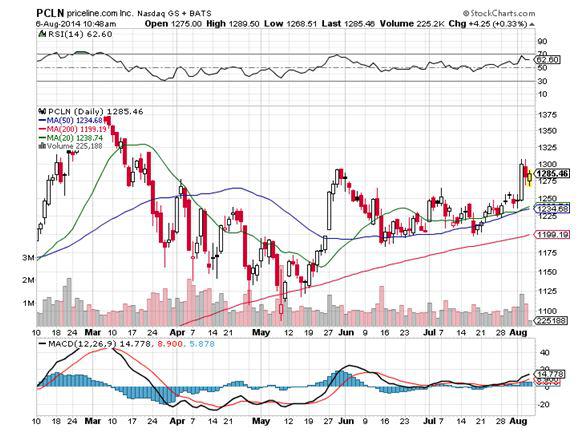 Summary
Nearly all analysts have Buy ratings on Priceline.com, 15% have a Hold rating, and zero has the stock as a Sell. The company beat estimates by an average of 73c the last four quarters with the least being 34c. The mid-point of analysts' range is $12.28, so the company probably needs to report an adjusted EPS of above $12.30 on revenue of 2.155 bln with gross bookings near the high end of guidance to be viewed positively. Even with good results, stocks have been punished this quarter if not accompanied by solid guidance.
DISCLAIMER: By using this report, you acknowledge that Selerity, Inc. is in no way liable for losses or gains arising out of commentary, analysis, and or data in this report. Your investment decisions and recommendations are made entirely at your discretion. Selerity does not own securities in companies that they write about, is not an investment adviser, and the content contained herein is not an endorsement to buy or sell any securities. No content published as part of this report constitutes a recommendation that any particular investment, security, portfolio of securities, transaction or investment strategy is suitable for any specific person.
Disclosure: The author has no positions in any stocks mentioned, and no plans to initiate any positions within the next 72 hours. The author wrote this article themselves, and it expresses their own opinions. The author is not receiving compensation for it (other than from Seeking Alpha). The author has no business relationship with any company whose stock is mentioned in this article.