Market downdrafts and corrections are part of the investment game. Therefore, I like to keep a "shopping list" of bargain stocks handy. This entails creating and updating an analysis journal of various equities, then determining an appropriate "on sale" price.
One stock on my list is Consolidated Edison (NYSE:ED). I purchased shares in 2008 and sold them in late 2009.
Recently, the stock price dipped to about $48 from a 2010 high of $51; and in the words of Peter Lynch, the great manager of the Fidelity Magellan Fund during the 1980s, "Sometimes an old friend is your best friend."
Is there enough juice in this equity to light up a portfolio?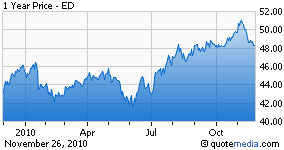 Con Ed provides electric, gas, and steam utility services. It provides electric service to approximately 3.3 million customers and gas service to approximately 1.1 million customers in New York City and Westchester County, as well as provides steam service to office buildings and apartment houses in parts of Manhattan. The company also provides electric service to approximately 0.3 million customers in southeastern New York and in adjacent areas of northern New Jersey, and northeastern Pennsylvania; and gas service to approximately 0.1 million customers in southeastern New York and adjacent areas of northeastern Pennsylvania.
Balance Sheet Analysis
Consolidated Edison has a decent balance sheet. They carry significant debt, as indicated by the Debt-to-Equity ratio of 106 percent and confirmed by the upward trend in long-term debt. In 2007 the company booked LTD of $7.6 billion. The figure is $10.7 billion today. Nonetheless, this is below their industry-peer average of 134 percent.
Other balance sheet analytics are reasonable. Return on equity and return on assets is 9 percent and 3 percent, respectively. This is in line with peers. Current ratio is 1.1. Cash on hand at the end of September was 68 cents, nothing to write home about.
Income Statement
Largely a regulated utility, Con Ed has shown steady, though unspectacular revenue growth. This consistency has remained despite the recession. Revenue has increased about 6 percent a year over the past five years. Based upon confirmed and anticipated rate making proposals, the go-forward revenues should remain in the mid-single digits going forward.
Future net income is expected to grow slowly. Projections for 2010 are $3.41 a share, rising to $3.50 in 2011. Baring unforeseen circumstances, earnings at ED are as exciting as watching paint dry: low single digit EPS growth is a pretty safe bet.
Cash Flow
Prior five-year cash flow growth of 8 percent was a plus. This was a pleasant surprise. A hiccup requiring some homework was the fact that the company booked negative Free Cash Flow (Operating Cash less Capital Expenditures) through the first nine months of the year. This was due to the re-jiggering of State and Local tax payments from 2009 to 2010. Not a big deal.
Price-to-Cash Flow is 7.6 versus an industry ratio of 6.3. Pretty ordinary.
The Short Interest Ratio (or Days to Cover) is about 4. Institutions own about 41 percent of the shares outstanding. There has been no significant insider activity in the past six months.
Analysis
Consolidated Edison is the same reliable company I sold over a year ago. The dividend was increased again. ED sports a current dividend yield of 4.9 percent, a strong figure even for a staid utility. What's more, the company is a S&P Dividend Aristocrat, meaning they have raised their dividend for at least 25 consecutive years. Specifically, Con Ed has improved their dividend 36 years in a row. There's no reason to believe that this string will change anytime soon. Nor is their any reason to believe the dividend increase will be more than a percent or so a year: the same rate of increase looking back the past five years.
Risks to the business model include future power consumption by residential and business customers in the New York metro area, unfavorable regulatory rate rulings, interest rate increases. However, the company has hedged interest rates somewhat.
While Cap-and-Trade legislation appears on life support, Con Ed was actually better positioned to deal with it than most of its competitors.
Bottom Line
Con Ed remains a best-of-breed utility. The management is steady, the business has weathered the recession, and the financials are in order. The recent news around ED remains historically unspectacular, even boring. The dividend is secure, and every indication is that the directors will continue to increase it annually. The nearly five percent yield is tempting.
It's a bellwether utility and one of my favorites.
Nonetheless, the EPS growth remains slow. I do not expect much upside versus the pedestrian low single-digit YoY forecasts.
The current P/E (price-earnings) multiple is 14. This is bang-on the five-year average multiple. It's a little high for a utility, but the strong dividend provides a good measure of yield support. I see no reason to believe the P/E should improve much. Historically, it could even go down a notch. Using 2011 projected earnings per share of $3.50, and even placing a generous 14.5 multiple on it, we have a $51 stock. ED closed at $48.18 at the time I wrote this article. That's less than six percent appreciation upside over the next twelve to eighteen months.
Furthermore, if one subscribes to the view that the U. S. will emerge from the Great Recession in 2011-2012, the Utilities are not where the action is to be. While Consolidated Edison may be a good diversification candidate, I see no reason to jump at it at this price level.
Therefore, I will remain on the sidelines for now. My "shopping list" target price is $46 to $47 or less. If it drops to this level, I can begin to build a position. This would also up the current yield to over 5 percent. A combo of my predicted fundamental price target and dividend would produce a one-year 13-14 percent return on investment.
The stock ran steadily throughout most of 2010, but as noted earlier, has slipped lately. The Slow Stochastic and Money Flow Index charts are trending negative. A bit of an overall market correction may be in the wind, and therefore the chance may present itself to get some holiday discounted merchandise.
Disclosure: No positions