On September 9, Apple (NASDAQ:AAPL) is widely expected to unveil two new iPhones, one with a larger ~4.7 inch screen and a "phablet" version with a 5.5 inch screen. The introduction of two completely new iPhones at the same time will mark a departure from the Jobs era of focusing on "just building the best device" to a more mature strategy of product diversification. Whether this is enough to arrest the market share decline of iPhone in 2013 remains to be seen, but fresh data from IDC suggests that such a reversal may already be under way.
Revisionist Rumors
Re/code's report of the Apple iPhone event for September 9 contained the usual information that has been circulating for months: there would be two new iPhone 6 models with larger screens and featuring faster next-generation Apple SOCs. Conspicuously absent from the report was any mention of a sapphire screen, a staple of the iPhone rumor mill. As I pointed out recently, I don't believe that sapphire will make it into mass produced iPhones this year, although it's possible that Apple may make a very limited quantity of sapphire equipped iPhones available this year for a premium price.
Although sapphire bulls have pointed to a YouTube video by Marques Brownlee, which supposedly demonstrated an iPhone 6 sapphire screen, Brownlee followed up with another video, which probably demonstrates that the screen was not sapphire. In the second video, he performs a standard scratch test using garnet and corundum papers, and shows that the supposedly sapphire screen scratches, while the iPhone 5s home button (known absolutely to be sapphire) did not.
The follow up video shows how unreliable YouTube can be as a source of tech business news. Brownlee concludes that the iPhone 6 screen scratches because it's the sapphire/glass laminate of Apple's recent patent application. He may be right, but the more likely explanation is that he simply tested a new, improved, Gorilla Glass.
In any case, it's clear that the only economically viable sapphire screen would be based on Apple's sapphire/glass laminate. Solid sapphire is too expensive as a bulk material with the current state of the art in sapphire boule production, and is also too expensive to process using the conventional diamond saw technique.
GT Advanced Technologies, Inc.'s (GTAT) Hyperion process promises to economically produce very thin, 20 micron, wafers of sapphire, but getting this into mass production is one of the many impediments that I believe has delayed sapphire into next year. When I look at the big picture it all seems too much: getting the Arizona plant up to speed, providing the solar array to power it, and getting the Hyperion process into mass production.
People outside of industry don't realize how much time things like this take. To do it all in a few months from a standing start at the beginning of the year (in time for iPhone 6 production start) would have been a miracle. Bloomberg's February 2014 report on the project makes clear that things were not even close to being far-enough along to support iPhone 6 production start in late Q1 or early Q2, which would be needed for the iPhone 6 September roll out.
Reversal of Fortune
Despite the lack of a sapphire miracle, iPhone 6 appears to be poised to achieve what until recently I considered all but impossible: a sustainable gain in market share for iPhone. Here, I'm applying the market share criterion I developed for "Myths of Apple's iPhone Market Share." Instead of looking at the overall smartphone market, which includes "white box" devices that run Android, but are hardly more than feature phone, I look only at the top five name-brand vendors and calculate Apple's market share of that group. This effectively excludes white box sales, as well as lower tier smartphones intended for emerging markets.
As of 2013, Apple's share of the top five market had declined, in terms of total annual shipments, compared to 2013, as I show in the graph below: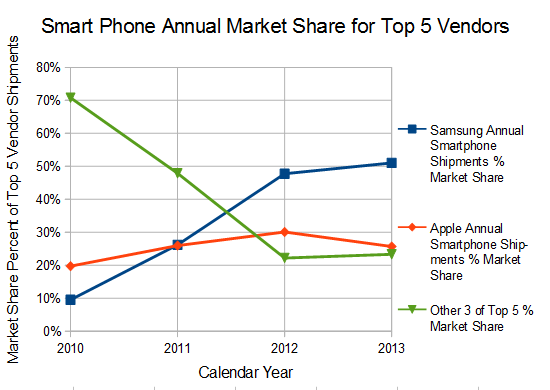 However, recent data from IDC suggests that this trend may be reversing in 2014. For calendar Q1 and Q2, IDC started publishing data on the top five smartphone vendors, as well as year-over-year comparison data for 2013. This allows me to plot the market share data with quarterly rather than annual granularity, as shown in the plot below: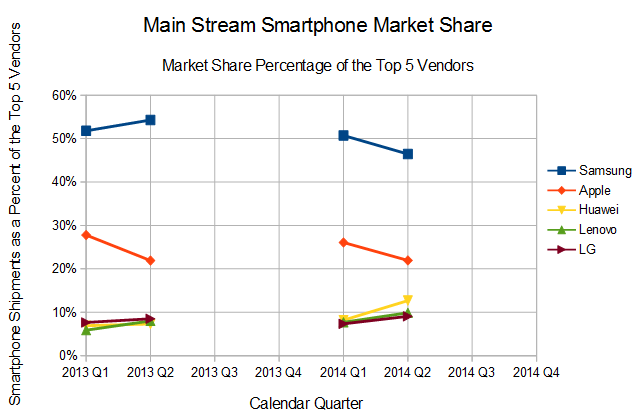 The gap in the 2013 data is due to the fact that IDC didn't publish this data last year, and I'm reluctant to provide data from other companies such as Gartner, since differences in analytical methods could be significant. As IDC provides data for the coming quarters, I'll be able to fill in the gap for 2013.
The chart (corrected 8/7/14) shows that Apple made a slight gain in top 5 market share in 2014 Q2 compared to 2013, 21.94% vs. 21.91. Still, it's progress, especially considering that Samsung dramatically lost top 5 share in 2014 Q2 at 46.44% vs. 54.28% in 2013 Q2.
The Wealth Advantage
I see this data as confirming an important, industry-wide trend. I've been saying for some time that the computer processor industry is shifting from the Intel (NASDAQ:INTC) model of commodity processor maker to the Apple model of integrated device maker, which designs its own custom processors. Wealth and capital have shifted dramatically to the device makers such as Samsung and Apple, but it remained to be seen whether the device makers could leverage their new-found wealth into competitive advantage over the incumbent commodity processor makers and allied device makers. Apple's creation of the 64 bit A7, and its subsequent boost to the popularity of the iPhone, demonstrate a tangible application of the wealth advantage.
Although screens have garnered most of the attention for the upcoming iPhone 6, it is what Apple will do with its next generation SOC, dubbed the A8 that may make the most difference to Apple's future. Apple's wealth advantage will manifest most clearly in the innovations that are introduced with the A8. These could include multi-core designs as well as a move to a smaller process node.
The A7 is built on Samsung's 28 nm process, according to Chipworks. I've speculated that Apple could be helping Samsung out on the Samsung/Global Foundries collaboration on 14 nm FinFET. I'm sure the A8 won't feature that process (it's clearly not ready), but it may feature a shrink to an intermediate ~20 nm process, possibly from TSMC.
Although it's easy to fixate on screens and screen size, Apple's next generation SOC should be the focus of investors and analysts. This SOC may determine whether or not Apple continues to make market share gains against the top five.
Disclosure: The author has no positions in any stocks mentioned, and no plans to initiate any positions within the next 72 hours. The author wrote this article themselves, and it expresses their own opinions. The author is not receiving compensation for it (other than from Seeking Alpha). The author has no business relationship with any company whose stock is mentioned in this article.