BlackBerry's (NASDAQ:BBRY) investment thesis remains intact as the US Government continues to undermine US-based technology companies. Not only has the US Government not addressed the issue of NSA espionage to regain the confidence of governments and companies around the world, a case involving Microsoft could further damage the reputation and business of US companies abroad.
In an industry expected to grow rapidly, Oracle expects mobile related IT expenses to grow 50 percent in the next two years, BlackBerry is uniquely positioned to take advantage of this growth.
Last week, Microsoft lost an appeal against the US Government regarding a search warrant for information stored in Ireland. This case could have enormous repercussions for US tech firms abroad and pave the way for non-American companies, such as BlackBerry, to boost their growth outside the US.
Being Canadian in a Post-Snowden World
Edward Snowden's disclosure of US espionage activities has taken its toll on US-based companies. As an important competitor for managing enterprise customers' mobile communications, BlackBerry has been taking advantage of this headwind.
The German government is only among the first of security conscious customers that are set to replace US-based IT companies with BlackBerry. Those 20,000 new BlackBerry devices with enhanced encryption capabilities, said to be priced around 2,400 euros each, could see renewed interest among clients in regulated industries and other governments around the world.
The surge of mobility in the workplace has shifted the focus from protecting landlines, servers and PCs to protecting smartphones. The BYOD trend has only compounded security risks and headaches for IT managers.
The acquisition of Secusmart makes perfect sense for a company aiming to offer more value-added products to its customers. Leveraging on its widespread relations among enterprise clients in highly regulated industries, BlackBerry can greatly enhance the sale of Secusmart products.
BlackBerry's reputation as the go-to company for security conscious customers should keep it ahead of its competition in highly regulated industries. The perceived risks in some competitors' devices will also continue to drive corporate sales.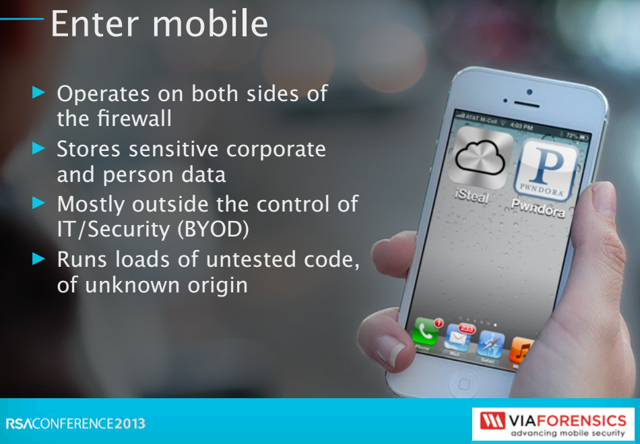 Source: RSA Conference 2013
US Government Continues to Undermine US Tech Companies
The US Government is demanding that Microsoft (NASDAQ:MSFT) turn over copies of emails stored in Ireland related to a drug investigation. Microsoft chose to challenge the search warrant in court. The chief argument on Microsoft's behalf was noted by its Deputy Legal Counsel stating that "the US doesn't have the power to search a home in another country, nor it should have the power to search the content of email stored overseas."
From a legal standpoint, I don't know if the US should be allowed to search content stored overseas. What interests me as an investor in the technology sector is not the legal nor ethical grounds of this legal fight, but rather the potential headaches it could bring for US IT companies.
Companies based outside the US have grown wary of privacy related issues since Edward Snowden's disclosures. Imagine if the US courts were to set a precedent making it legal to seize data from non-US citizens outside the US. It could cost US IT companies millions in lost business while being replaced with non-US competitors.
Microsoft is surely worried as well as other US based IT companies. In court, Microsoft argued that "over the course of the past year, Microsoft and other US technology companies have faced growing mistrust and concern about their ability to protect the privacy for personal information located outside the United States. The government's position in this case further erodes that trust, and will ultimately erode the leadership of US technology companies in the global market."
Other companies are feeling the heat as well. Earlier this year, Cisco's (NASDAQ:CSCO) CEO wrote to Obama asking for his intervention to prevent the loss in trust on US IT companies as a result of NSA surveillance. US tech companies have even sponsored an attempt to reform the government's surveillance system.
Last week Microsoft lost an appeal against the Ireland search warrant. US District Judge Loretta Preska argued that "it is a question of control, not a question of the location of that information." Microsoft still has room to appeal this ruling to a higher court. Nevertheless, if higher courts uphold Preska's arguments it could establish a precedent that would make it legal for the US to order US-based tech companies to turn over whatever information it deems necessary, even if it belongs to non-US citizens outside US jurisdiction.
If you were the head of a non-US based company, given the US government's reputation on espionage and sound legal rulings, would you choose IBM to manage your information? I know I wouldn't. BlackBerry's John Chen seems to agree, noting that "it doesn't hurt being a Canadian company."
Why It's Good to be Canadian
BlackBerry is not immune to law enforcement's request for information on their customers. In 2012, Indian officials reported that they were working closely with BlackBerry to develop a snooping system on BBM users inside their country. The reports claimed that the snooping powers would be used strictly on users suspected of engaging in criminal or terrorist activities. I imagine that BlackBerry, along with every other OEM, has similar arrangements across several countries.
However, the US case is unique in that it wants the power to seize any information across the world, even from non-US citizens living abroad. Judging from Preska's arguments cited above, any US company would be required to surrender information stored overseas from anyone. So far, it's clear to me that a similar request on BlackBerry wouldn't be legal given that it is established outside the US, hence its advantage over US firms for non-US customers.
Conclusion
Things are falling in place for a BlackBerry turnaround: [i] Mobile IT spending will increase in the following years; [ii] US competitors are facing obstacles to compete effectively from their own government; and [iii] BlackBerry is making the right investments to enhance its security related products.
BlackBerry investors should follow closely the case of Microsoft against the US Government. If Microsoft is ultimately forced to hand over the information, companies and governments around the world could choose to replace US-based companies. The potential headwind for BlackBerry, focused on providing secure mobile communications for security conscious clients, could be substantial.
Disclosure: The author is long BBRY. The author wrote this article themselves, and it expresses their own opinions. The author is not receiving compensation for it (other than from Seeking Alpha). The author has no business relationship with any company whose stock is mentioned in this article.