Inovio's (NYSEMKT:INO) shares have plummeted by more than 30% following the release of the results of its Phase II cervical dysplasia trial. I will not go into details as these results have been already discussed ad nauseam on several articles, but the main conclusion is that both the study's primary endpoint -regression of CIN2/3 lesions to CIN1 or no disease - as well as the secondary endpoint -virological clearance of human papillomavirus (HPV) 16 or 18 - were met using Inovio's VGX-3100 immunotherapy treatment.
Excessive sell-off
This result was seen as a big victory for Inovio, as it represents a technology proof of concept that validates Inovio's immunotherapy approach and, by extension, the company's massive pipeline. Predictably, shares jumped following the announcement, reaching a high of $14.14 at the open on July 23. From that moment on, however, price started on a downward spiral, with Inovio shares falling for seven consecutive days, an unprecedented streak of red for the stock.
The sell-off could be seen as a classic "sell the news" that often takes places at biotechnology companies that experience notable price increases prior to the release of trial data. However, Inovio's price action before that date does not seem to support that notion, as shares closed at $11.14 on 22 July, the day before the release of the Phase II results, well below the 52-week high of $15.80 that had been achieved only four months earlier.
While some profit taking is not rare after the release of positive data, and it is possible that some of the actual results fell slightly short of the unrealistic expectations that some retail investors had before the release, there can be no arguing that the results were statistically significant and can be considered a success, and it is therefore somewhat puzzling that shares would drop to levels even below those seen before the release of the Phase II data.
Undoubtedly, the following announcement of a shelf filing for $175 million played some part in it, as investors seemed to assume that immediate dilution was a certainty. But while the shelf filling does point to possible dilution down the road, there's no indication as to when it may take place, if it happens at all. Furthermore, the current filing replaces a previous one for $120 million that had been half depleted after having raised $63 million in financing earlier this year. Thus, this price drop does not reflect any material change in the company that would justify a sell-off of this magnitude.
If anything, what Phase II data does is the opposite, as not only represents the first validation of Inovio's DNA-based vaccine approach, but largely removes the possibility of a sudden plunge in share prices for the time being, a distinct possibility before the publication of results and a fate that many a small biotechnology company has suffered after the release of pivotal data that did not meet endpoints.
Furthermore, Inovio's traditional strengths remain intact: one of the largest - if possibly not the largest - pipelines among the industry, an enviable financial position with no debt and a cash runway that goes into 2017 (with $117 million in cash by the end of Q1 and a monthly cash burn rate of $2.75 million throughout 2013), a highly regarded scientific team running the company as well no insider selling since 2012.
Interestingly enough, retail sentiment has shifted from overly enthusiastic before the release of results, to a rather gloomy, disappointed mood, with many investors exiting their positions at a loss, while criticizing the timing of the shelf announcement and questioning the company's efforts in promoting its successful clinical results. Retailers love to quote -often incorrectly- Warren Buffett's famous "be fearful when others are greedy and greedy when others are fearful" mantra, but I guess it's hard to keep a cool head when your portfolio is taking a beating one day after another with seemingly no end in sight. Yet, this is precisely the time when astute investors can obtain a handsome reward by taking advantage of market overreactions that do not have a fundamental justification behind.
Going forward
Inovio recently reported that it will host its second quarter financial results call on August 11. While important, every investor familiar with the speculative biotech space knows that actual earnings do not play a key part in the evaluation of a company of this sort. A more significant part of the call, however, will be Inovio's corporate update, which "will include clinical development plans for VGX-3100". Investors will be paying special attention to any additional data that may be released regarding T-cell immune response and correlation with clinical efficacy, as well as figures pertaining specific clusters of the Phase II trial dataset.
It is very unlikely that Inovio will announce a Phase III trial for VGX-3100 yet, as results from the Phase II are still being analyzed and have been submitted for peer review in a process that may last some months, as per some communications received from the IR department. However, it is my belief that Phase II results certainly justify the initiation of a Phase III trial and such an announcement is probable in the coming months.
Also concerning a potential Phase III trial, the rumor mill is running full speed regarding a potential partnership down the road, with Roche being an obvious favorite due to its current partnership on INO-5150 (targeting prostate cancer) and INO-1800 (hepatitis B). CEO Dr. Joseph Kim has stated in the past that Inovio is "in active discussion with several potential partners for this program" and that once the data was unblinded it would be time to decide whether to go at it alone or decide on a partner. Again, it is unlikely that a partnership announcement will already be made at the conference call, however it is a distinct possibility in the medium term, and investors should be aware of it as it could mark an important catalyst for the company.
The technical picture
From a technical standpoint, share price is now at the bottom of the upward channel initiated in mid-May and has hit the 50-day moving average as well. If this double support is confirmed, this would mark an excellent entry point for short and mid-term traders looking for a move upwards first towards $12 and later on to $14. Unfortunately, the technically minded investor will quickly realize by looking at the chart that despite the carnage suffered in the past days, shares are not yet technically oversold, so a further downward move towards the next areas of support - first at $9 and, in case of breach, to the $8.00-8.50 area - is certainly possible. Still, this leaves us with a 10-20% downward risk in exchange for a potential 40% move upwards. A 3 to 1 gain to loss ratio is the kind of buying opportunity that smart investors should not let pass. Investors, however, will do well in keeping a close eye on the main stock indices, as the confirmation of an overall correction in the market will likely act as an anchor and bring the stock down with it. I would recommend an exit on a break below $8, as it would invalidate our strategy.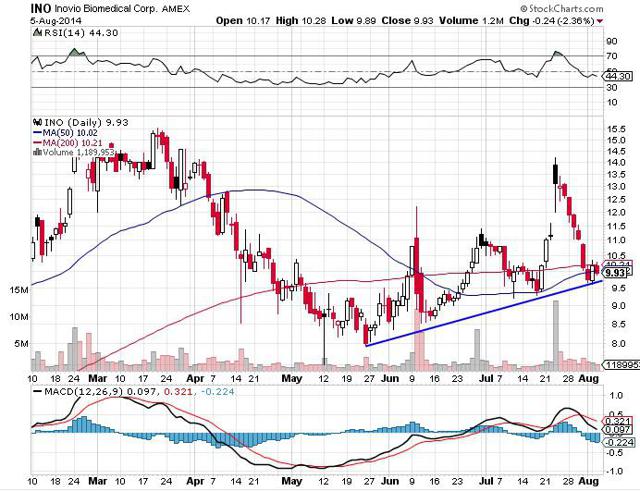 Conclusion
Inovio shares are currently trading below the price they were at before the release of Phase II results, a level that clearly is not justified by the data that has been released. The excessive sell-off has brought down price to a very attractive level from a risk/reward standpoint. Furthermore, due to the positive results, the risk of a potential sudden plunge has been largely cancelled. On a short and mid-term horizon, investors willing to withstand the daily volatility associated to a small biotechnology stock can find an attractive entry opportunity with a limited risk at this point. From a longer term perspective, Phase II results have greatly de-risked Inovio's platform and may become the foundation of a successful new approach to treat cancer as well as several other infectious diseases.
Disclosure: The author is long INO. The author wrote this article themselves, and it expresses their own opinions. The author is not receiving compensation for it (other than from Seeking Alpha). The author has no business relationship with any company whose stock is mentioned in this article.