By Patrick Crutcher

With an upcoming medical conference like the 52nd American Society of Hematology (ASH) Annual Meeting from December 4-7, 2010, we wanted to highlight what we see as a long-term play on the immunotherapy sector. Seattle Genetics, Inc. (Nasdaq:SGEN) will be giving two oral presentations on brentuximab vedotin (SGN-35) that will provide more complete data from a pivotal trial in relapsed or refractory Hodgkin lymphoma and a phase II trial in relapsed or refractory anaplastic large cell lymphoma. Positive top-line data from both trials were reported in late September. We're not going to try and cover everything the company has done, but highlight some recent developments that lead us to believe Seattle Genetics could be a long-term investment worth considering. Recent top-line data from SGEN's platform has investors optimistic about a potential FDA decision in mid-2011.
Seattle Genetics' bread and butter has been its antibody-drug conjugate (ADC) technology, which allows monoclonal antibodies targeted for certain tumor cells by attaching them to potent anti-cancer agents. Antibodies are naturally occuring proteins designed to be very specific and targeted locators for 'foreign objects', but typically fail to cause much cellular damage to these objects. Using SGEN's ADC technology, they produce 'armed-antibodies', which binds to the target on the tumor and delivers the cell-killing agents.

The company's lead agent, SGN-35 (Brentuximab Vedotin), is an ADC targeting CD30, a defining genetic marker for Hodgkin's lymphoma and target also highly expressed on a number of T-cell lymphomas, including anaplastic large cell lymphoma (ALCL). In late September, SGEN announced top-line results from its pivotal study in relapsed and refractory Hodgkin lymphoma (being conducted under a Special Protocol Assessment (SPA)). The company reported that 75% of 102 patients in the trial achieved an objective response as assessed by an independent central review with a median duration of response greater than 6 months. Additionally, in October SGEN reported very positive top-line data from another clinical trial with SGN-35, a Phase 2 trial in patients with relapsed or refractory ALCL. In that study, 86% or 50 of the 58 patients enrolled achieved an objective response with median duration of response had yet to be reached at a median follow up on study of approximately 6 months (very positive news).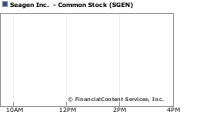 Quotes delayed at least 20 mins.
What's impressive about the SGN-35 data is the overwhelming response rate, duration of this response, and patient population this has been effecitive in. This has many optimistic about its therapeutic value. The trial was conducted upon a heavily pre-treated group of patients that had failed multiple frontline therapies and had primary refractory disease, meaning they either failed to respond to or relapsed within 3 months of receiving frontline treatments. At ASH 2010, they will present further details on durability of response and the safety profile, as well as secondary endpoints including complete response rate and progression-free survival for SGN-35 (Brentuximab Vedotin).

More importantly, SGEN recently announced plans to meet with the FDA later in 2010 with the end-goal of including both Hodgkin lymphoma and ALCL indications in a BLA submission planned for the first half of 2011. The company also announced that Millennium (of Takeda (OTCPK:TKPHF), SGEN's main collaborator on SGN-35 outside of the U.S. and Canada) hopes to meet with EU regulators with a goal of submitting a marketing authorization application to the European Medicines Agency in 2011. SGEN obviously hopes to receive a priority 6-month review, so that SGN-35 could be launched in late-2011.
So 2011 could be a transformational year for SGEN, with the potential approval of SGN-35 serving as the final validation of its technology. The company has projected worldwide annual market potential for SGN-35 in relapsed or refractory lymphoma to be around $300 - $400 million with additional potential (>$500 million) in the front line settings.
We also shouldn't ignore the value in other portions of SGEN's pipeline and technology. At ESMO 2010, the company reported positive data on SGN-75, which is an ADC for the treatment of NHL and renal cancer. These two indications could represent several billion dollars in potential revenue. SGEN reported preliminary data showing SGN-75 to be active in both settings; the company is still trying to determine the maximal dose. The trial targeted only patients whose tumors expressed CD70 (SGN-75's designed target). Seattle Genetics is also studying SGN-35 in a Phase I trial to assess the safety and tolerability of brentuximab vedotin in combination with chemotherapy for the front-line treatment of Hodgkin's lymphoma.
SGEN has also been active in licensing its ADC technology with several companies. SGN-35 is wholly-owned by SGEN in the U.S. and Canada, but SGEN was able to partner the rest-of-world rights with Takeda for an upfront payment of $60 million, $230+ million in clinical development milestones and tiered double-digit royalties on sales of SGN-35. This also included a 50:50 split on development costs. Seattle Genetics recently expanded its ADC deal with Genentech (Private:DNA), in which the company received $12 million upfront and over $900 million in potential fees/milestones and mid-single digit royalties. SGEN also has ADC technology deals with Bayer (OTC:BYERF), Astellas (OTCPK:ALPMY), Progenics (NASDAQ:PGNX), Celldex (NASDAQ:CLDX) and GlaxoSmithKline (NYSE:GSK).
Another important aspect that makes Seattle Genetics an attractive opportunity is the broader markets move towards biologics. Biologics are targetted therapies (high specificity) that offer improved safety profiles, but have opened up new avenues in disease treatment and prevention not addressable with current therapeutics (small-molucule drugs). Biologics are attractive additions to any pharma pipeline, especially for the premium price and lessoned generic pressure. From a recent article in Next Gen Pharmaceuticals,
Within five years half of marketed drugs are expected to be biologics, and the industry is moving to sustain and expand NBE discovery.
Investors should not miss this trend towards biologics. Recent high-profile examples include Benlysta (HGSI) and Provenge (Dendreon (NASDAQ:DNDN)).
The Street seems to be all over Seattle Genetics, which is well-positioned to become the leading antibody drug conjugate (ADC) company. Several analysts have $20-22 price targets and see SGEN as a potential aquisition target. Some of the recent insider transactions are positive, showing management is invested in the company. SGEN is also backed by large institutional holdings. We also think that the company is very strong financially, as SGEN currently has $315 million and projects ending 2010 with more than $280 million. If you want a biotech company with a proven technology and transformational catalysts coming in 2011, SGEN should be a top choice.

Disclosure: No position
Seattle Genetics' Third Quarter 2010 Financial Results
Seattle Genetics' CEO Discusses Q3 2010 Results - Earnings Call Transcript