TerraForm Power, Inc. (NASDAQ:TERP) - Buy Recommendation - PT $30.40
The 25-day SEC-enforced quiet period on underwriter analyses on TERP will come to an end on August 11, likely giving TERP a temporary boost in price. Results of recent studies show a share price increase in the eight-day (-5,+2) window, surrounding a company's IPO quiet period expiration. Given the strong early market performance and solid yield, TERP looks like a solid buy both long-term and at the upcoming quiet period expiration.
The 25-day SEC-enforced quiet period on underwriter analyses initiated with the July 17 IPO of TerraForm Power, Inc. will come to an end on August 11, allowing the firm's IPO underwriters to release research reports on the SunEdison clean power spinoff.
The release of the underwriter reports will likely lead to at least a temporary increase in the price of TERP shares.
Early Market Performance
TERP's IPO priced at $25.00 per share, the high end of an upwardly-revised range, and posted an excellent 32.2% first-day return. The stock peaked at a close of $33.65 per share on July 24, but fell two dollars over the course of next several days, closing at $30.29 per share on August 5.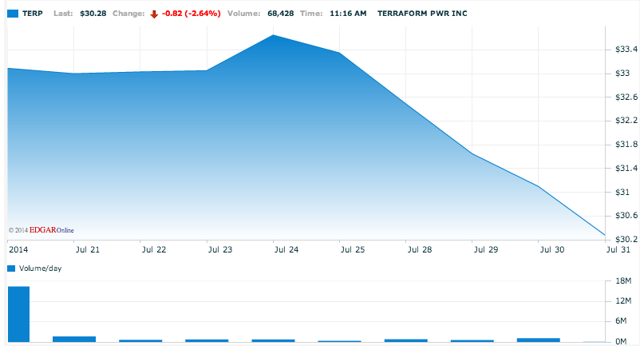 (Nasdaq.com)
Strong Underwriting
TERP's IPO underwriters, including Barclays Capital Inc.; Goldman, Sachs & Co.; Citigroup Global Markets Inc.; FBR Capital Markets & Co; Macquarie Capital ((USA)) Inc.; J.P. Morgan Securities LLC; and Santander Securities Corp. will attempt to recapture the stock's exceptional first-day performance through the publishing of positive research reports.
Underwriters, Quiet Period Expirations, and Buying Opportunities: Academic Studies
The Journal of Finance (VOL. LVIII, NO. 1; 2003) describes the process through which rising share prices typically emerge before the quiet period expiration as investors purchase shares early in anticipation of positive underwriter reports.
Lead author Dan Bradley, PhD, CFA, affiliated with the University of South Florida and colleagues note that analyst coverage is immediately initiated for 76% of firms at the conclusion of the quiet period, typically with ratings of 'Buy' or 'Strong Buy.' Firms with coverage initiated enjoy abnormal positive returns of 4.1% for the two days before and the two days after coverage is initiated. Returns have also been found to rise even further when more than one analyst initiates coverage-to 6.4%.
Dr. Bradley's conclusion is backed by the work of Carter, Piwowar, and Strader (2001), who report that the mean analyst rating at the end of the quiet period is a "Buy," with higher returns correlated to higher ratings. Lach and Highfield (2009) note that analyst initiations have been less positively biased since the Global Settlement and NASD and NYSE rules; however, Highfield, Lach and White (2008) still found that the five-day cumulative adjusted returns are statistically significant at approximately 2%.
Bradley et al also note a significant correlation between the quantity and reputation of IPO underwriters and increasing share prices near the expiration of the quiet period.
Our own research, performed on a sample of 2014 IPOs, reveals above-market returns of 2.3% in the 8 day (-5, +2) period (day 0 being expiration). These data are statistically significant at the 90% level. When IPOs for REITs and banks are excluded, returns increase and remain within the 90% significance level. We also noted that more underwriters could reduce the volatility of returns in the quiet period. No significant linear relationship was found between market capitalization and returns or volatility of returns in the same window of time. We also observed no significant linear relationship between the percentage of the company floated at the time of IPO and returns or volatility of returns.
In all cases, investors' early purchases often lead to a perception of rising demand, causing rising share prices before the expiration of the quiet period and creating a short-term buying opportunity.
Business Summary
TERP is a yield company spun off of SunEdison to own and operate clean power assets.
The firm will attempt to develop secure, contracted cash flows through its ownership of solar generation assets and to purchase other clean power assets.
TERP hopes to position itself to take advantage of increasing numbers of markets experiencing "grid parity," a condition in which electricity generated through renewable sources is less expensive than or equal to current prices. Grid parity should continue to appear as fossil fuel energy prices rise and renewable energy sources become more efficient.
TERP's portfolio includes solar projects in the United States, the U.K., Canada, and Chile with a total nameplate capacity of these projects of 807.7 MW. The projects are under power purchase agreements with a weighted average remaining period of 20 years.
An agreement between TERP and SunEdison requires SunEdison to offer TERP projects from its development pipeline that will generate a total of no less than $175 million of cash available for distribution in the year following the projects' commercial operation dates by the end of 2016.
See our previous article on TERP for further information.
Range of Potential Competitors
TERP will be able to acquire some further projects through its agreement with SunEdison, and has right of first offer on some of SunEdison's other projects, but the firm may have difficulty in outbidding more financially robust competitors for other projects.
Competitors may include solar developers, financial investors, utility companies, and independent power producers.
Attractive Yield
TERP plans to pay a quarterly dividend of $0.2257 per share, or $0.9028 per share annually. Assuming the July 29 closing price of $31.65 per share, this would be equivalent to an annual yield of 2.85%.
Management Notes: Diverse Experience
CEO Carlos Domenech Zornoza also serves as a director of TERP. He previously served as the CFO and COO of SunEdison and the executive vice president and president of SunEdison Capital.
Mr. Domenech previously worked in various roles for General Electric (NYSE:GE), including as the CFO of Universal Pictures International Entertainment.
Conclusion: Another Strong Buying Opportunity
TERP's explosive start on the market was no surprise given the firm's strong connections with SunEdison and the strong quarterly dividends that the firm plans to play.
Though the dividends are somewhat less appealing at current prices than at the IPO prices, we still believe that this stock is worth owning.
TERP should be in a strong position to take advantage of rising fossil fuel prices both through its current portfolio and through the further projects that it will acquire from SunEdison in coming years.
The quiet period expiration may provide an excellent opportunity for interested investors to buy into TERP.
We invite readers wishing to join the discussion on IPO quiet period expirations to click the +FOLLOW button above the title of this article -- and those looking for the latest development to click +Get real time alerts.
Disclosure: The author is long TERP. The author wrote this article themselves, and it expresses their own opinions. The author is not receiving compensation for it (other than from Seeking Alpha). The author has no business relationship with any company whose stock is mentioned in this article.