Introduction
Last week, French real estate company Klepierre (OTC:KLPEF) announced it would make an offer to acquire its Dutch competitor Corio (OTC:CRIOF). As it's quite rare in Europe to see real estate focused companies merge, this article is meant to discuss both sides of the equation and to determine if it's a fair combination and whether or not there's a 'winner' in this mega-merger of retail oriented companies.
The proposed transaction
Unexpectedly, Klepierre made an offer to acquire Corio, one of its main competitors. Unsurprisingly, there's no cash involved in this deal, as Klepierre is offering 1.14 of its new shares per Corio share. As Corio is listed on Euronext Amsterdam and Klepierre on Euronext Paris, the combined entity will be listed on both exchanges, which should enhance liquidity. Corio is approximately 50% smaller than Klepierre (both in terms of market capitalization and portfolio holdings), and I expect Klepierre will have to issue 112 million new shares if the transaction gets approved by the shareholders of both sides.
The offer isn't official yet, as Klepierre expects to officialise the offer in Q4 of this year so that the transaction can take place in Q1 2015.
The benefits from the Klepierre side
Now we know what Klepierre is offering the Corio-shareholders, let's see why the French company is so interested in Corio. First of all, acquiring Corio is a strategic move which will increase Klepierre's gross asset value by 50% to 21.3B EUR ($28.75B) and this would strengthen the company's dominant position on the market, being the second largest retail-focused real estate player (only Unibail-Rodamco is still larger).

Source: merger presentation
Additionally, by acquiring Corio, Klepierre is expanding its footprint. Until now, the French company had no assets in the Netherlands and Germany, but this will change soon, as Corio's gross asset value in those both countries is 2.8B EUR ($3.75B), or approximately 14% of the combined company. So Klepierre shareholders get more diversification through the merger.
There's another benefit for Klepierre shareholders (which hasn't been mentioned anywhere yet, but I think it's quite important). As of at the end of 2013, Corio's total liabilities/balance sheet ratio was 50.45%, whilst Klepierre's ratio was much higher, at 66.5%. This means that through acquiring Corio, Klepierre will be able to reduce its liabilities/total balance sheet ratio to approximately 60%. The total liabilities side of the balance sheet could be quite important for a real estate company when it for instance has to refinance loans, as the higher the equity/balance total ratio is, the better the financial condition of an enterprise is.
The benefits for the Corio shareholders
Where Klepierre earns more diversification into the Netherlands and Germany by acquiring Corio, the opposite is also true. Corio had no footprint in Scandinavia, whilst approximately 25% of Klepierre's GAV is located in that region. So Corio shareholders also gain exposure to a new region.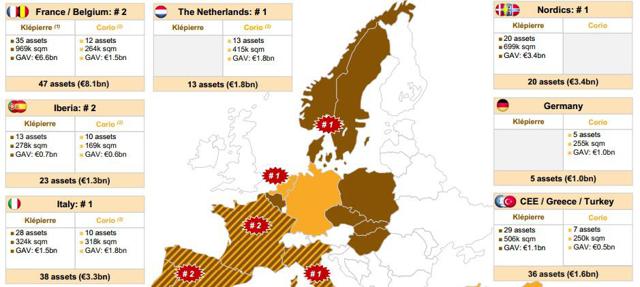 Source: merger presentation
The positive synergies should not be underestimated, and the company thinks it can achieve a run rate of 60M EUR ($81M) in synergies within 3-5 years. Based on the current amount of outstanding shares increased by the amount of new shares which will have to be issued to complete the transaction, this will have an impact of 0.20 EUR/share ($0.27/share) per year, which could directly benefit the shareholders through an increased dividend.
And, of course, the most important thing of all, this offer creates a possibility for Corio shareholders to cash in their chips and sell their shares on the market at an attractive price. Unfortunately I didn't own any Corio shares, but I did write some in-the-money puts which will now expire worthless.
Investment thesis + a caveat
If you can live with a higher liabilities/balance sheet ratio, then this transaction could be a good one, considering the total synergy advantages will be approximately 0.20 EUR/year ($0.27) in the foreseeable future. The offer seems to be reasonably fair for Corio shareholders given the fact that Klepierre is offering a premium on Corio's book value and as it's an all-share offer, Corio shareholders can benefit from the synergies as well.
However, there's one thing I'd like to bring up, and that's the fact that as Klepierre is buying Corio, the combined entity will very likely be domiciled in France (and carry Klepierre's French ISINcode). Why is this important? Mainly for dividend purposes. The Netherlands have a 15% withholding tax on dividends, but France has a 30% withholding tax, unless your country has a double tax treaty with France. But even then, some banks and brokers make you jump through several hoops to effectively get the preferred tax rate.
I strongly believe this transaction will go through and this will pave the way for arbitration possibilities. At this point, Klepierre's offer is approximately 1.2% higher than the current Corio share price and this could provide arbitrage opportunities further down the road.
Disclosure: The author has no positions in any stocks mentioned, and no plans to initiate any positions within the next 72 hours. The author wrote this article themselves, and it expresses their own opinions. The author is not receiving compensation for it (other than from Seeking Alpha). The author has no business relationship with any company whose stock is mentioned in this article.
Additional disclosure: I have no position in any of both companies, but I did write some put options which will now expire worthless.
Editor's Note: This article discusses one or more securities that do not trade on a major U.S. exchange. Please be aware of the risks associated with these stocks.