Greed is misguiding capital back into stocks Wednesday, as evidenced by the rise of the SPDR S&P 500 ETF (NYSE: SPY) intraday. Nothing has happened yet with regard to the Russian threat to Ukraine, and little other news seems to offer reason for concern, so bargain hunters are shopping today. However, they're shopping too early, and they are driven by greed. Don't be included in the hungry bunch.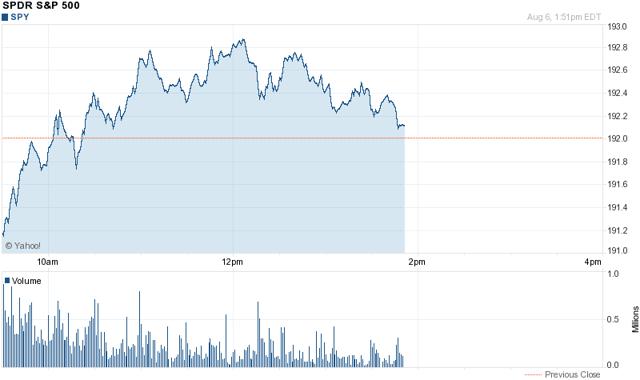 Click to enlarge
After a miserable two-week's worth of trading, as evidenced by the chart below here, stocks sought higher ground Wednesday. There was hardly a catalyst this morning found in economic data. Sure, mortgage applications increased, but those tied to the purchases of homes declined. Gallup's US Job Creation Index marked a slight increase to a mark of 28, up from 27 a month ago. International trade data did imply a pending improvement in the already reported Q2 GDP result, but risks remain for stocks in my opinion, significant risks.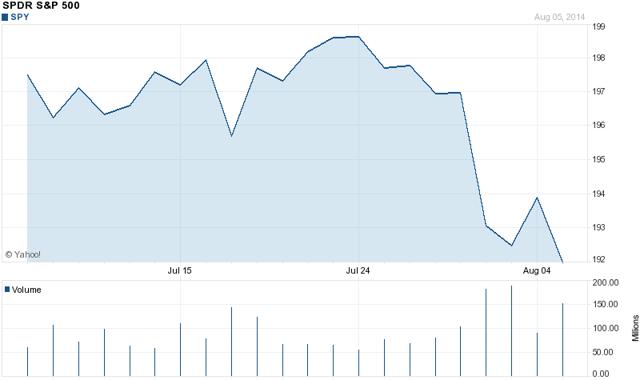 Click to enlarge
In late July, just before the latest downturn began, I warned in the second part of my forecast piece that risks that had haunted stocks to start the year were returning now. Inclusive within those risks were increasing investor concern about rising interest rates and Russian aggression. Then, last week stocks were done in by inflation fear spurred by the Employment Cost Index, so I reminded investors that this fear will weigh on the market for the next several months. Today, though, stocks are rising. Why?
It's greed. I am hearing chirping on my television set, as market pundits speak of reentry into stocks. It is so premature, though, that I feel nauseous just hearing it. Before all is said and done, I expect the market will have given back 10% to 20% of value, as smart money expects it and greedy traders will quickly turn to their second favorite emotion, fear. Risks remain.
The risk most pressing at the moment is of course Russia. Russia troops, not long ago removed from the border with Ukraine, are returning. The rouse is that they're coming back to practice some war games, but the truth is that the Russian separatists in Donetsk are being suffocated by Ukrainian forces and will soon need to either surrender or fight to their end. You can find all the relative articles to back up these statements at this news aggregator. It seems Russia might not want to see either result, and so it could cross the border finally, this time publicly, and annex Donetsk and a portion of Eastern Ukraine. I'll talk more about my view on this issue in another write-up I have planned for gold and the SPDR Gold Trust (NYSE: GLD). My most recent gold piece was somewhat controversial when authored, because gold was declining when I said the decline in gold was on false premise and that gold would paradoxically rise alongside dollar strength. Not long after, it did.
Similarly, today's gains in stocks and the SPDR S&P 500 are premature. I again suggest readers and investors sell holdings in the SPDR S&P 500 ETF and stocks generally, and consider hedging portfolios. I'll offer some instruments for such hedging in a topic specific piece in my queue. Follow my column to keep attuned.
Disclosure: The author has no positions in any stocks mentioned, and no plans to initiate any positions within the next 72 hours. The author wrote this article themselves, and it expresses their own opinions. The author is not receiving compensation for it (other than from Seeking Alpha). The author has no business relationship with any company whose stock is mentioned in this article.