Every serious investor should take a hard look at Deckers Outdoor Corporation (NYSE:DECK). The Company has over 30 percent annual EPS growth since 2000 and annual book value per share growth of 20.7 percent for the same period. Decker's CEO Angel Martinez told shareholders in the opening line of his 2009 annual letter, "Fiscal 2009 was the strongest year in our Company's history," which is quite impressive considering the present economic conditions. Moreover, the stock currently trades at a P/E of 20.6 with near earnings prospects looking quite bright. When an investor comes across an impressive track record, such as Deckers, it's time to pull out the 10-Ks and do some serious due diligence.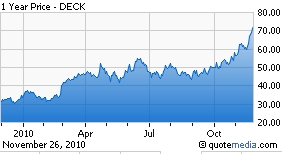 Continuing, Deckers owns and markets the following footwear and related accessory brands: UGG, Teva, Simple, TSUBO, and Ahnu. When comparing Deckers' fiscal 2009 to 2008, sales grew 11.76 percent while net income and EPS increased 57.9% and 58.3%, respectively. International sales were 20.6% of total 2009 sales, up from 15.7% in 2008.
Net sales by brand(in millions of USD)
| | | |
| --- | --- | --- |
| | 2008 | 2009 |
| UGG | $581.981 | $711.837 |
| Teva | $86.518 | $77.662 |
| Simple | $17.175 | $14.128 |
| Other | $3.771 | $9.550 |
| Total | $689.445 | $813.177 |
With regards to value chain repositioning, Deckers is transitioning from a distributor model to a wholesale model, which allows them to sell direct to retailers and squeeze higher profit margins. DECK also sells its products direct to the consumers through internet websites, including Zappos.com and Amazon.com (NASDAQ:AMZN). Deckers' value chain repositioning is further illuminated by CEO Martinez,
In 2009, we began our transition to an international wholesale distribution model and we assumed control of the UGG brand in Japan.

The international markets are still a large growth opportunity for us and we are very excited about incremental sales and earnings potential that selling directly to retailers will provide us in the future.
Although Deckers operates in the highly competitive footwear industry, their balance sheet remains debt free and trailing twelve month profit margins are 14.9 percent compared to the industry average of 12.7 percent.
For the short-term investor, DECK does suffer from a rather volatile common stock as their 52-week range ended November 24, 2010 was $29.58 to $71.47. However, for the long-term investor, the true question is can Deckers grow to at least an $8.5 billion dollar company by 2020 from today's market capitalization of $2.75 billion? If so, then Deckers clearly warrants investment and could yield the investor a satisfactory low double-digit return. But if Deckers follows the same EPS growth rate as their past ten year history indicates, the long-term investor could receive a whopping annual compound return of 30 percent or more. Can the footwear industry support such as success story or is DECK doomed to average market returns over the next ten years?
Disclosure: The author has no positions in DECK at the time of writing.