In December, the Phase 3 results for Corlux for the treatment of Cushing's Syndrome are due out and investors have been showing an appetite for the stock as of late. This was evidenced by the unusual volume on Friday, which was a half-day for the equity markets. "Approximately 710,100 shares changed hands, a 970.6 percent increase over its 65-day average volume."
The analyst upgrades have been climbing since start of fall. In August, Global Securities initiated coverage on CORT with a buy rating and $5 price target. On Oct. 29th, Leerink Swann initiated coverage with an Outperform rating. On Nov. 17th, Piper Jaffray initiated coverage of CORT with an Overweight and a $7 target price.
Cushing's syndrome is a rare hormonal disorder with no approved therapy. It is a hormonal disorder that is caused by prolonged exposure of the body's tissues to high levels of the hormone cortisol. Sometimes called "hypercortisolism," the syndrome is relatively rare. CORT has an orphan drug indication for this because the condition is so rare. There is an estimated 10 to 15 of every million affected each year and is most common among adults aged 20-50. Corcept filed an Investigational New Drug application (IND) for Corlux for the treatment of Cushing's Syndrome in 2007. The FDA indicated that their single 50-patient open-label study was reasonable for submission.
The focus of Corcept has been on disorders that are associated with a steroid hormone called cortisol. Corcept has been developing their lead product, CORLUX, a potent glucocorticoid receptor II (GR-II) antagonist that blocks the activity of cortisol.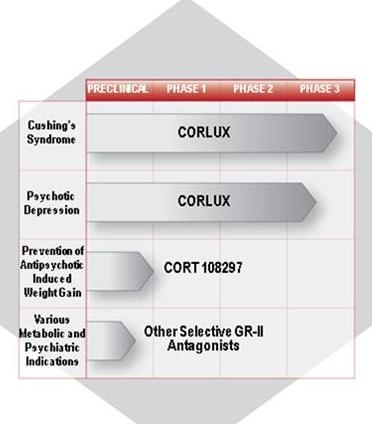 After completing enrollment in their Phase 3 study in April, the company expects to announce results of this study by year-end 2010 and to submit their NDA in Q1 2011. Corcept will receive seven years of marketing exclusivity from the date of drug approval, as well as tax credits for clinical trial costs, marketing application filing fee waivers and assistance from the FDA in the drug development process.
A recent article shares thoughts of a physician, Dr. Kimberly Lee, who forecasts positive Phase 3 data from Corcept Therapeutics. She notes that although the population is less than 10,000 patients, this nevertheless creates a significant revenue opportunity for Corcept, as the company could charge as much as $100,000 a year for the drug.
Corcept was also recently discussed in an article which focused on it as one of the 20 most undervalued biotech stocks based on its low market cap and current price compared to analyst targets.
click to enlarge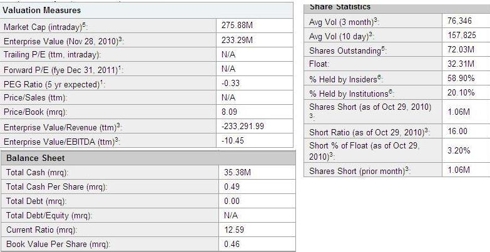 Corcept has zero debt with 72 million shares outstanding and 32 million shares in the float. They also have 36 million dollars in cash. The market cap is relative small at only 275 million. The month of December will prove to be an exciting one for this up and coming company. Corcept is still flying under the radar of most investors. The share price will not stay under the radar moving forward as we close in on 2011.
Disclosure: Long CORT but position can change at any time