by Mike McDermott
An abbreviated week for US markets didn't do much to keep traders from hammering prices of industrial commodities – or ratcheting up risk expectations for euro-sensitive issues.
As the market wound to a mid-day close on Friday, investors appeared hesitant to take home long exposure, and a decline into the close reinforced our bearish posture.
This week we will enter the final month of the year – a year in which a lot is at stake…
Will the euro-zone be able to compartmentalize their debt crisis?
Keep in mind that December encompasses the final push for Wall Street bonuses – or the plea for money managers of all shapes and sizes to keep their job / client / spouse / luxury vehicle / fill-in-the-blank.
So as we enter the final stretch with so much at stake, we are expecting an uptick in volatility. To a large extent, traders as a group have been caught leaning towards the "recovery" side of the field and now find themselves off balance. A "risk-off" sentiment shift could result in some fairly dynamic price movements – aka exceptional profit opportunities.
Time to shake off the festivities and buckle into the turret – we've got a lot of ground to cover this week…
Financials Look Vulnerable Again
After enjoying a summer relief rally, the financial ratings agencies and security insurance companies look vulnerable once again. Both industries have seen the value of their primary businesses undermined which leads both to a poorly performing business – and significant doubt among investors.
This summer, traders bid the industry higher for two primary reasons… 1) a general warming to risk assets propelled the entire market. 2) It appeared that ratings agencies and financial insurers might be able to sidestep some of their losses or obligations.
But while avoiding losses is certainly a benefit to investors, this does nothing to change the fact that the business models remain largely broken!
Moody's Corp. (NYSE:MCO), one of the primary credit-rating agencies, has lost a significant amount of credibility over the past several years. Without this credibility, it will be more difficult to grow as large institutional investors prefer to do their due-diligence in house, and smaller institutions look for alternative means of evaluating securities.
The stock is priced for modest growth at roughly 14 times 2010 expected earnings. Traders appear to be losing faith as the stock appears to have run into resistance near $29. A break this week would catch traders' attention as it would represent a drop below the 50 EMA along with a support area dating back to October (click to enlarge).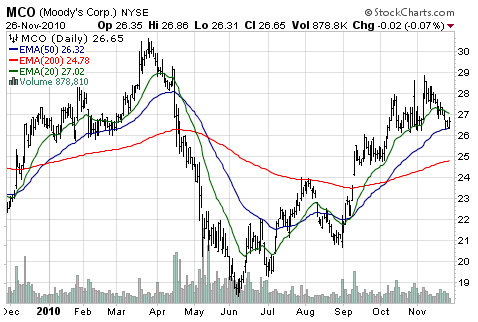 MBIA Inc. (NYSE:MBI) struggles with a similar loss of confidence after the entire industry guaranteed shoddy mortgage backed securities that were obviously flawed and destined to fail.
The company has managed to emerge as an intact business (at least for now). But its capital base has been severely eroded and the company cannot underwrite any significant amount of new business because the insurance company simply doesn't have the capital to guarantee any securities.
This summers' rally was at least partially based on the expectation that some mortgage insurers would be able to put back losses to banks. The banks' loan origination process appear to have been criminally negligent – and potentially fraudulent – which may allow companies like MBIA to recoup losses from these failed securities. But once again, the question is whether the business model will remain profitable and intact.
Traders appear to have fully priced in the positive liability news and are now looking farther down the road. The long-term picture isn't pretty and MBI is particularly vulnerable with roughly $2.50 in debt for every dollar of equity. A break below $10 could kick off a new wave of fund managers hitting the exits (click to enlarge).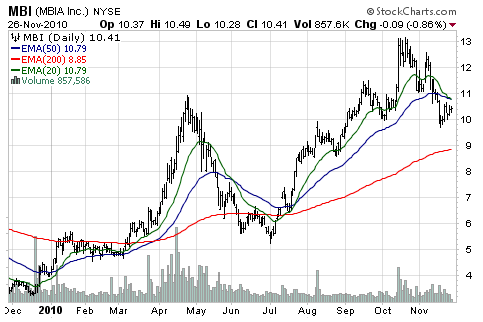 Of course, the weakness in the insurers and ratings agencies is linked to a souring housing market which continues to experience an anemic recovery at best. This week we're looking carefully at Home Depot Inc. (NYSE:HD) which failed to follow through after a positive earnings announcement and now looks vulnerable.
Analysts have begun trimming their estimates for 2010 and 2011, which in turn is causing traders to apply a more conservative multiple on the stock. The reward-to-risk ratio in this opportunity is favorable because a break lower would likely ignite selling by both institutional and retail shareholders, and a protective stop could be placed near $32 to keep tight risk controls on the trade (click to enlarge).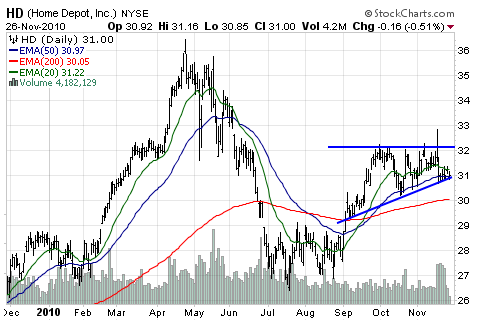 Emerging Markets
As growth rates for developed nations continued to be mired in financial turbulence, emerging markets have captured investor attention. But the optimism is now being called into question as China begins to tighten policy and inflationary trends result in significant challenges.
We're still seeing pockets of strength and opportunity in the area. Last week's Strategic Intelligence Report outlined the merits of Neutral Tandem Inc. (NASDAQ:TNDM) which will benefit from a telecom acquisition that gives the company exposure to rapid growth in emerging market wireless data trends.
Since the acquisition was completed, the stock has begun trading higher and now sits just above the 200 EMA. With no debt and a war chest full of capital, the company could make further acquisitions and leverage its technology leadership as emerging markets adopt communication technology (click to enlarge).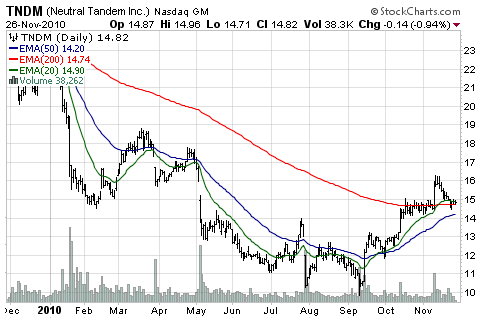 But as a general rule, traders seem to be "long and wrong" when it comes to emerging market exposure. Simply pricing in the rising risks to global growth (agflation, debt crises, political unrest, infrastructure challenges) is causing traders to think twice about their allocation to this area.
The recent hostile move by North Korea may act as the catalyst for pressuring this asset class (see iShares MSCI South Korea – [[EWY]] for a directly-correlated trade), the entire emerging market area could experience at least a short-term decline as traders adjust to shifting risk dynamics.
At this point, it looks like the iShares MSCI Emerging Market Index (NYSEARCA:EEM) may be the best vehicle for capturing profits on the short side. The ETF is clearly breaking support levels and could drop 10% to 20% just by way of testing the ramp from this summers' optimism (click to enlarge).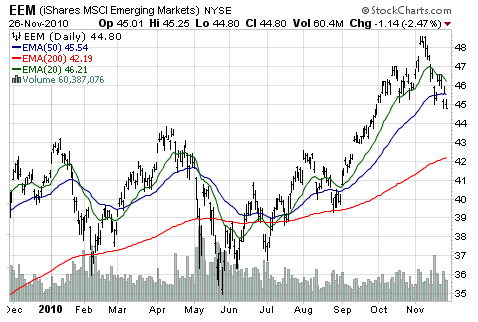 Commodity Focus
Of course, the commodity area could also be vulnerable this week after an incredible summer rally. The PowerShares DB Agriculture (NYSEARCA:DBA) illustrates this parabolic rally which is now under severe pressure.
Traders now appear to be pricing in supply shortages for most agriculture products and while these shortages should continue to pressure emerging markets, leveraged commodity traders could be vulnerable to a sharp drop which could ignite forced selling and even more volatility (click to enlarge).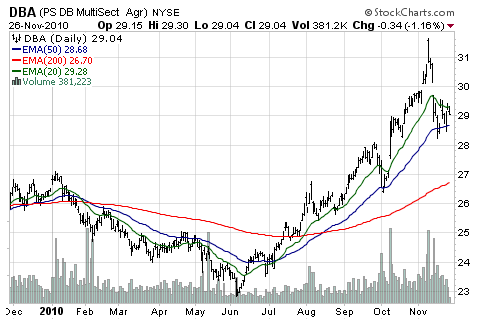 Counterbalancing Our Bearish Setups
While the bearish side of this market certainly does look appealing at this juncture, the Mercenary method is to seek counterbalancing trades which offer absolute opportunity, but also help to smooth out our portfolio volatility.
At this point, we're exploring opportunities in natural gas which appears to be one of the few commodities that is actually showing constructive action. Natural gas has been severely weak for several years due to new E&P technology (click to enlarge).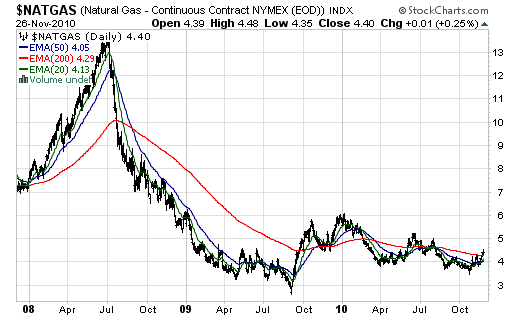 If the supply glut has been fully priced into the commodity price, there could be some benefit in looking at producers of this clean-burning energy such as Petrohawk Energy Corp. (NYSE:HK). The company is expected to grow earnings by 80% in the coming year and HK currently sits on an enviable base of reserves that could continue to drive profits for decades (click to enlarge).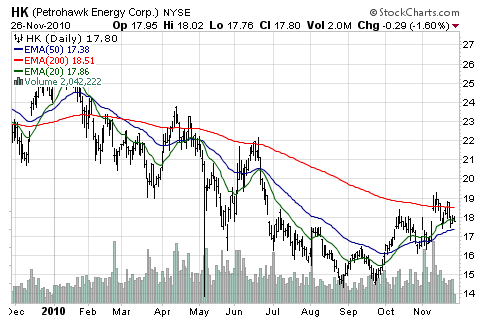 In addition to the natural gas producers, we also continue to like several Master Limited Partnerships which profit from the distribution of natural gas. The business continues to be robust and since these securities offer strong yields, they are fairly attractive in an age where traditional income securities are offering plenty of risk and virtually no cash-flow returns.
This promises to be a challenging week full of opportunities, adjustments, and volatility.
So wake up, look sharp, and let's book some profits this week!
Disclosure: As active traders, authors may have positions long or short in any securities mentioned. Full disclaimer can be found here.