It hasn't been a great year for the firearm industry, to say the least. The downward spiral for Smith & Wesson(SWHC) continues, as shares have fallen from a 52 week high in mid-June of $17.28, to $12.46 at the time of writing this article. Sturm, Ruger & Co.(NYSE:RGR) is taking a beating as well, hovering near 52 week lows of $50.58 currently. The big question here is this: Without gun ban legislation fears to drive sales, where is the industry headed? Three indicators will help answer this question. Background checks, inventory buildup, and internet search volume.
Firearm background checks give key insight into the trends of the industry. Currently, background firearm checks are at 6 month lows in 43 out of 50 states, including Kentucky and Texas. This is important to note because historically, these two states rank #1 and #2 total background checks per year.
From this data, we can see that Texas background checks are down 38% from february and Kentucky background checks are down 23% from march. The entire data for 2013 can be seen here.
The second piece of data that is important to look at is inventory build up. Any kind of spike or increasing trend can be an indicator of slower than expected sales. Below, we can see that both Smith & Wesson, and Sturm Ruger & Co. have had increasing inventory on the balance sheet for multiple quarters. Could it be that the firearm industry ramped up production too much, and now cannot sell the inventory that it currently has? This extra inventory takes up warehouse space, and must be maintained. It can be very costly, and evidence suggests it may be hurting the bottom line. Gross Margin for Sturm, Ruger & Co. fell from 39.4% to 32.8% Year over year


The last key piece of data that is important to point out is internet search volumes, which provide insight into interests of the general public. Using Google Trends, we can clearly see a downtrend for both companies from search volume highs in December 2012 and January 2013. In fact, current search volumes for both companies are the lowest since June of 2011. Both are hovering around 40% of search volume highs.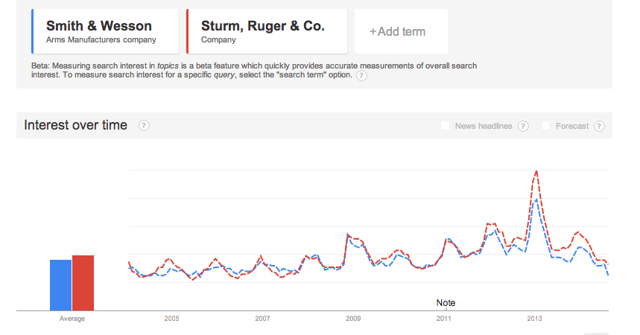 Moving forward, it is important to look at these factors. Gauging public interest through background checks, available inventory, and search volume will aid in the investing research process. Currently, background checks are down, inventory is up, and internet search volume is trending downward. I expect both Smith & Wesson , and Sturm, Ruger & Co. to continue to decline through 2014.
Disclosure: The author has no positions in any stocks mentioned, and no plans to initiate any positions within the next 72 hours. The author wrote this article themselves, and it expresses their own opinions. The author is not receiving compensation for it (other than from Seeking Alpha). The author has no business relationship with any company whose stock is mentioned in this article.