The solar industry as a whole has been growing consistently since the start of 2013. And this growth isn't expected to stop anytime soon due to the various advantages of using solar energy. There are many companies that have benefited from the rise in solar industry and SolarCity (NASDAQ:SCTY) is one of them. SolarCity is set to report its Q2 earnings and given the current valuation, I think investors should sell SolarCity going into earnings. I'll tell you why I think you should avoid SolarCity, but first let's take a look at what's expected from the company.
Expectations for the quarter
Analysts expect SolarCity to report loss of $0.99 per share, a lot more than last year's loss of $0.43 per share. On the bright side, revenue is estimated to grow 66% year-over-year to $63.24 million.
Although SolarCity's revenues are growing at a strong pace, the company hasn't reported any significant profits yet. Moreover, the company's loss is expected to increase for the coming quarters as well. Even if SolarCity meets the analysts' estimates, I think the company's share price won't go up as a lot of the good news is already baked in the current share price. Moreover, SolarCity has numerous headwinds that will have a negative impact on its share price. Let's take a look at those headwinds.
Dilution fears
SolarCity hasn't really reported any significant profit as of now, but its revenue has been growing consistently. The company is poorly leveraged and needs financing to grow in order to achieve its lofty goal of reaching 1 million customers by 2018. This signifies a compound annual growth rate of nearly 70%.
As the company relies on third party financing, it is unlikely that it will be allowed to borrow billions of dollars in order to achieve its growth plans. Moreover, with the interest rates expected to rise in 2015, the chances of SolarCity borrowing money will reduce.
So, the only way SolarCity will be able to finance its growth is by diluting shares. Also, given that the shares are trading at a premium valuation, the chances of dilution are even more. And obviously, the dilution will hurt the share price. Thus, I think investors should stay clear for now.
Towering valuation
It doesn't take a genius to figure out that SolarCity is vastly overvalued. The company ended the recent quarter with only $519 million in cash and total debt increased to $710 million. With less than $200 million in yearly sales and operating margin of -95%, SolarCity's losses are expected to increase in the months to come. Moreover, SolarCity's P/S ratio is also over is over 33, which is the highest among its peers and is way more than the industry average of 1.81. These numbers clearly indicate that SolarCity is immensely overvalued and should be avoided.
Maturing leasing market and reducing tax credit
SolarCity's business model allows the company to lease the solar panels to the consumer, reducing or eliminating the high upfront cost of installation. However, with the cost of solar panels expected to decrease to $0.36 per watt in 2017, more people will prefer buying solar panels instead of leasing.
Source: Bloomberg, New Energy Finance
According to a report by GTM research, the solar leasing market share, which stood at 66% in 2013, will peak at about 68% in 2014 and will not grow further. Nicole Litvak, GTM Research analyst said:
"Solar loans are becoming widely available with many more options to choose from than in the past, and declining system costs are making direct ownership affordable for more homeowners. As a result, the share of third-party-owned solar has already begun to come down in leading state markets, including Arizona and Massachusetts."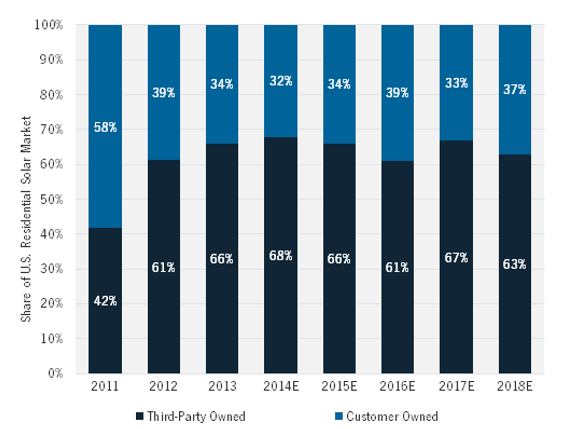 Moreover, the report also suggested that third party owners, or TPO, will have to raise over $26 billion from 2014-2018 in order to satisfy the solar lease demand of the consumers. To date, TPO have only declared $9.5 billion in project funds, and will need to triple the financing in order to satisfy the demand. With the solar tax credit is expected to decline from 30% now to 10%in 2016, SolarCity may be unable to raise the required cash. This will have a huge negative impact on SolarCity's growth plans.
High short interest
Since the start of 2014, the short interest in SolarCity has increased by over 121%, and as of late June, the total short interest stands at almost 28%, which shows that a large number of people are betting against SolarCity and this is another good reason to stay clear of the stock.
Conclusion
SolarCity has a good business model the aforementioned roadblocks will hamper its growth plans. The company's losses are expected to increase considerably in the coming months. Moreover, the increasing rates of interest and the expected decrease in tax credit has increased the risk of dilution. Hence, I think SolarCity is a sell.
Disclosure: The author has no positions in any stocks mentioned, and no plans to initiate any positions within the next 72 hours. The author wrote this article themselves, and it expresses their own opinions. The author is not receiving compensation for it (other than from Seeking Alpha). The author has no business relationship with any company whose stock is mentioned in this article.