Executive Summary
Caterpillar Incorporated (NYSE:CAT) is the world's largest producer of construction and earth moving equipment. Caterpillar operates in the road building, mining, logging, agriculture, petroleum, and generic construction industries. Some of Caterpillar's best-selling products include tractors, scrapers, graders, compactors, loaders, and truck engines, among others. Caterpillar historically has been a strong performing stock, which is why I decided to research it further. Given the recent market volatility, opportunities for solid companies available at discount prices tend to present themselves.
Pros For Cat:
Caterpillar was recently in the news for announcing additional share buybacks, which is always great news for investors. Caterpillar plans to repurchase an additional $2.5 billion in stock during the third quarter of 2014. This stock buyback comes in addition to the recent 17% increase in its quarterly dividend that was announced in June. Caterpillar is in the fortunate position to have a strong cash position which allows for it to be able to return cash back to their shareholders.
As mentioned previously, Caterpillar has historically been a strong performer. Taking a look at some growth charts, it becomes apparent that Caterpillar has consistently been able to outperform the S&P.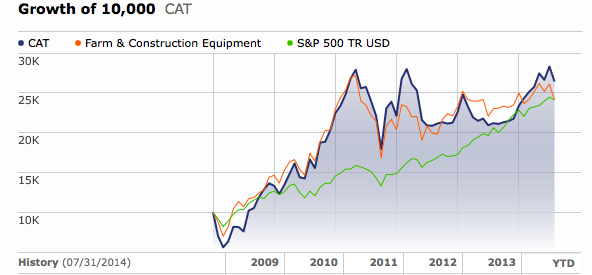 The chart above shows that since the market recession Caterpillar has been able to outperform the S&P.

Click to enlarge
Looking at a longer term chart, the amount of market outperformance has been an even larger margin. Historically speaking, Caterpillar has outperformed both the industry and the S&P averages.
Both Charts Courtesy of Morningstar
From a valuation standpoint Caterpillar is also fairly attractive. Caterpillar currently trades at a price to earnings ratio of roughly 17.1, which is lower than the current S&P average of around 18.2 but above the industry average of 13.1. Caterpillar can be considered the "best of breed" for its industry, which can help justify the higher price to earnings ratio for the company. When taking a look at Caterpillar's growth rate, we can make a comparison to its price to earnings ratio. Caterpillar currently has a PEG ratio (price to earnings in relation to growth rate) of around 1.1, which means it is currently trading at a multiple roughly even with its growth rate. This means that the stock is currently fairly valued, which means in market downturns the shares may be available at "bargain" prices.
Additionally, Caterpillar currently yields 2.5%, which is above the industry average of 2.2% and the S&P average of 2.3%. Investors seeking additional stability and cash flow may find value in Caterpillar stock.
The company continues to expand into China as well as other emerging markets such as Brazil, Russia, and India that should provide for additional growth opportunities. Caterpillar hopes to continue their outperformance and achieve its goals for continued revenue growth.
Cons For Cat:
Caterpillar was recently in the news for reporting revenue that fell short of analyst expectations. The company posted second quarter revenues of $14.15 billion, versus $14.62 billion a year ago. Analysts had predicted revenue of $14.47 billion according to the consensus estimate from Thomas Reuters. Caterpillar was able to report second quarter adjusted earnings per share of $1.69 versus analyst estimates of only $1.52. Caterpillar's earnings per share for the same period last year was $1.45.
Caterpillar is not immune to other potential risk factors, some of which are beyond the control of the company. Risks such as global financial market volatility as well as political and economic risks could all lead to potential problems for the company. An example of a potential change would include changes in interest rates, which could potentially restrict the availability for financing for Caterpillar's clients.
The stock has had a considerable run-up in share price in recent years, hitting close to its 52 week high last month. Although this certainly isn't a "con," it is important to keep in mind entry points for any investment. Over the long-term, appreciation and growth should make entry points less of an issue for longer term investors.
Personal Observations
Following the Peter Lynch methodology of investing based on personal observations and trends, Caterpillar's prospects seem strong. Although not true in all areas of the country, economic improvement has led to an increased amount of commercial developments and new construction. Additionally, this particularly cold winter has left a large amount of roads and bridges damaged, which will need to be repaired, reconstructed, or replaced. Given the large amount of infrastructure that is necessary for the United States and abroad, opportunities seem impressive for the company. Growth in developing countries is expected to remain strong based on news articles as well.
Conclusion:
In conclusion, Caterpillar seems like it is fairly valued at current levels. The purpose of this article was to determine strong companies to purchase in economic volatility scenarios and Caterpillar seems to pass the test. The dividend yield provides current income and potential for reinvestment at various price levels and the company's strong cash position provides stability in volatility scenarios. For long-term investors seeking to hold the stock for five plus years, Caterpillar may be a worthy investment.
Disclaimer: This article is given for informational purposes only and is not to be construed as investment advice. Contact your investment professional and do your own due diligence before investing.
Disclosure: The author has no positions in any stocks mentioned, and no plans to initiate any positions within the next 72 hours. The author wrote this article themselves, and it expresses their own opinions. The author is not receiving compensation for it (other than from Seeking Alpha). The author has no business relationship with any company whose stock is mentioned in this article.