Gilead Sciences (NASDAQ:GILD) is one of the more compelling companies on the market. Anyone who is familiar with the company is aware that Sovaldi is hailed as a cure for hepatitis C, and prevents the need for 'costly' alternatives such as a liver transplant. Though there is debate about the sustainability of pricing, the potential benefit to humanity is remarkable. The perspectives of financial institutions vary: banks supportive of the stock value it using a price to earnings multiple, while those that are cool to it use a traditional Discounted Cash Flow ("DCF") approach.
It is no surprise that there have been plenty of articles on Seeking Alpha that focus on Gilead already. My own purchase of shares has coincided with a timely piece at the time of concern surrounding patent litigation and Merck & Co.'s (NYSE:MRK) buyout of Idenix (NASDAQ:IDIX). Beyond intellectual property, Idenix has experimental hepatitis C products that must have appealed to Merck's extolled R&D leadership. Another Seeking Alpha contributor has also been taking the time to emphasize that Gilead's story is one involving both growth and value in identifying it with Apple (NASDAQ:AAPL). Obviously, industries and product lines differ substantially; however, it seems the comparison is sensible, and hopefully proves accurate in consideration of those who only would be bothered with a premier stock.
Non-public research of financial institutions offers support to varied perspectives. One of the most agreeable to me is issued by UBS. Switzerland's largest bank, having a Buy rating and $115 price target that is based on a 12x 2015E P/E multiple, likes Gilead's pipeline:
Although we think investors can still get paid on upside to numbers on HCV and HIV (and indeed there is a lot of mojo in the business), we think the real valuation step-up can come from pipeline development. In addition to the ph3 trials for GS-5816 pan-GT HCV regimens and 4-6 week readouts, we think the potential impact of simtuzumab ("S-Mab") and TAF is underappreciated at the current multiple (9.3x our new 2015 EPS). We specifically look for signals in the 30-patient 6-month HCV/HIV liver fibrosis ph2 data at AASLD as a potential leading indicator for the big NASH fibrosis dataset next year. We see high-risk/high-reward for simtuzumab in cancer, with 3 ph2 readouts this year.
Further,
Gilead is our top pick among our large caps under coverage, on the basis of 1) the most de-risking and value-creating catalysts over the next 12 months, 2) the most upside to 2014-15 estimates, and 3) the lowest P/E multiple on 2015E EPS. Key to the near-term is the launch of Sovaldi in hepatitis C, which should drive share outperformance as we expect GILD's HCV regimens to be both the first- and best in a very large market with multi-billion dollar potential. Additionally, the TAF program in HIV provides opportunities to extend the life of the franchise beyond the core tenofovir patents expire in 2018. Further, we view oncology as an underappreciated program should drive upside as well.
Differing arguments are supported by sensible valuation methodologies, however. Goldman Sachs has a Neutral rating on the stock with a $76 price target based on a DCF valuation. One point that makes sense involves contention that expectations are high. However, if that is the case it is probable to result in a series of short-term effects, such as declines pursuant to new and terrific news, that merely slow the stock's overall trajectory. Goldman is also concerned "With the sustainability of the HepC franchise," which is difficult to ignore.
Part of the analysis involves ongoing tests of combination therapies being carried out by Bristol Meyers (NYSE:BMY) and Merck. Goldman specifies that "MRK is likely to swap out Sovaldi in favor of one of its Idenix nucs. BMY does not have this same option…"
While many probably have reservations about Goldman's conclusions, there is a fairly comprehensive summary of the firm's model. Business success is clearly dependent on Sovaldi, and dependence on one product is something I personally have been avoiding: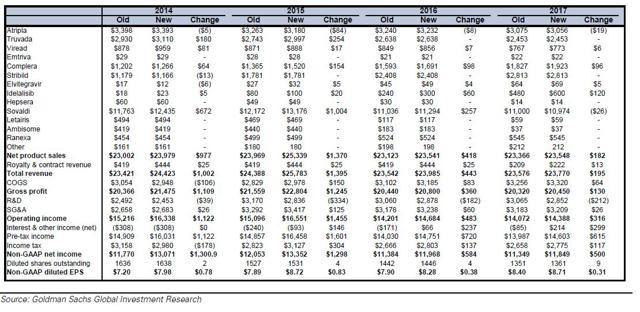 Digging deeper into the pipeline, Goldman finds that chances of success of an experimental product S-Mab vary depending on the indication. Its target is an enzyme and one reason expectations are low in oncology (recall that UBS categorizes the situation as "high-risk/high-reward"). S-Mab may have better chances at Nonalcoholic Steatohepatitis ("NASH," mid 2015) and Ideopathic Pulmonary Fibrosis ("IPF").
For those actively trading shares, Goldman's graphic showing a calendar of catalysts could be most helpful. For example, undisputably risky Phase 2 S-Mab results are anticipated in 4Q14: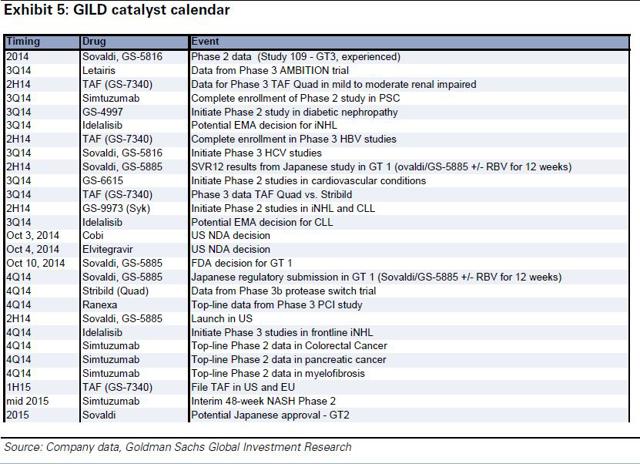 Pertaining to potential issues involving MRK or BMY, or unforseen difficulty stemming from dependence on Sovaldi, Nomura has indicated that, even with substantially lower future pricing ($70k vs. $84k), there is plenty of upside to the shares. The valuation supporting appreciation is a 2015E P/E multiple of 11.2x.
Similar to Goldman, though not as dreary, Jefferies has a July 8th note reiterating a Hold on the stock and $82 price target (in place since February, 2012). The firm acknowledges a rapid increase in earnings, but gets to a central matter in using a DCF methodology to account for the HCV franchise through the year 2030.
Our near-term estimates are increasing significantly to account for more rapid uptake of GILD's HCV drugs…The shift in revenue has a major impact on near-term EPS but does not materially change our DCF calculation as we are raising our cumulative HCV franchise sales through 2030 only from $194b to $200b. As a result of the unusual shape of GILD's revenue and earnings, we struggle with the current Street methodology of valuing GILD on a P/E multiple basis.
Though a DCF for the pipeline makes great sense, Gilead is a highly profitable business now and it is poised to grow through future years. A metric based upon earnings is pertinent; even if unconventional. Further, the consensus opinion is 1.9, the equivalent of a Buy. More broadly, a 25 analysts' consensus projects earnings to accelerate at over 25% p.a. through the next five years (I, II). Such long-term acceleration may be understated in DCF valuations based on data projected 15 years into the future.
To take the (debatable) P/E approach a step further, extrapolating to August, 2015 the EPS estimate is currently $8.76. At $91.92 per share, the forward P/E multiple is only 10.5x! Multiple expansion may be inadvisable to request; however, every 1x increase would mean a share price $8.76 higher.
The most widely-followed analysts, several of who have been discussed here, may never be willing to change valuation methodologies. However, if the shares keep appreciating their raised targets might take their ratings up with them. Further, any future success would lessen risk and should increase estimates.
Amidst what could be bumpiness, and hopefully no serious issue involving Sovaldi, Gilead buys back stock. It makes sense. Here is a graphic from YCharts that summarizes activity over one year: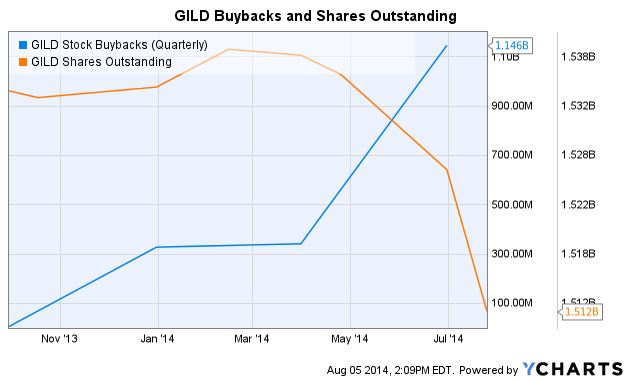 To summarize, not only does Gilead have amazing existing business, but there are several potential catalysts that remain under development. In agreement with UBS, my opinion is that the shares should do better than the market and many of its authority figures.
However, risks to investors include dependency on one product and future pipeline results. There are no guarantees of experimental drug success. S-Mab trials are among those likely to have bearing later this fiscal year.
Future analyst ratings revisions would also have effects, and perhaps may even change in response to appreciation due to company fundamentals, belying a DCF methodology.
Disclosure: The author is long GILD. The author wrote this article themselves, and it expresses their own opinions. The author is not receiving compensation for it (other than from Seeking Alpha). The author has no business relationship with any company whose stock is mentioned in this article.
Additional disclosure: A long position may be initiated in AAPL, MRK over the next 72 hours.