A leading provider of advanced television services, TiVo Inc. (NASDAQ:TIVO) reported disappointing third quarter fiscal 2011 results. A loss per share of 18 cents was worse than the Zacks Consensus Estimate of a loss of 17 cents.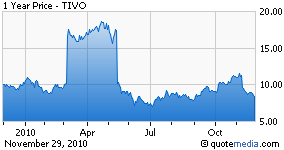 Net loss for the quarter came in at $20.6 million as compared with a net loss of $6.4 million in the year-ago quarter. This was in line with the high end of management's guidance of a loss of $19.0 million to $21.0 million.
The year-over-year decline was mainly due to weak revenue growth, lower subscriber additions and increasing operating expenses based on higher litigation expense.
Revenue
Net revenues decreased 12.2% year over year to $50.9 million. The decline was primarily due to lower revenues from service and technology.
Service revenues dropped 9.1% year over year to $34.3 million. Technology revenues fell 24.9% year over year to $7.0 million. On a combined basis, Service and Technology revenues decreased 12.2% year over year to $41.3 million as compared with $47.1 million in the prior-year quarter. Hardware revenues decreased 5.0% year over year to $9.5 million.
Gross margin slightly dropped to 45.7% from 46.8% in the year-ago quarter. Operating expenses escalated 32.0% year over year, leading to a higher loss from operations.
Adjusted EBITDA of a negative $12.2 million was in line with management's guidance of negative $11.0 million to $13.0 million. However, this was down from a positive adjusted EDITDA of $1.6 million reported in the year-ago quarter. The decline in adjusted EBITDA was driven by higher legal expenses, increased research & development (R&D) spending related to new products and a higher distribution cost.
TiVo-owned subscription gross additions for the quarter were 35,000, compared with 34,000 gross additions in the year-ago quarter. Churn decreased to 2.0% in the quarter. TiVo owned subscriptions declined by 45,000 in the quarter and ended the quarter at approximately 1.3 million subscriptions. Subscription acquisition costs increased 7.9% year over year in the quarter.
Balance Sheet and Cash Flow
At the end of the third quarter, cash, cash equivalents and short-term investments were $227.5 million versus $242.7 million at the end of second quarter 2011. The company had no debt at the quarter end.
Cash flow from operations was ($14.4) million in the quarter as compared with $11.7 million in the prior-year quarter.
Guidance
The company provided conservative guidance for the fourth quarter of fiscal 2011. The guidance reflects increased litigation expense, higher R&D costs due to increased product development and distribution efforts. TiVo expects service and technology revenues to range from $40.0 million to $42.0 million. Management expects a higher net loss in the range of $32.0 million to $34.0 million in the fourth quarter. Adjusted EBITDA is expected to be between ($24.0) million and ($26.0) million.
TIVO expects the holiday pricing change to impact fourth-quarter earnings by about $8 million to $10 million. Currently, TIVO expects fiscal 2012 adjusted EBITDA to be well below the fourth quarter run rate.
Other Initiatives
Recently, TIVO signed a partnership to deploy the TiVo solution in Europe with Canal Digital, the largest satellite operator in Scandinavia.
During the quarter, TIVO signed a partnership with Samsung Electronics Co. Ltd. As per the deal, the companies will jointly build an advanced, TiVo-ready, high definition PVR set-top box for digital video broadcasting (DVB) operators. The new PVR set top box will hit the market in 2011. Financial details on the deal were not divulged.
To expand its global footprint, TiVo plans to roll out new services and enter into more partnerships. TiVo inked an international deal with Technicolor SA (TCH) (formerly known as Thomson Inc.), a set-top box manufacturer, to develop high-definition PVR set-top box for operators worldwide.
TiVo had announced a partnership with Conax, a conditional access provider, to offer European multi-channel operators a fully comprehensive end-to-end solution.
TiVo also partnered with Virgin Media Inc. (NASDAQ:VMED) to develop interactive programs for building middleware and interface Virgin Media's next-generation high-definition set-top boxes in the U.K. Virgin Media will embed the TiVo DVR service into its set-top boxes and will roll out in early 2011.
Update on EchoStar Lawsuit
As previously granted by the Federal appeals court, the en banc process continues in the TiVo EchoStar Communications Corp. (NASDAQ:SATS) lawsuit.
Recently, TIVO argued that EchoStar and Dish Network (NASDAQ:DISH) were in contempt of a lower court ruling, ordering them to stop infringing on TiVo's patents.
We believe the patent infringement case against EchoStar remains an overhang on TiVo's results, and any negative outcome from the ongoing review may impede TiVo's prospects considerably.
Our Take
Currently, TiVo has a Zacks #3 Rank, which implies a Neutral rating on a short-term basis as intense competition from Motorola Inc. (MOT), Comcast Corp. (NASDAQ:CMCSA), Microsoft Corp. (NASDAQ:MSFT) and Sony Corp. (NYSE:SNE) is posing a threat to its DVR business. As a result, TiVo has been increasing its R&D spending to stay ahead of the competition, which is hurting its profitability.
Over the long term, we maintain a Neutral rating (6-12 months) based on the belief that TIVO's diversified product portfolio and partnerships with Cox, Ono, Samsung and Virgin Media will expand TiVo's services to new markets, which will boost its subscriber base.