After seeing its stock rise from $3.40 in early August to $6.20 in early November, shares of interClick (ICLK) have spent the past three weeks digesting its recent gains. Stocks need to rest after big moves, and ICLK is certainly no exception. Although another week or two may be needed before ICLK begins a new up-leg, we are fine with this. Ultimately, a number of factors continue to line up in the stock's favor, and it is our belief that over the next six to 12 months, ICLK may very well double from current prices. Let us explain why we feel this way.

Above all else, ICLK has positioned itself in the sweet spot of the online advertising market. Having been given up for dead almost two years ago, the display-advertising space has gained considerable market share during 2009 and 2010. With advertisers clamoring for a higher ROI (return on investment), companies like ICLK have been able to capitalize on this trend by successfully matching advertisers with intended audiences through its proprietary Open Segment Manager (OSM) platform.
Based on market research, the burgeoning strength in the display space should only continue during 2011, heralding a secular change in the way that advertisers spend their ad dollars. In the graph below, note not only how quickly display is poised to grow in 2011, but also how ICLK is gaining share in the fastest growth area of display, the non-premium space:

Estimated Worldwide Online Advertising Market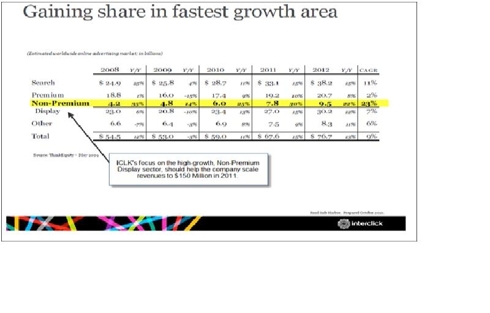 Source: 2009 ThinkEquity Research.

In a report from last summer, ThinkEquity stated the following:

We continue to expect non-premium display advertising to be the highest-growth segment of the online advertising market in coming years, based on superior fundamentals including inventory and pricing growth. However, our checks with industry participants indicate that non-premium display has not proven immune to macroeconomic shocks. We estimate that non-premium display advertising totaled $4.1 billion in 2008, up 32% versus 2007… By the end of our forecast period in 2013, we expect non-premium display advertising to account for $11.4 billion in total revenue, representing 34% of total display ad revenue. For the 2008-2013 period, we expect non-premium display to grow at a 22% CAGR.

To say that ICLK has seized on this opportunity is an understatement. In 2008, the company had $22.5 million in revenues. Revenues for 2010 should be $100 million. Do the math. When year-end numbers are reported late in February, ICLK will have grown its revenues by over 300% between 2008-2010, a growth rate unmatched by many other public companies during the same period.

Looking ahead, as ICLK scales its revenues well above $100 million next year, the company should eventually attract big-tier analyst coverage. To date, the company has only found small-cap oriented analysts to follow it. As higher-profile brokerages begin coverage on ICLK next year, we expect the story to find a new institutional shareholder base currently lacking in the name.

As things stand now, estimates for 2011 are simply too low. Exiting this year with a top-line revenue run rate of 80%+, we expect ICLK to ultimately report much-better-than expected top-line growth in 2011. Current estimates calling for 29% top-line growth should ultimately trend toward a 55-60% top-line growth rate. This means that the company should eventually see analysts' estimates increase throughout 2011. Estimates have already begun to ramp higher after ICLK's blow-out Q3 numbers were reported a month ago.

This is a very important consideration for investors. The additional $30 million in revenues will be instrumental in ushering in an incremental layer of profitability not yet built into analysts' models. Currently the consensus is that ICLK will earn $.22 in GAAP earnings. In our view, the additional $30 million in top-line growth will mark an important inflection point for ICLK, allowing the company to earn an incremental $0.25 in GAAP earnings on top of the current estimates of $0.22.
Because of improved efficiences with its Open Source Manager Platform, ICLK has been able to slow down its hiring plans, allowing the leverage in its model to finally take hold. This is the main reason why this additional $30 million in revenues would flow directly to the bottom line and allow the company to scale its GAAP earnings by over 200% next year to $0.47 a share.

When one considers that ICLK is in the sweet spot in the online advertising space, and has absolutely no exposure to any potential slowdown in Europe or to declines in state/local government spending, as growth investors seize on the potential for the company to ramp earnings much better than is currently expected, it would not be too unreasonable to see ICLK's P/E to eventually trend to 25X a 2011 run-rate of $o.47 a share. This implies an eventual upward valuation in the stock to over $12 -- a double from current levels.
A $12 stock price would surely not be too pricey on either a Price-to-Sales basis or on an Enterprise Value/EBIDTA basis. Assuming that our projections are correct and the company grows its top-line to $155-$160 million next year, a $12 share price would value the stock at just over a 2X Price-to-Sales multiple based upon a fully-diluted share count of 31 million shares and after taking into consideration the company's $0.40 a share in cash.
Based upon previous acquisitions in the display space at 5-10X revnues (Google's acquisition of DoubleClick comes immediately to mind), a 2X P/Sales Multiple can actually be thought of as somewhat cheap. Moreover, at a revenue run-rate of $155-$160 million, the company should see its EBITDA margins expand to 16%-17%, meaning that ICLK could earn $25.9 million in EBIDTA next year. If one were to place a 14X Enterprise Value/EBIDTA multiple on the stock, this would also equate to a $12 stock price.
Add it up, and we do not see too much downside from current levels. The stock was buoyed over the past week after President Michael Katz purchased 10,000 shares at $5.32 in the open market. Although there was some heavy insider selling by departing CEO Mike Matthews and by two members of ICLK's board of directors two weeks ago, we consider the size of their sales inconsequential. After all, the two directors dumped considerably more stock during ICLK's secondary in late August, when the stock was in the high $3's. As such, while recent share sales by these insiders were heavy, they are not a concern, as they were essentially ICLK's first angel investors when the company was formed over four years ago.

As for Katz's recent purchase of 10,000 shares, we find it more relevant that he did not sell any of his one million shares over the past few weeks. When one considers that his stake will increase even further when new option grants are awarded after this fiscal year, we feel that his lack of share sales should be viewed in a much more positive light, especially when one considers that he is young (32) and could have easily cashed in on some nice money, but chose not to do so. We find this very encouraging.
Turning to ICLK's chart, the stock has formed a tight flag over the past few weeks and, in the process, has forged a very constructive handle to the stock's one-year cup-and-handle formation:

ICLK One-Year Chart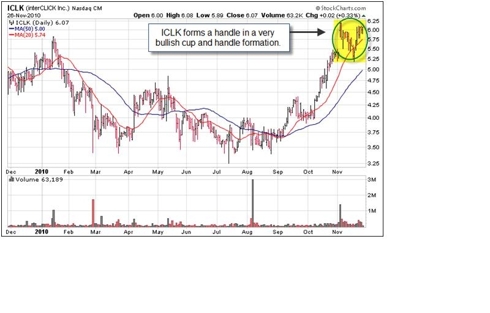 Source: Stockcharts.com.

We look forward to seeing the ICLK story develop over the next six to 12 months. It is one of the best growth stories out there, and one that is still undiscovered. Watch for a move through $6.20, as this would signal that a new up-leg has begun for the stock.


Disclosure: Long ICLK stock and 2011 calls.