TFT-LCD equipment, which grew 28% in 2008, and dropped 16% in 2009, is geared to increase 66.8% in 2010, according to the report "LCD Market: Technology Directions and Market Analysis," recently published by The Information Network.
At the end of 2009 we saw utilization rates above 90% for all TFT-LCD manufacturing and nearly 95% for G6 and above plants – a driver for increased capex and equipment purchases in 2010. The 66.8% growth is the greatest since 2000.
Sales of the array processing equipment were in response to the resurgence in purchases of TVs, notebooks, and desktops following the global economic recession in 2009. Korea led in capex spending from LG Display (NYSE:LPL) and Samsung (OTC:SSNLF) and will continue to do so in 2010.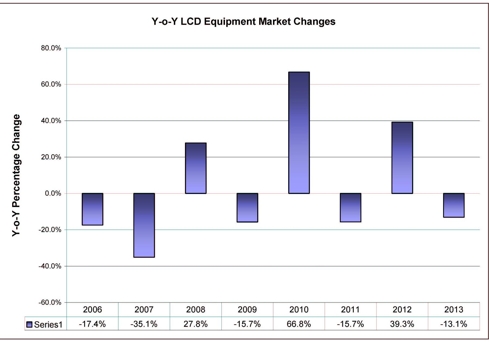 (Click to enlarge)
Large size TFT-LCD panel shipments increased 21.0% from 436.6 million units in 2008 to 528.3 million units in 2009. Revenues decreased 15.0% from $72.7 billion in 2008 to $61.8 billion in 2009. LG Display led the market based on shipments with nearly a 25% share, taking the lead from Samsung. The latter company let the market based on revenues with more than a 27% share.
Ulvac (OTC:ULVAC) continues to be the dominant supplier of equipment, having led the market for the past 4 years and with revenues more than twice its nearest competitor TEL in 2009. Applied Materials (NASDAQ:AMAT)/AKT, the only non-Japanese manufacturer of equipment, ranked fourth in 2009 on revenues of $402 million.
Ranking

Company

Country

Tools

2004

2005

2006

2007

2008

2009

Applied Materials/AKT

USA

CVD

5

3

4

3

3

4

Canon (NYSE:CAJ)


Japan

lithography

4

1

5

8

4

5

Daifuku (OTC:DAIUF)


Japan

automation

8

8

9

6

8

9

DNS

Japan

coater/developers

3

6

6

9

6

5

Hitachi High Tech (HIT)


Japan

cleaner, developer,

exposure, inspection,

7

7

7

5

7

7

Nikon (OTC:NINOF)


Japan

lithography

6

5

3

4

4

3

Shibaura

Japan

cleaner

9

8

8

7

8

8

Tokyo Electron (OTCPK:TKECF)


Japan

coater/developer, etcher/asher

1

4

2

2

1

2

ULVAC

Japan

sputter, CVD

2

2

1

1

1

1
Disclosure: No positions