Regular readers know that I maintain a portfolio that generates my retirement income. It's spread among a diverse set of holdings that includes several large-cap blue-chip stocks, municipal bond funds, REITs as both individual holdings and funds, domestic and international income-equity funds and a range of global fixed-income funds of various sorts. While there are some traditional dividend-growth holdings in the portfolio, overall emphasis is on high yield with moderate risk. Over the coming days, I want to discuss three top-yielders from that group. Each of them is generating double-digit income and each has an ex-date pending later this month. The second installment can be found here, and the third is here.
Awilco Drilling Ltd.
First on the list is Awilco Drilling Ltd (OTCPK:AWLCF), a small company with two drilling rigs in the North Sea. The company pays quarterly dividends that currently yield 18.6%. The last dividend of $1.15 had an ex-date of 19 May. As far as I am aware, the third quarter dividend has not been announced as yet, but it should have an ex-date for later this month. Dividends have increased from $1.00/share for Q2 and Q3 2013 to $1.10 for Q4 and Q1 2014, and again to $1.15 for Q2. If I were to venture a guess, it would be that we'll see another $1.15 payout announced in the next few days.
AWLCF is currently priced at $24.75. It came to my attention early this year, and I made my first purchase in April at $21.72. At that time, the company was yielding more than 20%. I added to the position in June. Several readers here have reported it not being available at their brokers earlier in the year.
Coverage of AWLCF is spotty at best, although it is improving in recent weeks. As an example, here's the entire span of data available from Ycharts. It only goes back about 10 weeks, to late May 2014.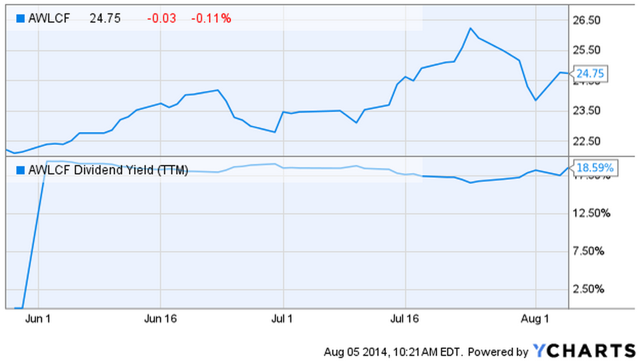 This more complete chart (from BigCharts) covers the period from early 2013 when AWLCF began trading.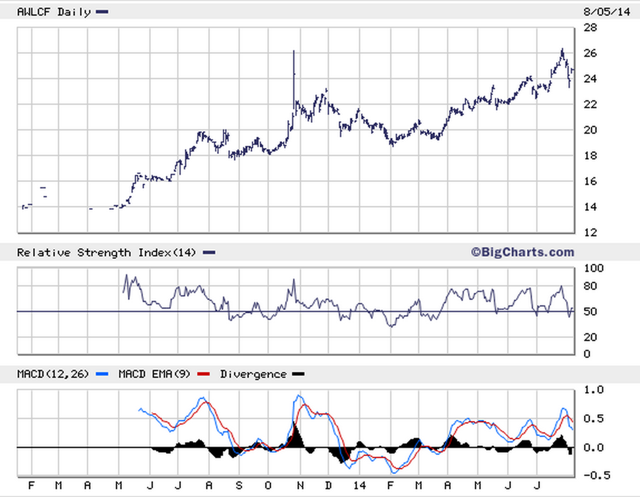 The company has one major shareholder, Norwegian investor Arne Wilhelmsen, who is perhaps best known as the founder of Royal Caribbean Cruises Ltd. (NYSE:RCL). Wilhelmsen holds 49%. Management is exceptionally shareholder-focused and pays out the lion's share of the company's free cash flow in dividends.
In June, Harry Long, writing here, reported EV/EBITDA at 4.79 and considered it to be the "most undervalued company in the world."
Primary risk factor for AWLCF is the fact that the company only owns two rigs. Any untoward event would cripple the income stream. On the positive side, the North Sea has the world's highest rig utilization rate, and demand exceeds supply. Both rigs are fully booked well into the future. So, not only does the dividend appear safe for the near- to mid-term future, it is quite reasonable to project continued increases in those dividends as income increases.
Disclosure: The author is long AWLCF. The author wrote this article themselves, and it expresses their own opinions. The author is not receiving compensation for it (other than from Seeking Alpha). The author has no business relationship with any company whose stock is mentioned in this article.
Editor's Note: This article discusses one or more securities that do not trade on a major U.S. exchange. Please be aware of the risks associated with these stocks.